COVID-19 didn't stop the Palm Beach Boat Show from showcasing lots of amazing boats
By Eric Vienneau
Even with COVID still lurking around, the Palm Beach Boat Show decided to go in-person anyways. This was the 35th Annual Palm Beach International Boat Show, which took place from Thursday, March 25th– Sunday, March 28th along the historic Flagler Drive in downtown West Palm Beach.
Highlights
The show had over $1.2 billion in maritime products to showcase, bringing in thousands of visitors. Some of the exciting debut's included various luxury yachts, including the Princess X95, a 95-foot beauty with an enclosed sky lounge and large interior space, the Princess F45, and the Sirena 88.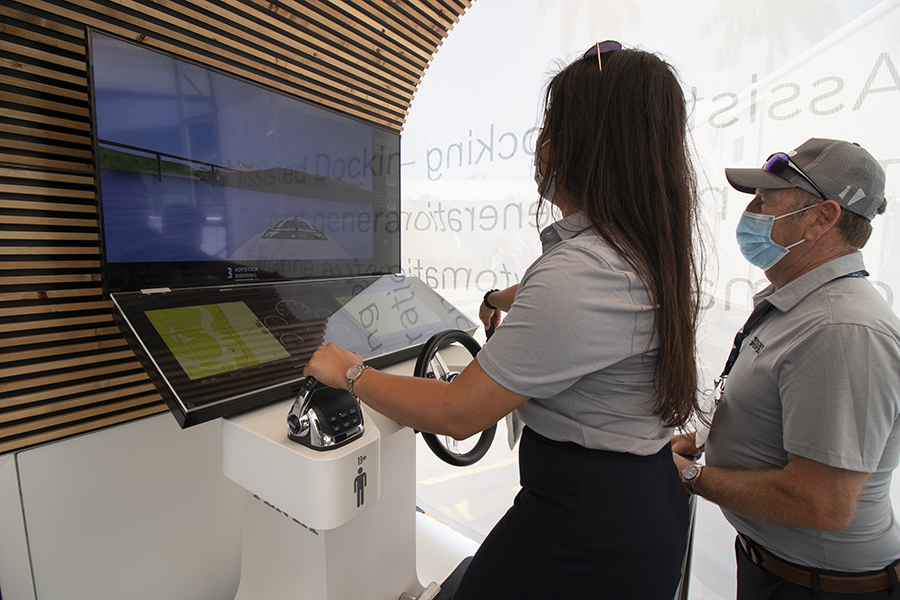 Also notable was Tiara Yachts' new 48 LS, which is the largest outboard-powered model they have ever built, and for literary fans out there, on public display for the first time was the Wheeler 38 which is a replica of famous writer Ernest Hemingway's fishing boat, Pilar.
As for one of the most expensive boats at the show, look no further than the Quantum of Solace, 238 feet bow to stern floating castle with a nightclub, DJ booth, and disco ball coming in at a $66.7 million. Named after 007 movies, this boat was launched in 2012 by John Staluppi.
Let's talk performance boat and the Sanford, Florida Velocity. It was on display with fierce exterior designs, bringing a taste of power boating to the Palm Beach International Boat Show among the many yachts.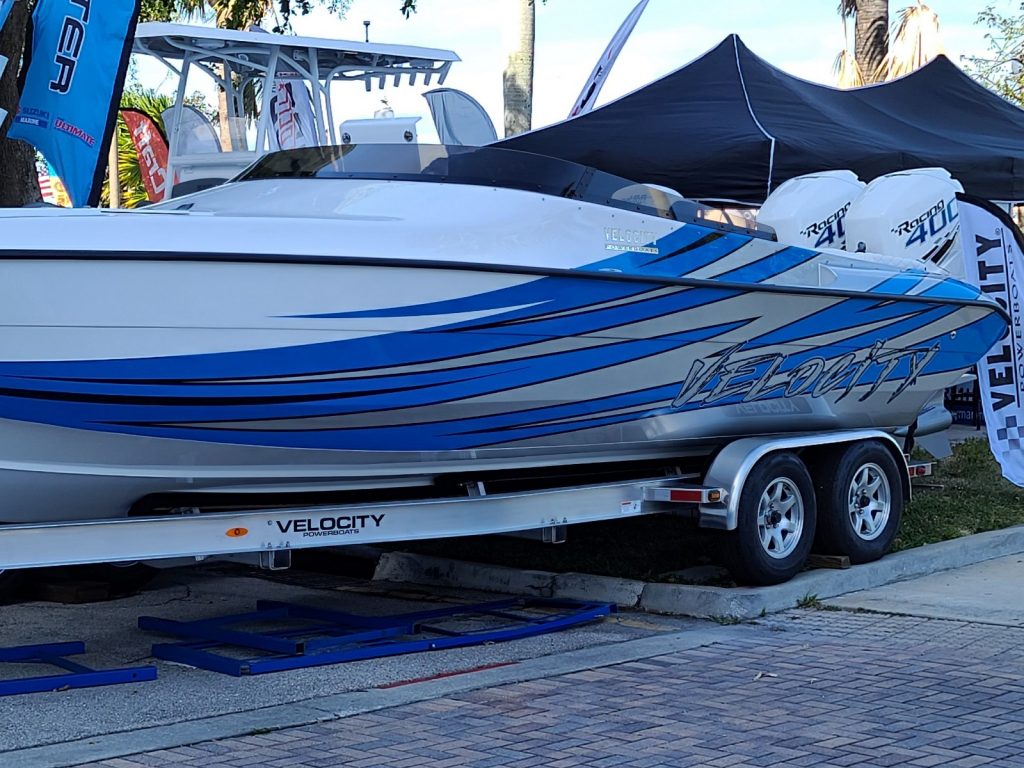 "The success of the Palm Beach International Boat Show is a testament to the hard work and dedication of the entire Informa team, the collaboration and support of government officials from the City of West Palm Beach, and our partnership with the Marine Industries Association of Palm Beach County," said Andrew Doole, president of U.S. boat shows at Informa Markets. "By leveraging our AllSecure standards – as well as the best practices we gleaned from hosting the St. Petersburg Power and Sailboat Show and, prior to that, the Fort Lauderdale International Boat Show – we were able to deliver an unforgettable experience for visitors and exhibitors while supporting the local and state economy."
COVID-19 Response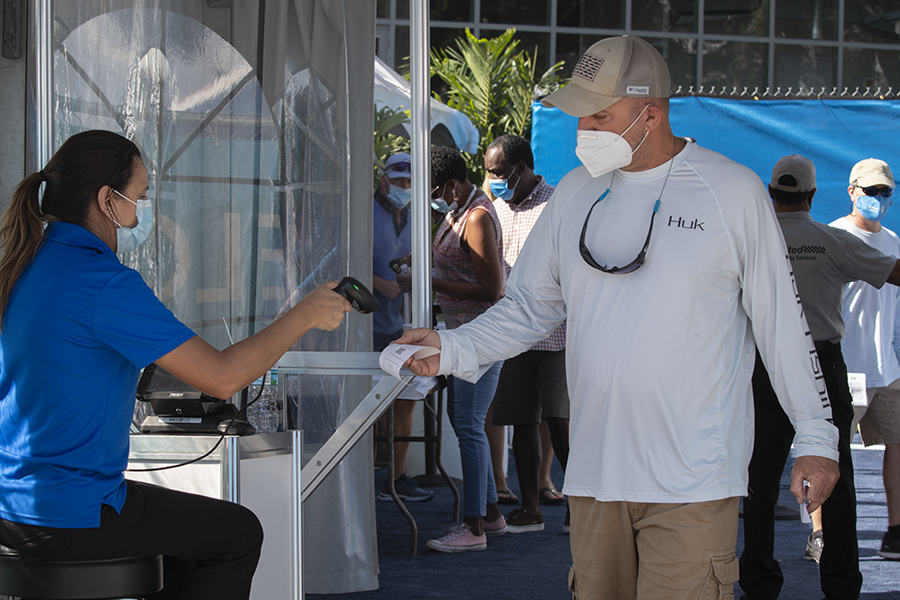 The City of West Palm Beach worked closely with Informa Markets to have the show safely with COVID-19. They adopted enhances safety measures, making the layout entirely open-air, increased number of entrances to ease flow, and of course, face masks were required.
The show was great economically. In 2019, the total statewide economic impact of the Palm Beach International Boat Show totaled over $682 million, with total sales resulting from the show around $227 million.
All in all, COVID-19 did not put a damper on this annual highlight of the world of boating, or on the boating industry. People must want to escape by spending most of their time on the water during boating season. There were an abundance of new boaters in 2020.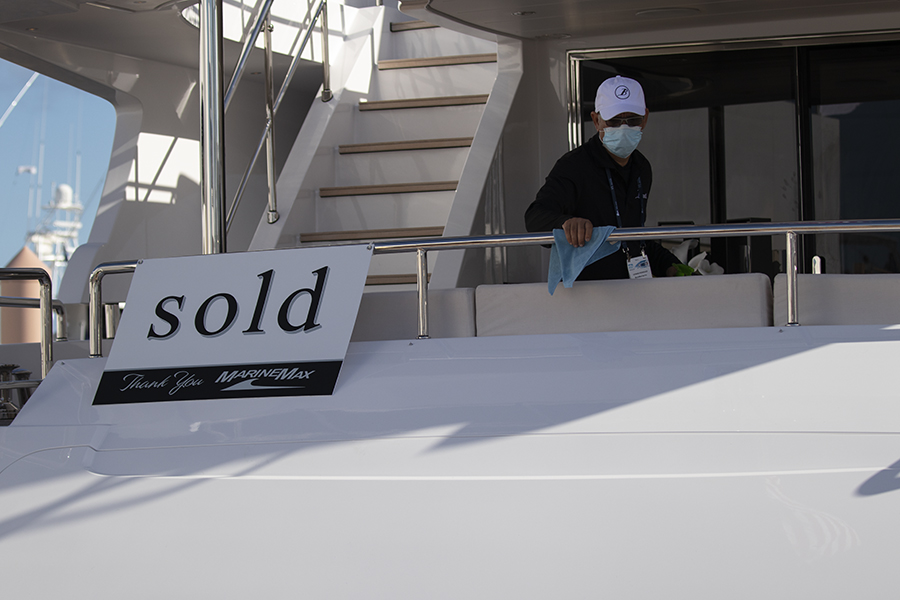 "The economy is over the top right now, and boat sales are beyond over the top – the only thing that is going to slow it down short-term is that we're running out of inventory to sell," said Tim Derrico, Director of HMY Yacht Sales in West Palm Beach, FL who participated as an exhibitor at the Palm Beach International Boat Show. "In South Florida, we're going to be in for some good times and good boat sales for the foreseeable future."

The 36th annual Palm Beach International Boat Show is set to return on March 24th– March 27th, 2022.

For more information: www.PBBoatshow.com

007, Adventure, boat, Boat Show, boat test, Boating, boating life, Corona Virus, COVID-19, Ernest Hemingway, Flagler Drive, Florid, Florida, Informa Market, James Bond, John Staluppi, Marine Max, Palm Beach, Palm Beach Boat Show, Pilar, power boat, power boating, Power Boating Canada, powerboating, Princess, Quantum of Solace, Sirena, St. Petersburgh, vintage, Virtual Reality, Volvo, Volvo-Penta, Watersports, Writer, Yacht, Yacht Test, Yachting, Yachting Life, Yachts 007, Adventure, boat, Boat Show, boat test, Boating, boating life, Corona Virus, COVID-19, Ernest Hemingway, Flagler Drive, Florid, Florida, Informa Market, James Bond, John Staluppi, Marine Max, Palm Beach, Palm Beach Boat Show, Pilar, power boat, power boating, Power Boating Canada, powerboating, Princess, Quantum of Solace, Sirena, St. Petersburgh, vintage, Virtual Reality, Volvo, Volvo-Penta, Watersports, Writer, Yacht, Yacht Test, Yachting, Yachting Life, Yachts