By Patrick Campeau
Canadians work hard – so when the weekend arrives, we grab our rods and reels, hitch up the fishing boat and head off for an adventure on the open water!
Power Boating Canada asked our fishing guru, Patrick Campeau, to give you an overview of some of the coolest outdoor toys for your weekend adventures.
On the water
There are many ways to enjoy a day on the water, from all-purpose fishing boats to aluminum dinghies, to bowriders and center consoles, and the list goes on.
If you prefer freshwater fishing boats, these days, they are grouped into six families, consisting of: rowboats up to 16 feet, rowboats with a floor, 14-to-17-foot boats with a steering wheel, boats that measure 17 feet and more with a steering wheel, low-profile bass boats, and deck boats.
In most provinces, you can navigate an incredible network of waterways, and you can enjoy your boating adventures at your own pace, while respecting the safety instructions and established laws.
Pontoons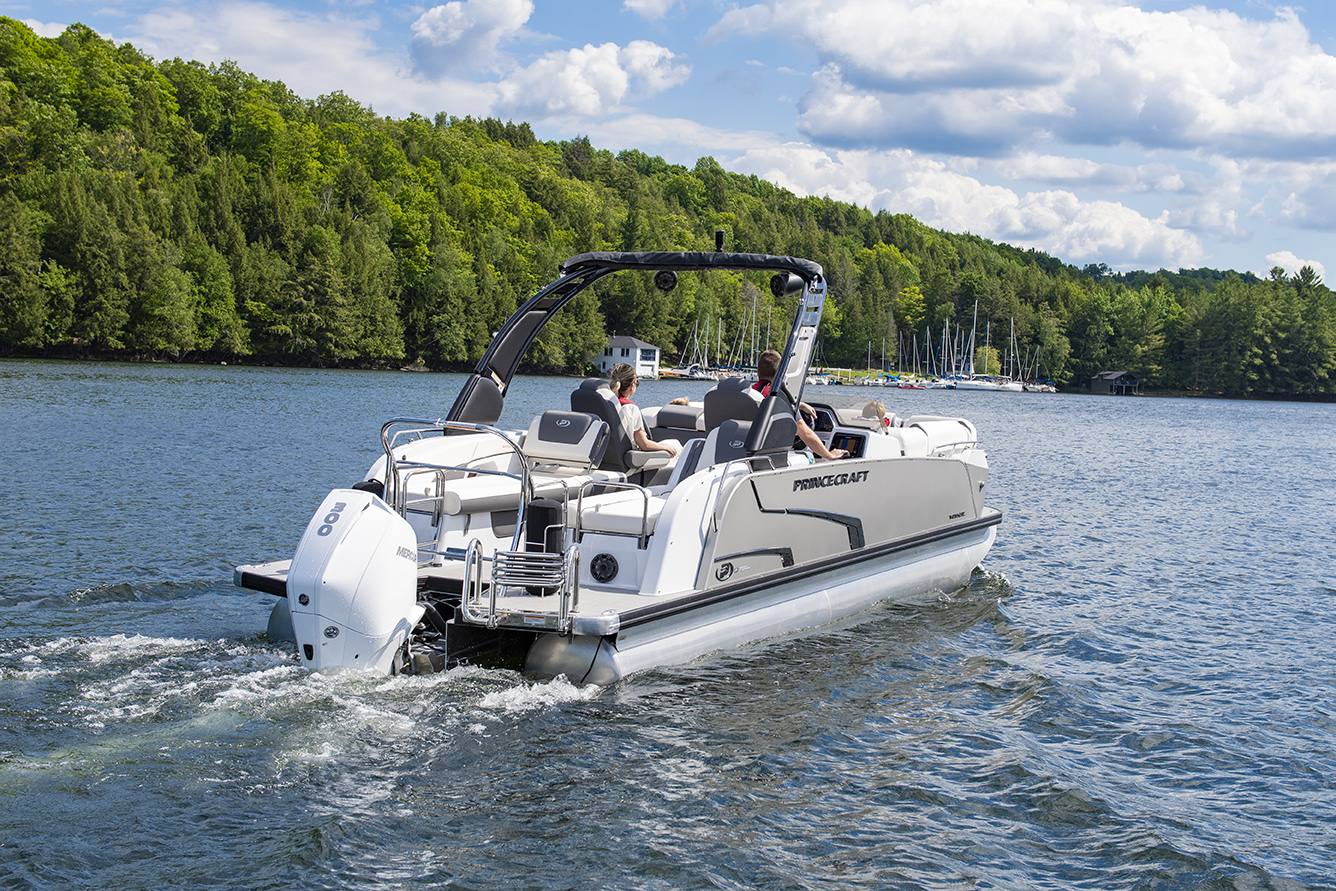 Among the many categories of boats, one that has firmly stood out and enjoyed the strongest growth in sales and popularity over the past 20 years is the pontoon.
Available in lengths from 13 to 30 feet or more, these beautiful engineering marvels are mounted on two or three floats, also called keels, and are easy to drive. People of all ages appreciate the remarkable stability of these boats, even when the waters are turbulent. The comfort they offer allows them to stand out from the crowd. 
Depending on the model, some furnishings ensure that all passengers are comfortable during their trips on the water. Being wide and spacious, you can cast off for a day on the water with family and friends aboard and carry all the necessary equipment to enjoy the excellent weather, including coolers and picnic baskets. Some pontoon models can accommodate more than 15 people on board.
With a wide range of power options, pontoons let you take gentle rides, feast, and socialize at will. These boats are very adaptable – you can fish and enjoy a wide range of water sports. The most powerful pontoon models can achieve surprising speeds making this a great outdoor toy.
Personal Watercraft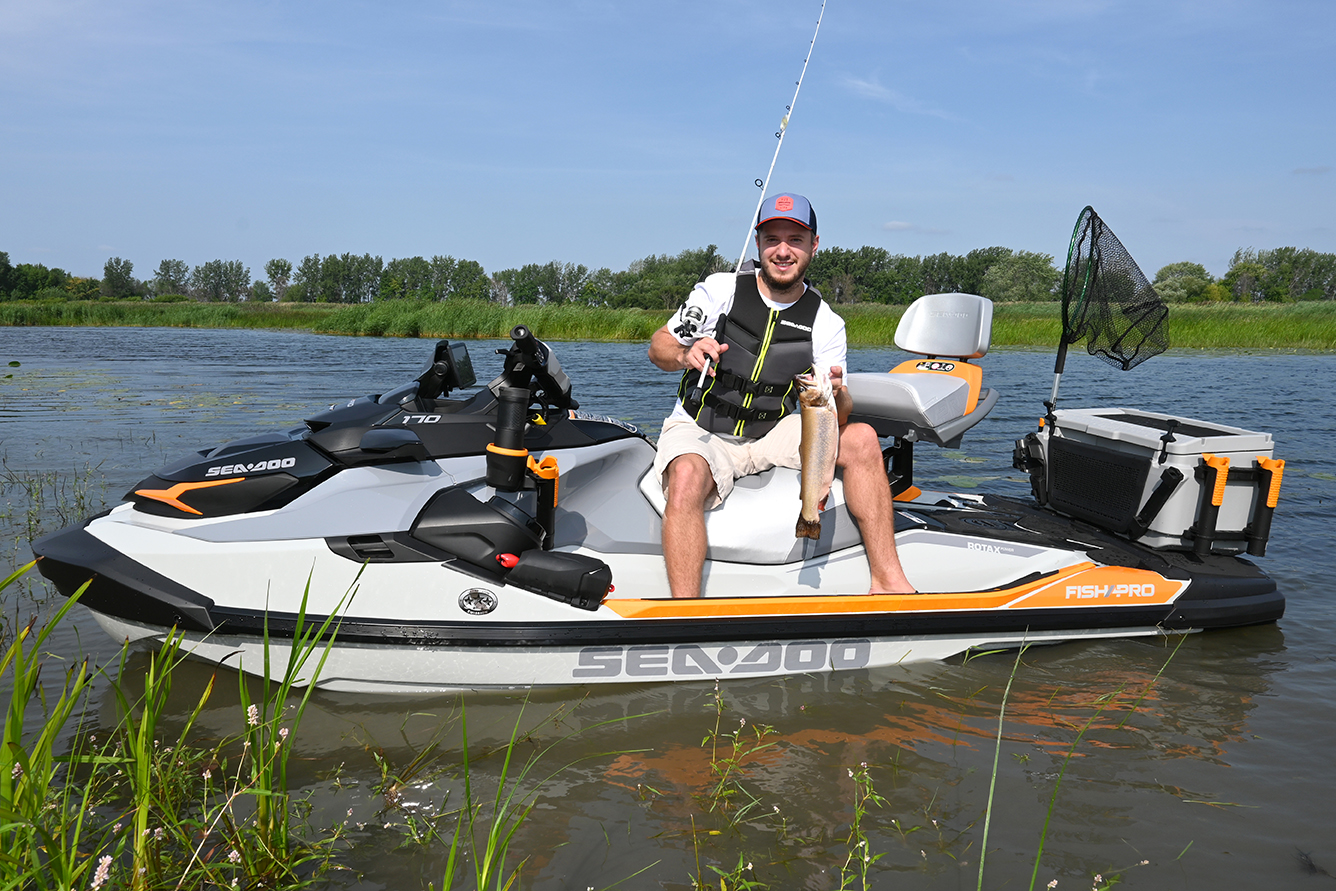 These compact and maneuverable boats were developed in the 1960s. Since then, a variety of PWC models have been produced, for a wide range of riding styles. Personal watercraft are powerful, safe, stable, and easy to drive. Opting for a recreational, dynamic, or relaxed driving style is possible, depending on your needs. We can also choose seating options for a single driver, for two people, and even for three passengers. Depending on your preferences, there are hulls engineered for calm, slightly choppy waters, and turbulent water conditions.
In terms of maneuverability and docking, some personal watercraft are easier to handle, while others are more responsive to quick action. The variety of PWC models is quite extensive – in 2018, BRP launched a model specifically designed for fishermen and fisherwomen: the Sea-Doo Fish Pro is the first, and only factory-made personal watercraft designed for fishing.
Another undeniable advantage of these vessels is that they can easily be towed behind a small vehicle and easily parked in most garages. Put on your lifejacket and polarized sunglasses, don't forget the suntan lotion, and get ready to have a really good time!
Outdoor Toys: On the land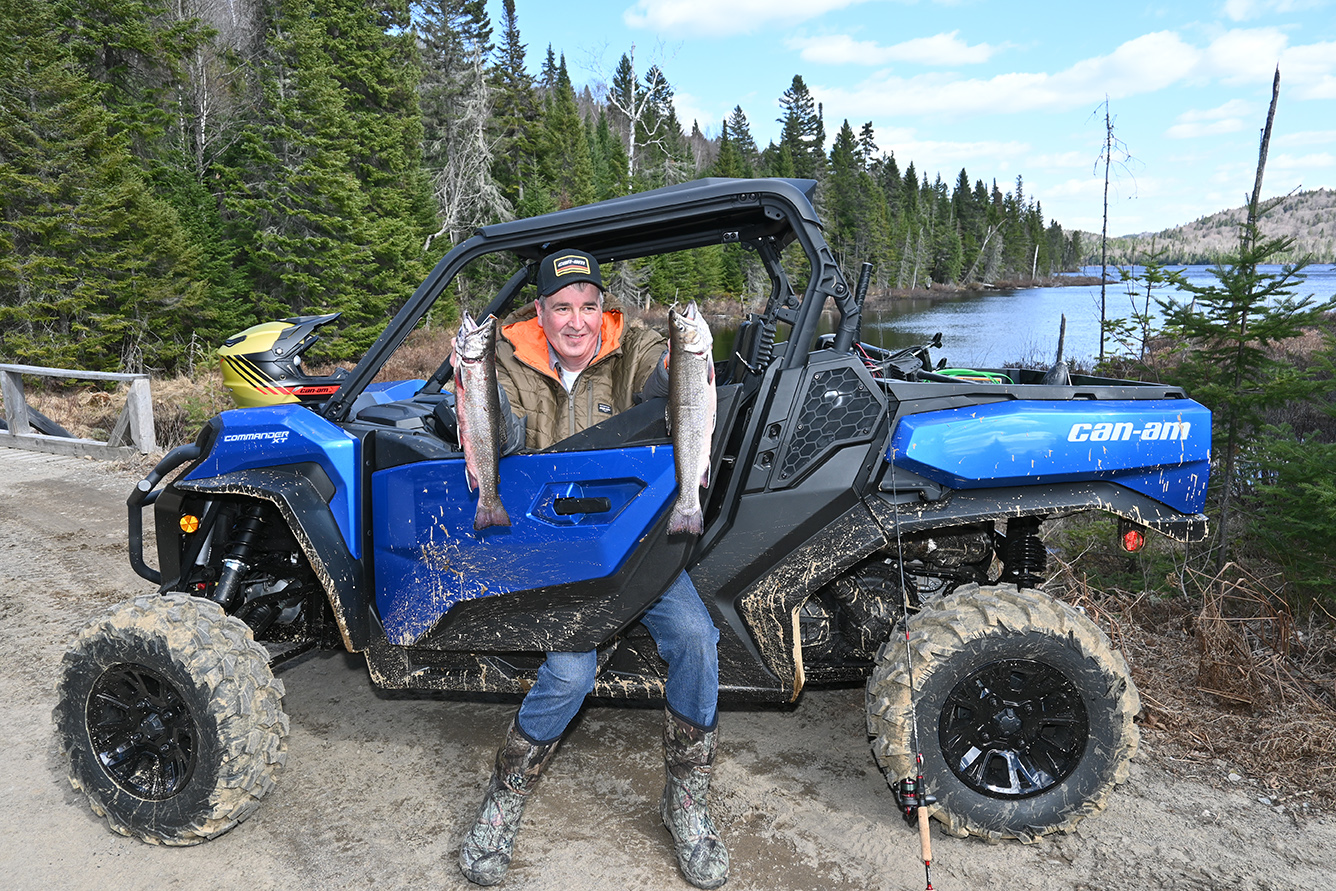 ATVs in conventional and side-by-side models are incredible all-terrain vehicles for year-round adventures. They allow us to ride as far back as we desire into the backcountry. They are also excellent work vehicles. You can transport equipment on the storage racks or attach a trailer to the rear.
The first models of ATVs appeared in the 1970s. This sector is experiencing unparalleled popularity among quad riders.
What is most impressive about this type of off-road vehicle is the incredible distance that can be covered in a short time. Many wonder how it was possible to go so far into the backcountry before the appearance of these vehicles. You could say that ATVs have pushed the boundaries of the forest. 
Outdoor Toys:
In the snow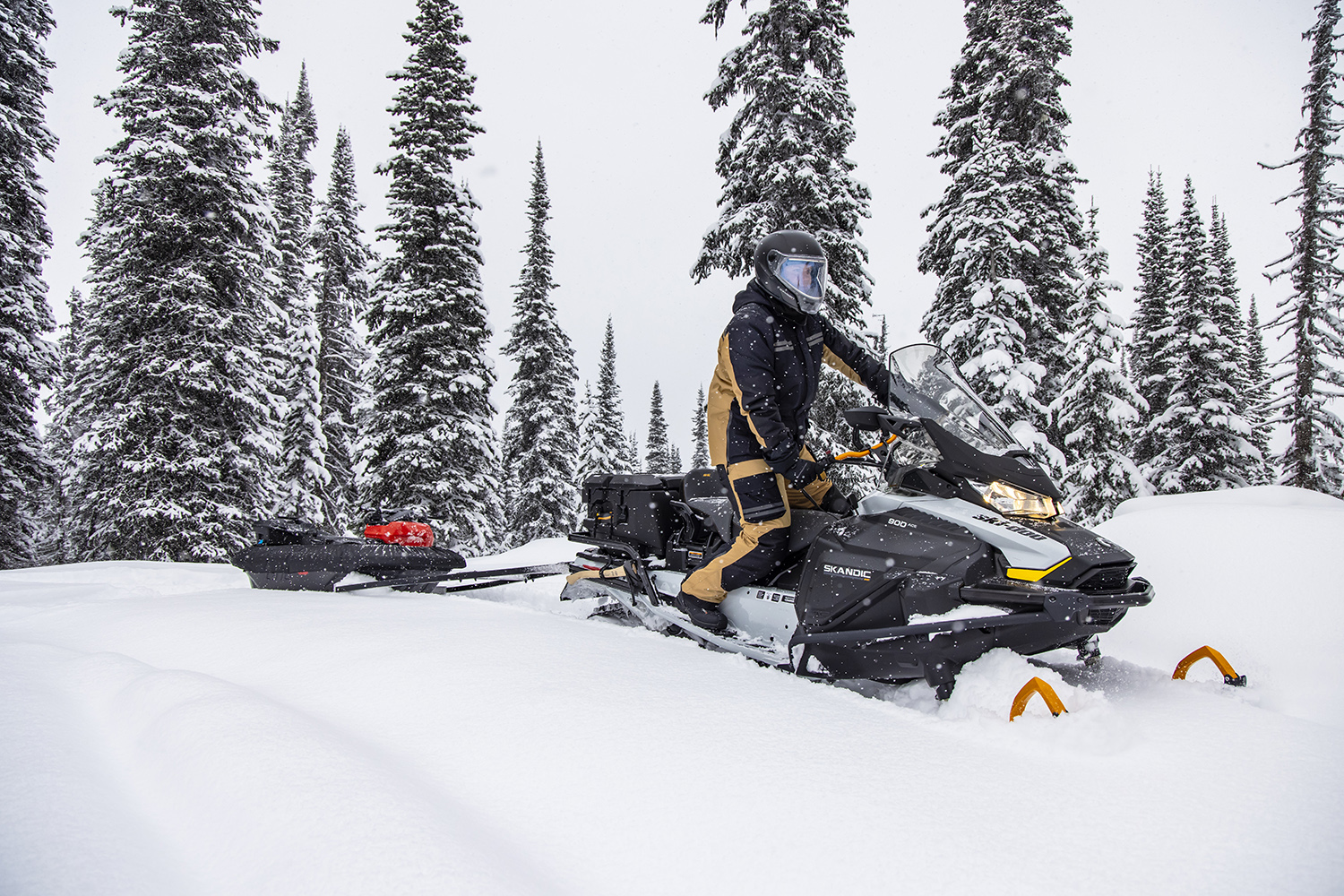 Bombardier developed the snowmobile as we know it today in the late 1950s. Unable to get his son to the hospital in the winter, Joseph-Armand Bombardier dreamt of equipping the inhabitants of rural areas with small, motorized vehicles, fitted with a track and skis, that could move over large snowy expanses or across the ice.
At the time, snowmobile clubs were trying to clear the forest routes wherever possible. In 1971, Bombardier launched Operation Trail, an initiative to assist them in their trail building and maintenance efforts. In an effort to encourage the creation of a snowmobile trail system, Bombardier granted very advantageous opportunities for groups to purchase trail groomers – like the famous Ski dozer. Today, there are more than 33,000 km of trails developed by the Fédération des clubs de Motoneigistes du Québec. 
A snowmobile will get you into the wilderness, and back, whether you enjoy riding the trails, climbing mountain, playing in deep snow, working your land, ice fishing, hunting, or other activities.
Thanks to all these outdoor toys, you can fully enjoy nature and the great outdoors! 
---
Patrick Campeau is a  professional fisherman that is a three-time provincial champion member inducted into the Canadian Pantheon of Fishing.

Find out more about Patrick Campeau at www.pcampeau.com or www.facebook.com/lapassiondepatrickcampeau

Accurist fishing equipment, Aluminum boat, angling advice, atv, bait casting, boat, Boating, boating adventures, BOATING fishing tackle, Bombardier, bowriders, canadian outdoor activities, casting, center consoles, expert fishing tips, fishing, fishing boats, fishing for bass, fishing for perch, fishing for pike, fishing for trout, fishing lures, fishing rods, Fishing Talk column, fishing technique, fishing tips, fishing tips by Patrick Campeau, how to catch fish, how to choose a fishing rod, jigging, Mercury, Mercury Marine, minnow baits, outdoor adventure, outdoor toys, Patrick Campeau, personalwatercraft, Pontoon, Princecraft, princecraft pontoon, Quantum Fishing reels, Quantum fishing tackle, reel, rod, Smoke fishing tackle, snowmobile, spin casting or trolling, spinnerbaits, spinning, surface lures, Throttle fishing gear, trolling, using a downrigger, Vapor fishing reels, Watercraft, Zebco fishing reels Accurist fishing equipment, Aluminum boat, angling advice, atv, bait casting, boat, Boating, boating adventures, BOATING fishing tackle, Bombardier, bowriders, canadian outdoor activities, casting, center consoles, expert fishing tips, fishing, fishing boats, fishing for bass, fishing for perch, fishing for pike, fishing for trout, fishing lures, fishing rods, Fishing Talk column, fishing technique, fishing tips, fishing tips by Patrick Campeau, how to catch fish, how to choose a fishing rod, jigging, Mercury, Mercury Marine, minnow baits, outdoor adventure, outdoor toys, Patrick Campeau, personalwatercraft, Pontoon, Princecraft, princecraft pontoon, Quantum Fishing reels, Quantum fishing tackle, reel, rod, Smoke fishing tackle, snowmobile, spin casting or trolling, spinnerbaits, spinning, surface lures, Throttle fishing gear, trolling, using a downrigger, Vapor fishing reels, Watercraft, Zebco fishing reels