Sea Ray made an impressive showing recently at this year's Miami International Boat Show, with a display that featured boats from 19 to 35 feet at the new Marina Stadium Park venue on Virginia Key. In addition, Sea Ray hosted a second display for vessels 40 feet and larger at the concurrent Yachts Miami Beach show on Collins Avenue, where the brand-new 450 Sundancer made its world premiere.
"We were thrilled to debut our newest Sundancer for a global audience in Miami. Initial reactions to the 450 have been highly positive," said Tim Schiek, president of the Sea Ray Boat Group. "Meanwhile, the new Virginia Key site gave us a chance to expand our Miami presence and show off some exciting advances, including our sophisticated 290 Sundeck Outboard, and three of our all-new SLX models."
The 450 Sundancer represents the latest of Sea Ray's iconic Sundancer line. Its design approach is focused on the total boating experience, with a harmonious interplay of indoor and outdoor spaces. An open floorplan creates generous, connected social zones throughout the boat. This includes a spacious enclosed sunroom that seamlessly connects to the cockpit, and features an electronically opening skylight and gourmet-ready galley. Below, living quarters include a full-beam master stateroom and an additional forward stateroom, each with its own beautifully appointed head. Rich materials and finishes further enhance the overall aesthetics and comfort, while an optional gourmet transom center adds a countertop with grill and sink, expanding social capabilities all the way aft. Superior sun coverage comes courtesy of an optional foredeck shade and cockpit SureShade®.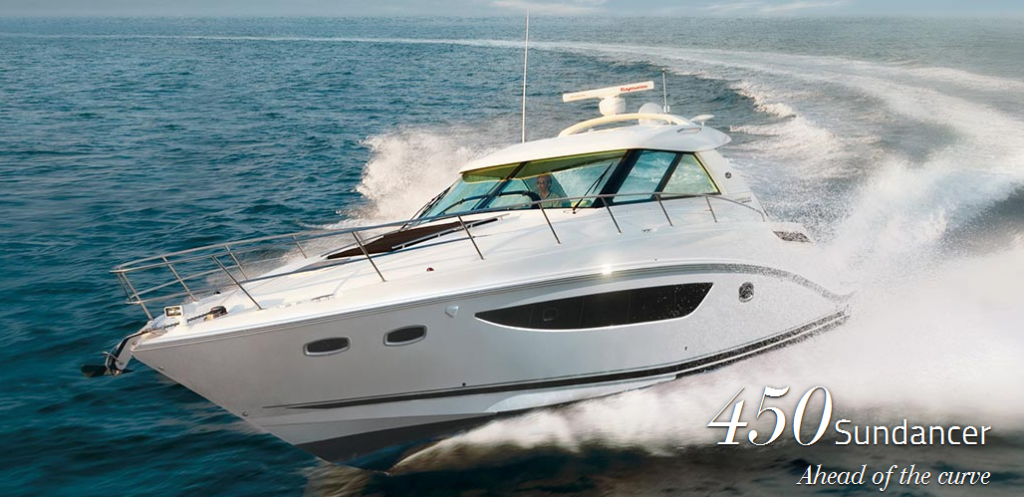 The Sundancer wasn't Sea Ray's only showstopper. Visitors to the brand's Virginia Key display were invited to take an immersive virtual reality tour through The SLX Experience. A high-end, virtual reality headset put viewers aboard the vessel in high definition, and then took them on a spirited ride behind the vessel on a wakeboard.
"Virtual reality technology has played an integral role in the introduction of our groundbreaking SLX models. We sought a way to give boaters a taste of The SLX Experience, one that would be more immersive than simply climbing onto the boats, and we found it in virtual reality," said Schiek. "These are truly impressive boats — the result of carefully orchestrated excellence — with a host of cutting-edge features that work in harmony to go above and beyond expectations. And the addition of our new 290 Sundeck Outboard, a marriage of Sea Ray craftsmanship, signature style and premium outboard power, provided further evidence of our commitment to next-level boating."
To view images from the Sea Ray displays at Collins Avenue and the Miami International Boat Show, please click here. For more information on the complete Sea Ray lineup, please visit searay.com.

Alberta BOATING, BC BOATING, Boating, boating adventures, BOATING destinations, BOATING facilities, boating in Canada, BOATING in New Brunswick, Boating in Nova Scotia, Boating in PEI, Boating in Quebec, BOATING in Saskatchewan, boating lifestyle, BOATING marinas, boating ontario, Docks, Manitoba BOATING, Marinas, Maritime boating destinations, ontario boating, power boating, Power Boating destinations, where to go boating Alberta BOATING, BC BOATING, Boating, boating adventures, BOATING destinations, BOATING facilities, boating in Canada, BOATING in New Brunswick, Boating in Nova Scotia, Boating in PEI, Boating in Quebec, BOATING in Saskatchewan, boating lifestyle, BOATING marinas, boating ontario, Docks, Manitoba BOATING, Marinas, Maritime boating destinations, ontario boating, power boating, Power Boating destinations, where to go boating