A new report released on June 6, 2016 suggests that between 50-85% of boating-related fatalities could have been prevented by wearing a PFD.
The report, by the Canadian Red Cross found that males account for 93% of boating-related deaths. The Flotation Report, a study based on 20 years of research, reveals the absence of a personal flotation device (PFD) as the recurring factor in these deaths.
"In a  20 year period there were an alarming 10,511 unintentional water-related deaths in Canada," said Shelley Dalke, Director of Swimming and Water Safety at the Canadian Red Cross. "We know over 50 per cent of these tragic fatalities could have been prevented with the use of lifejackets, and yet over two decades of researching water-related deaths, we found that many victims continue to choose not to wear a lifejacket."
Drowning costs us more than lives:there is a large economic impact to the family and to Canadian society as a result of drowning. The average estimated cost of one drowning death is $2 million. Cost-savings from effective PFD use through legislation, enforcement and general public adherence has the potential to not only save lives, but also save $200 million per year.
Other report findings include:
– 77% of boating deaths occurred during recreational activities like fishing, powerboating and canoeing capsizing and falling overboard are the most frequent incidents
– Between 50-85% of boating-related fatalities could have been prevented by wearing a PFD.
For boating immersion deaths during recreation and daily life:
– At least 34% of inexperienced boaters, 33% of occasional boaters, and 22% of experienced boaters did not have a PFD in their boat, which is a legal requirement in Canada
– Remarkably, only 4% of non-swimmers compared to 13% of strong swimmers who drowned were properly wearing a PFD
– Alcohol was present or suspected in at least 43% of deaths among Canadians over 15 years old. Individuals who were above the provincial or territorial blood-alcohol limit were four times less likely to wear a PFD than those with no alcohol involvement
– Proper  lifejacket use was five times lower among Indigenous people who died, and Indigenous incidents more frequently involved multiple victims, including women and children
– Over a third (38%) of child boating victims were Indigenous and none of these children were wearing a lifejacket or PFD when they drowned.
Click here to read the full report.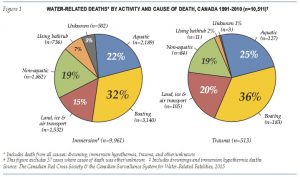 Alberta BOATING, BC BOATING, Boating, boating adventures, BOATING destinations, BOATING facilities, boating in Canada, BOATING in New Brunswick, Boating in Nova Scotia, Boating in PEI, Boating in Quebec, BOATING in Saskatchewan, boating lifestyle, BOATING marinas, boating ontario, Docks, Manitoba BOATING, Marinas, Maritime boating destinations, ontario boating, power boating, Power Boating destinations, where to go boating Alberta BOATING, BC BOATING, Boating, boating adventures, BOATING destinations, BOATING facilities, boating in Canada, BOATING in New Brunswick, Boating in Nova Scotia, Boating in PEI, Boating in Quebec, BOATING in Saskatchewan, boating lifestyle, BOATING marinas, boating ontario, Docks, Manitoba BOATING, Marinas, Maritime boating destinations, ontario boating, power boating, Power Boating destinations, where to go boating