A new model in the popular 53ft range from luxury British boat manufacturer Fairline Yachts opens up a host of new possibilities for boaters who love to entertain. This latest addition is the Targa 53 OPEN, which will debut at the Cannes Boat Show on September 6, 2016.
Available for the 2017 Model Year, the new Targa 53 OPEN express cruiser maximizes the feeling of freedom and fun on the water by providing uninterrupted entertaining space above decks and comfortable accommodation below.
This sleek and stylish cruiser is emphasized by an eye-catching, tapered hull glazing that accentuates the dynamic character of this sporty Targa model.
Head of Design at Fairline Yachts, Andrew Pope, says, "Owners tell us that entertaining is one of the most important reasons for having a luxury cruiser and the Targa 53 OPEN provides a sense of style, space and comfort like no other. This new model opens up a host of possibilities thanks to its unrivaled comfort, space and flexibility. All our 53ft models have a common platform approach, offering complete flexibility of layout and options to suit each individual customer, which is at the heart of Fairline's design philosophy."
The sophisticated design maximizes natural light and brings added brightness to the spacious master cabin, galley and saloon below. Owners are able to choose between a two or three cabin configuration that best suits their individual requirements.
The cockpit boasts a large three person sun bed over the tender garage, generous 'U' shaped cockpit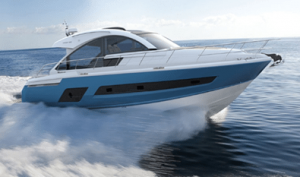 seating with a wet bar opposite and spacious companion seating across from the helm – the perfect arrangement for maximizing enjoyment on board. The Targa 53 OPEN offers a choice of three shaft driven engine options. Two from Volvo and one from Caterpillar, offering a minimum fully loaded speed in excess of 30 knots and a range of at least 300 nautical miles is expected. There will also be the option to add stabilization, with the boat accepting a choice of either fin or gyroscopic stabilizers, ensuring the highest level of comfort on board.

The world premiere of the Targa 53 OPEN is scheduled to take place at Cannes Boat Show, France on Tuesday 6 September 2016 and the UK premiere will be at the Southampton Boat Show on Friday 16 September 2016.

For more information about Fairline Yachts, please visit: www.fairline.com

best boat, best boat models, best boat trailer, best center console, best centre console, best performance boats, best pontoon, best runabout, Best Used boat, boat accessories, boat parts, boat reviews, boat tests, boat touring, BOATING Buyer's Guide, boating guide, BOATING in-water Tests, boating lifestyle, Boating Lifestyle Magazine, BOATING rentals, BOATING rentals near me, BOATING traveller, boating vacation, go boating, go boating Canada, how to choose a boat, marine accessories, New Boating Products, new boats for 2023, performance boats, Power Boating Canada, Tender boat, top boat models, top boats, top cottage boat, top cruiser, top power boat best boat, best boat models, best boat trailer, best center console, best centre console, best performance boats, best pontoon, best runabout, Best Used boat, boat accessories, boat parts, boat reviews, boat tests, boat touring, BOATING Buyer's Guide, boating guide, BOATING in-water Tests, boating lifestyle, Boating Lifestyle Magazine, BOATING rentals, BOATING rentals near me, BOATING traveller, boating vacation, go boating, go boating Canada, how to choose a boat, marine accessories, New Boating Products, new boats for 2023, performance boats, Power Boating Canada, Tender boat, top boat models, top boats, top cottage boat, top cruiser, top power boat