Lund's new Crossover XS comes in two models, 1875 and 1775
By Eric Vienneau
A fresh new redesign from Lund Boats perfectly combines a fish and ski boat, making it a unique crossover with 36 different colour combinations. A perfect aluminum fishing boat, the Lund Crossover XS is special for its versatility, built upon a long legacy in Lund fishing boats.
Lund has been around since the 1940's, there first boat being an aluminum duck boat. Lund boats are made in the small town of New York Mills, Minnesota with a population of just over 1000 people. Lund has perfected their aluminum boat crafting over the years, and in 2022, they are going to continue with their line of aluminum and fiberglass hulls.
The Crossover XS comes with various power options, but our suggestion is the Mercury 115 EX, but those wanting a little more, the 175 will lift it up and give you a lot more air under the hull, which natural take a little more precise throttling. The new Crossover XS is available in two sizes, 1875 and 1775. Built upon Lund's exclusive IPS hull, it provides a stable and smooth ride with the flat pad in the center of the hull delivering clean water to the motor and creating maximum lift and drag reducing. This boat can traverse anywhere from back woods areas to open water allowing total exploration and freedom.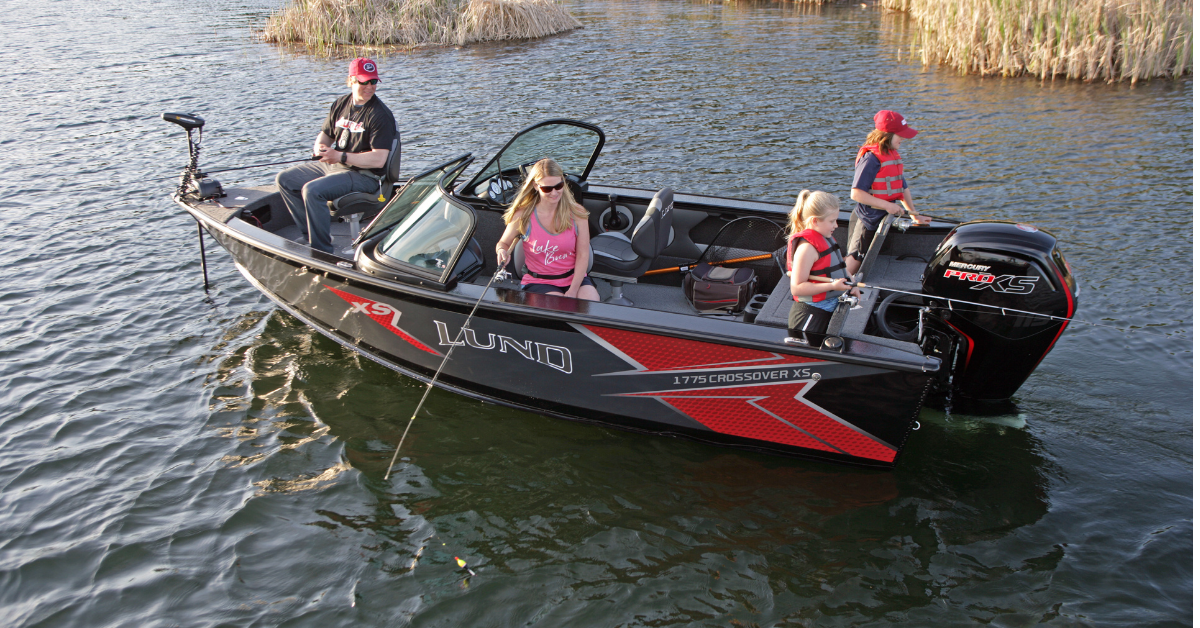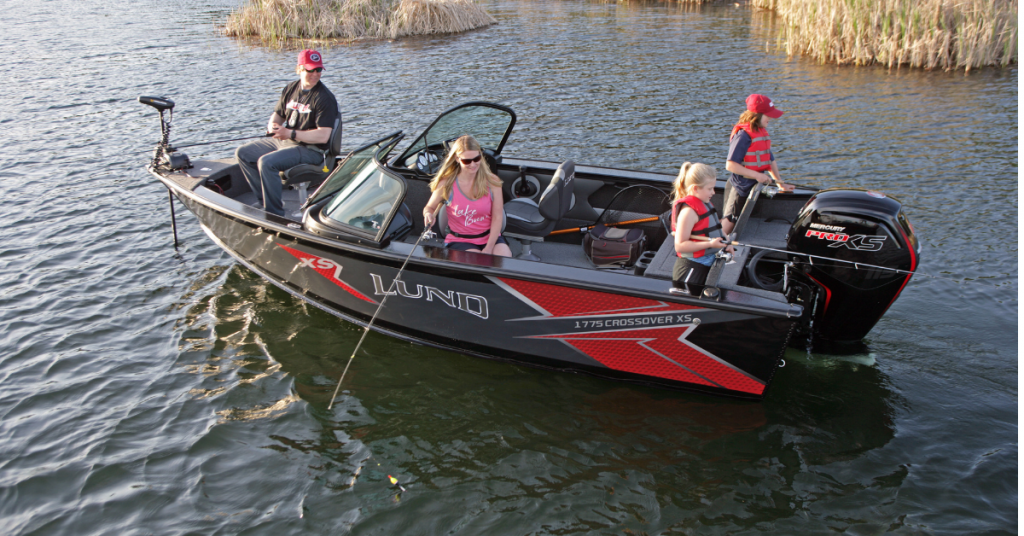 At the center is a two-tier rod locker which can store up to ten rods up to 7' in length, and additional or longer rods can be stored in the large open side lockers. If that is not enough, there is massive center floor storage. There, you will find room for life jackets, wakeboards, and skis.
At the aft are flip up Jump Seats allowing even more storage under the seats. The speakers throughout the boat make for an immersive sound experience with a Kicker Stereo with 2 MB Quart Speakers, and integrated LED interior lighting in bow and cockpit.
The cock pit is wide and spacious with updated console switches and panels, with room for a Flush Mount Fish Finder Chart Plotter and a stand-alone fish finder. The steering wheel is effortless with a sleek design and can tilt up or down to your preference, and in front of all this is an elegant wrap-around windshield.
There are many different options available for features in the XS series. The rear livewells range from your most basic aerated livewell, to the Prolong livewell with Max-Air fresh air injection and re circulation, to the ultimate Prolong Plus Livewell. There is an optional aft sun pad, and a rock-solid ski pilon for the wakeboarders and skiers which can be stored away easily when not in use.
The Crossover XS delivers amazing versatility, meeting the high standard of fishing boats Lund has been known for. For example, Lund Is endorsed by Patrick Campeau, a pro fisher out of Quebec, Canada, and they have been involved in competitive fishing competitions for several years. With over 60 years of high-quality boats, Lund is looking to satisfying the thrill seekers and the fishers at the same time with this new Crossover XS.
---
Specifications
Length: 17' 10" / 18' 10"
Width: 95"
Weight: 2653 lbs
Beam Width: 95"
Deadrise:
Fuel Capacity: 28 gals/ 35 gals
Engine base: Mercury 115 EX
Capacity: 7/8 persons
MSRP: Approx. $38,800 with Merc 115EX
For more information: https://www.lundboats.com/

1940, 1940's, best boat, best boat models, best boat trailer, best center console, best centre console, best performance boats, best pontoon, best runabout, Best Used boat, boat, boat accessories, boat parts, boat review, boat reviews, Boat Show, boat test, boat tests, boat touring, Boating, BOATING Buyer's Guide, boating guide, BOATING in-water Tests, boating life, boating lifestyle, Boating Lifestyle Magazine, BOATING rentals, BOATING rentals near me, BOATING traveller, boating vacation, family boat, Fibreglass, fishing, Fishing Boat, Flush Mount Fish Finder, go boating, go boating Canada, how to choose a boat, LED lights, life jacket], Lund, lure, marine accessories, MB Quartz speakers, Mercury, motorboats, New Boating Products, new boats for 2023, outboard, Patrick Campeau, performance boats, Power Boating Canada, Tender boat, top boat models, top boats, top cottage boat, top cruiser, top power boat, wakeboarding, water-ski, Watersports 1940, 1940's, best boat, best boat models, best boat trailer, best center console, best centre console, best performance boats, best pontoon, best runabout, Best Used boat, boat, boat accessories, boat parts, boat review, boat reviews, Boat Show, boat test, boat tests, boat touring, Boating, BOATING Buyer's Guide, boating guide, BOATING in-water Tests, boating life, boating lifestyle, Boating Lifestyle Magazine, BOATING rentals, BOATING rentals near me, BOATING traveller, boating vacation, family boat, Fibreglass, fishing, Fishing Boat, Flush Mount Fish Finder, go boating, go boating Canada, how to choose a boat, LED lights, life jacket], Lund, lure, marine accessories, MB Quartz speakers, Mercury, motorboats, New Boating Products, new boats for 2023, outboard, Patrick Campeau, performance boats, Power Boating Canada, Tender boat, top boat models, top boats, top cottage boat, top cruiser, top power boat, wakeboarding, water-ski, Watersports