One of the best wakeboarding boats ever created
By Eric Vienneau



Calling all wakeboarders and boaters, the all-new Super Air Nautique G23 is here, and Power Boating Canada had to check it out!
This is a wakeboard, ski, and surf boat with a very modern sleek look. The brand-new hull design is durable, based on the award winning G23 Paragon. She has a tall freeboard and deep V entry angle making for a buttery smooth ride, which is beneficial to the wakeboarder.
Complimenting this is the Nautique Configurable Running Surface (NCRS) which picks up the boat onto plane swiftly and keeps the bow down while you are turning even with the ballast full.
The features on this boat seem endless. Not only is this boat great for the driver, but the wakeboarder also themselves have tons of control. Some of the wakeboarder feature include Garmin Watch integration, surf switch, and a convenient mount at the back for GoPro cameras so you can capture all your best tricks.
An interesting feature is the Nautique Surf System. It is packed straight into the hull and connects directly to the Linc Panoray Touch display at the helm. This interface is very user friendly, allowing you to customize your wave with the touch of a button, so you can get that perfect curve every time.
The helm has everything yo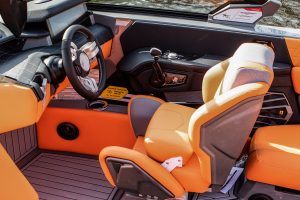 u need to be in charge. Stereo control (zone control), GoPro integration, Ballast shift, climate, and lighting options and much more. The driver's seat is racecar inspired and perfect support while you cruise on the water with amazing power backing you.

PCM Marina has been building engines for a long time, and here we are again, witnessing a collaboration with Nautique. With a mean 450 HP engine, and a huge 465-foot pounds of torque, any engine options available will also work perfectly with the Super Air Nautique G23.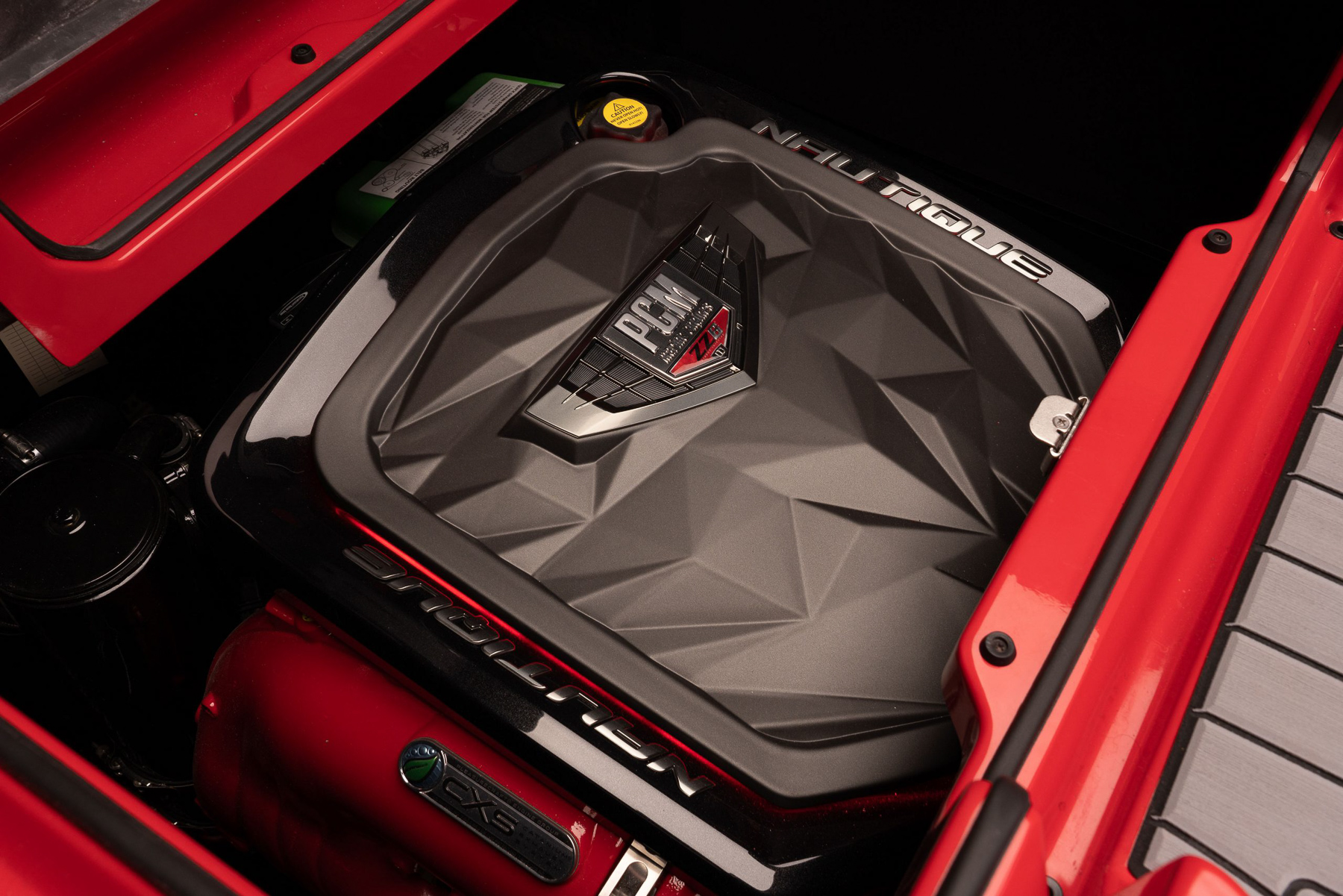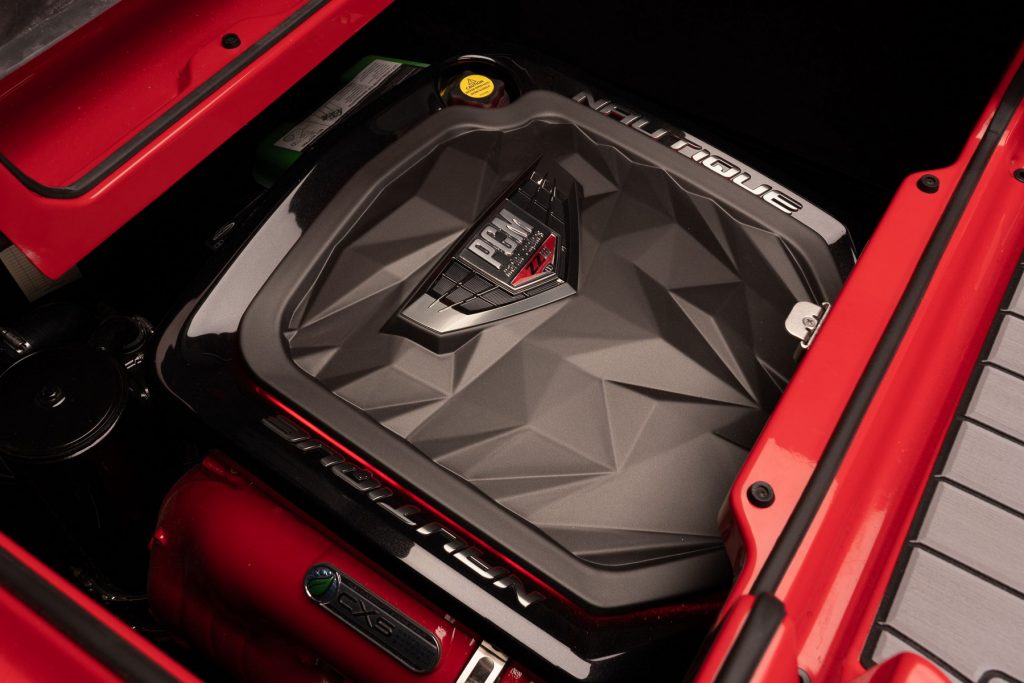 One of the most important parts of a boat is the storage, especially when you are a wakeboarding with big boards, drinks, and other things needed to get you through the day. The Super Air Nautique G23 has plenty of storage. It has a convenient cooler in the transom, room for multiple wakeboards in the sub-floor ballast, and even more room for storage under all the seats.
Speaking of seats, the G23 can fit up to 16 people with flip-ups and seat configurations, allowing everyone the opportunity to face the back and enjoy the show.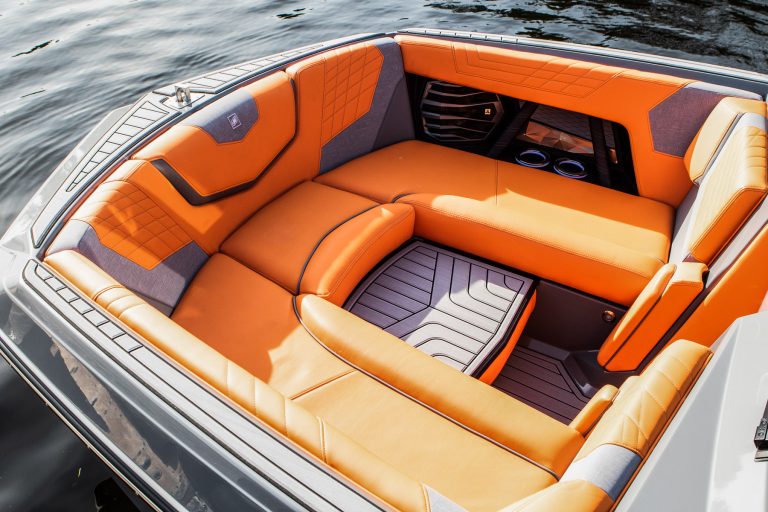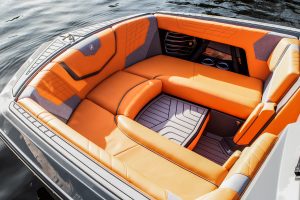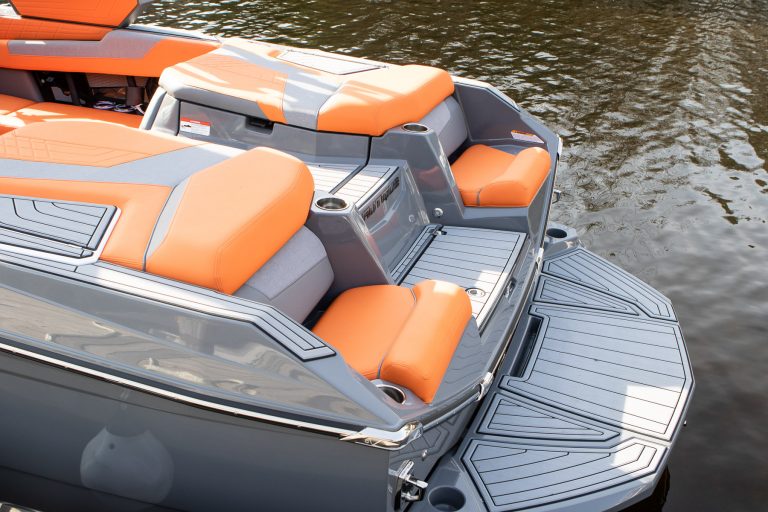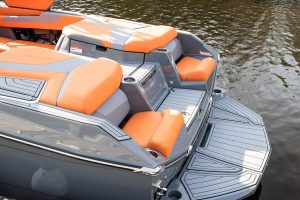 Topping it all off, the flight control tower is there to offer protection from the sun while you are relaxing on the water. The sunshade boot can be easily removed or attached, and the flight control tower can be mechanically raised or lowered.
For more information: https://nautique.com/
---
Specifications
Length Overall: 23'/7.01m
Length with platform: 25'2"/7.65m
Lift Ring Spacing: 21'6"/6.55m
Beam: 102"/2.59m
Draft: 31"/.79m
Approx Dry Weight: 6,000 lbs/2,722kg
Fuel Capacity: 65.6 gal/ 246.2 l
Max factory Ballast: 16 people/2,500 lbs/1,134 kg
Horespower: 8LV-370/ ZZ6-450 HP / ZR7-475 HP/ ZZ8- 600 HP
Torque: 595 Ft-Lb / 465 Ft-Lb / 500 Ft-Lb / 608 Ft-Lb
Gear Reduction Ratio: 2.0:1 / 1.48:1 (8LV + ZZ8)
MSRP: Base appox. $148,141

accessories, best boat, best boat models, best boat trailer, best center console, best centre console, best performance boats, best pontoon, best runabout, Best Used boat, boat, boat accessories, boat parts, boat reviews, boat tests, boat touring, Boating, BOATING Buyer's Guide, boating guide, BOATING in-water Tests, boating life, boating lifestyle, Boating Lifestyle Magazine, BOATING rentals, BOATING rentals near me, BOATING traveller, boating vacation, Deep V, Engines, family boat, fishing, G23, Garmin, go boating, go boating Canada, GoPro, Helm, horsepower, how to choose a boat, Linc Panoray, marine accessories, motorboats, Nautique, NCRS, New Boating Products, new boats for 2023, outboard, PCM, PCM Marine, performance boats, Power Boating Canada, racecar, surf switch, Tender boat, top boat models, top boats, top cottage boat, top cruiser, top power boat, Touch Display, Wakeboard, Wakesurf, Watersports, Waves accessories, best boat, best boat models, best boat trailer, best center console, best centre console, best performance boats, best pontoon, best runabout, Best Used boat, boat, boat accessories, boat parts, boat reviews, boat tests, boat touring, Boating, BOATING Buyer's Guide, boating guide, BOATING in-water Tests, boating life, boating lifestyle, Boating Lifestyle Magazine, BOATING rentals, BOATING rentals near me, BOATING traveller, boating vacation, Deep V, Engines, family boat, fishing, G23, Garmin, go boating, go boating Canada, GoPro, Helm, horsepower, how to choose a boat, Linc Panoray, marine accessories, motorboats, Nautique, NCRS, New Boating Products, new boats for 2023, outboard, PCM, PCM Marine, performance boats, Power Boating Canada, racecar, surf switch, Tender boat, top boat models, top boats, top cottage boat, top cruiser, top power boat, Touch Display, Wakeboard, Wakesurf, Watersports, Waves