Hubbell Marine manufactured a cord set that supplies electricity to a boat while being able to withstand extreme weather conditions. The 100A Cable Sets are built to last many years and deliver safe and reliable power.
The cords are made from a durable impact and chemical resistant nylon that is UV-stabilized for extended exposure to the sun. There is a non-slip, gasket connector locking ring with unique torque tabs that secures the plug for a waterproof connection to ensure it won't fail if knocked.
There is a high-impact thermoset contact carrier inside, which is arc and heat resistant designed for maximum safety. There are also Nickel-plated solid brass pins and sleeves that provide a reliable electrical connection, even when repeatedly used in a corrosive environment.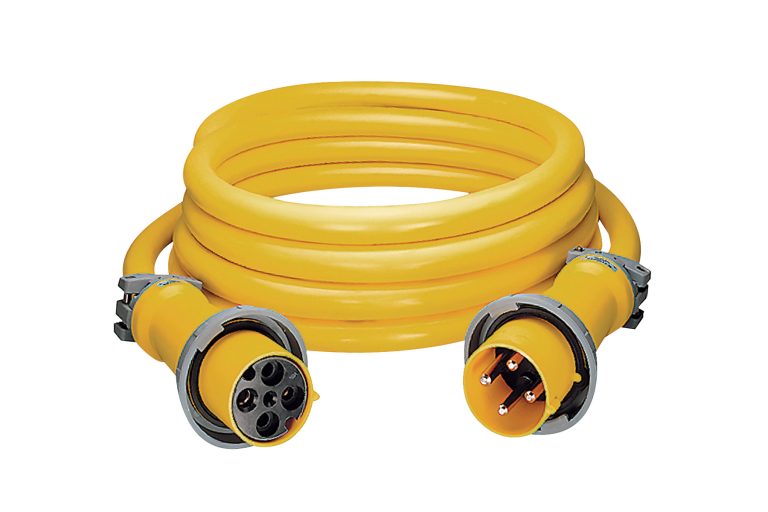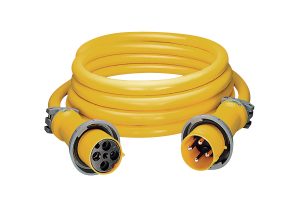 Hubbell 100A, 125/250V cable sets are available in three-, four- and five-wire configurations. If using an isolation transformer, a model without a neutral wire is offered.

The yellow high-visibility STOW cable is rated to 221° F. UL-listed and IP56-rated, the durable cord is easy to handle, even when cold. Massive external grips protect the wiring from conductor movement and strain on the terminals, and are secured with stainless steel fasteners.

Hubbell Marine 100A, 125/250V cable sets are offered in 50′, 75′ and 100′ lengths. An all-white 100′ model and versions designed for use with a cable winch system are available. Hubbell also offers a wide range of connectors, adapters and inlets to help complete a safe shore power configuration. MSRP starts at $5,200 for the cable set.

For more information visit www.hubbell.com

To Purchase Hubbell Marine products in Canada, please reach out to:

Doug Wright
JD Wright & Assoc Marketing
65 Cedar Pointe Dr. #471
Barrie, ON L4N 9R3
CANADA
Ph: 705-722-3022
Fax: 705-722-6483
jdwright@bellnet.ca

Kurt Komarnitsky
Marine Markets West
PO Box 598
Fall City, WA 98024
USA
Ph: 425-466-6000
Fax: 425-671-0334
KurtKomar@gmail.com
www.marinemarketswest.com

accessories, best boat cleaning supplies, best new boat products, boat, boat accessories, boat chairs, boat checklist, boat cleaning supplies, boat equipment, boat furniture, boat hacks, boat Lifestyle Products, boat supplies, boat tips, boat water purifier, boat water softener, Boating, boating equipment, boating gear, Boats, cable, cable set, cord, cord set, How to clean a boat, how to level a trailer, how to set up a boat, hubbell, hubbell marine, must have boating gear, new boat products, News, product, water softener accessories, best boat cleaning supplies, best new boat products, boat, boat accessories, boat chairs, boat checklist, boat cleaning supplies, boat equipment, boat furniture, boat hacks, boat Lifestyle Products, boat supplies, boat tips, boat water purifier, boat water softener, Boating, boating equipment, boating gear, Boats, cable, cable set, cord, cord set, How to clean a boat, how to level a trailer, how to set up a boat, hubbell, hubbell marine, must have boating gear, new boat products, News, product, water softener