Groupe Beneteau premiered twelve all-new models at the recent 2019 Fort Lauderdale International Boat.  Currently, fully one-third of the company's worldwide revenues are now attributed to North America, so Groupe Beneteau enters the Fort Lauderdale International Boat Show with understandable enthusiasm. 
Seven of the company's dozen brands displayed models in nearly every product category, the company reported an overall market leadership growth that it expects to continue as it enters the 2019-2020 retail show season.
Beneteau has a clear and continued commitment to bring the best boats for its customers. Gianguido Girotti, Group's Deputy CEO in charge of Product & Brand Strategy opened the press review recalling that "Groupe Beneteau is the only builder in the world to offer such rich and deep ranges. My aim is to continue developing our brands and their market shares thanks to a fine-grained brand architecture, effectively targeted product investments and efficient distribution networks."
Groupe Beneteau has committed approx. $44 million in each of the past three years to considerable new product development across all of its brands and boat ranges. This investment is already paying off, as more than half of the 200 models offered by its 12 brands are less than three years old.
Groupe Beneteau Americas, which is responsible for the company's North American operations, credits a strong, innovative product portfolio, and steady dealer recruitment/development for its success this past year. This, together with expanded manufacturing facilities in Cadillac, MI and Marion, SC, has enhanced the company's production capacities. "Each of our brands have added significant dealer coverage in key markets this past year, and allowed the addition of other Groupe Beneteau brands into existing dealerships," said Patrick Blake, Vice President of Channel Management and Marketing, Groupe Beneteau Americas. "This tells us each brand is doing a lot of things right, and continues to strengthen our position across multiple segments," Blake added.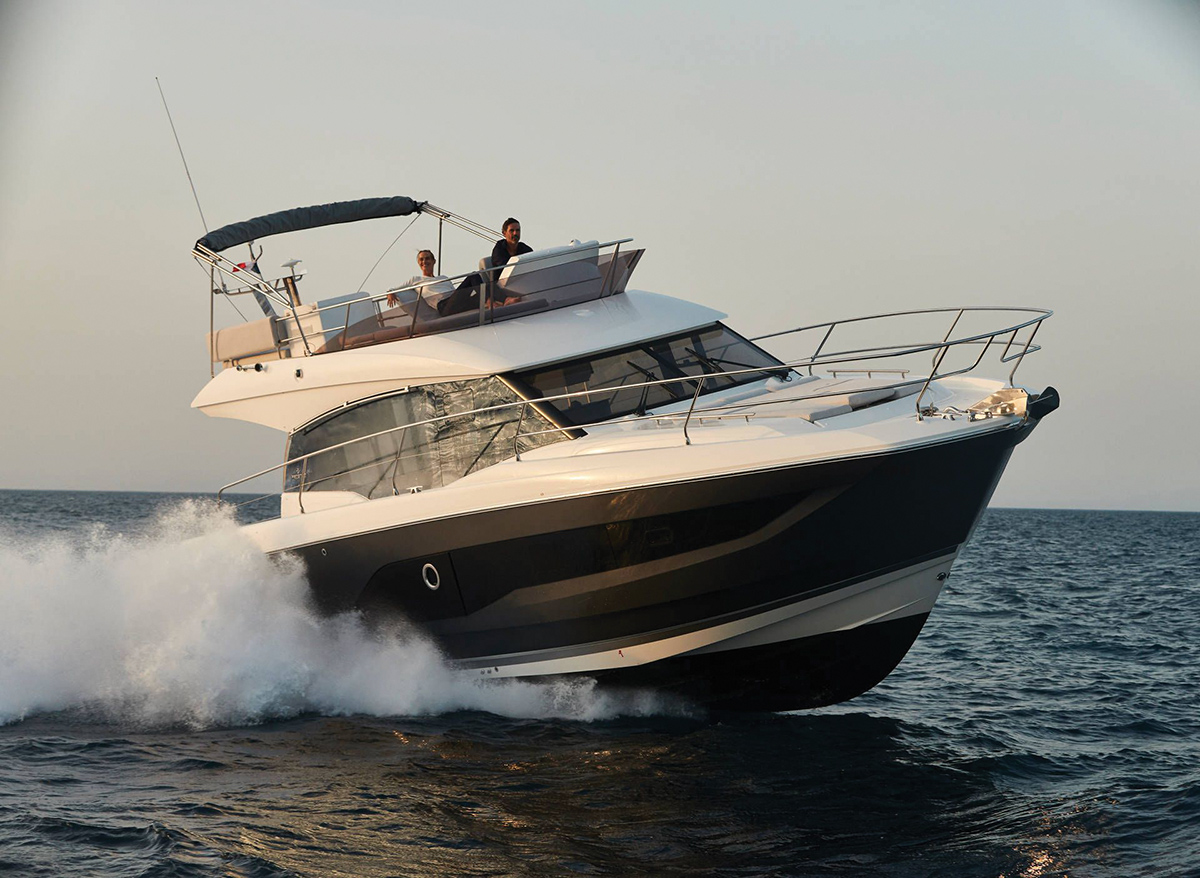 The new models unveiled include: a Gran Turismo 36 OB, the Swift Trawler 41 (see test in this issue), the Flyer 32, three Monte Carlo Yachts: the  66, 70 and 76, the Prestige 420 Fly, a Scarab 285 ID Jet Boat, and a Wellcraft 402 Fisherman.
For more information visit:  www.beneteau-group.com 

Beneteau, best boat, Best boat buying website, best boat marina website, best boat travel website, best place to rent a boat, boat accessories, boat angler, boat boondocking, boat buyers guide, boat camper, boat camping, boat dealers, boat DIY, boat Fishing, boat Fixer, boat Home, boat information, boat insurance, Boat Maintenance, boat marinas, boat marinas in Alberta, boat marinas in BC, boat marinas in Canada, boat marinas in Manitoba, boat marinas in Saskatchewan, boat marinas in the USA, boat marinas near me, boat products, boat rentals, boat repair, boat road test, boat sharing, boat sites near me, boat supplies, boat Tech, boat tips, boat touring, boat trade, boat Travel, boat traveling, boat travelling, boat vacation, boat vacation cost, boat websites Canada, boating Canada, Boating Canada's Boat Lifestyle Magazine, Boating Lifestyle Magazine, boating website, Canadian marina websites, expert boat information, find a boat dealer, how much does a boat cost, how much does marina cost, how to choose a boat, how to drive a boat, marina products, marina supplies, motor boat, power boating magazine, top boat website, used boat reviews Beneteau, best boat, Best boat buying website, best boat marina website, best boat travel website, best place to rent a boat, boat accessories, boat angler, boat boondocking, boat buyers guide, boat camper, boat camping, boat dealers, boat DIY, boat Fishing, boat Fixer, boat Home, boat information, boat insurance, Boat Maintenance, boat marinas, boat marinas in Alberta, boat marinas in BC, boat marinas in Canada, boat marinas in Manitoba, boat marinas in Saskatchewan, boat marinas in the USA, boat marinas near me, boat products, boat rentals, boat repair, boat road test, boat sharing, boat sites near me, boat supplies, boat Tech, boat tips, boat touring, boat trade, boat Travel, boat traveling, boat travelling, boat vacation, boat vacation cost, boat websites Canada, boating Canada, Boating Canada's Boat Lifestyle Magazine, Boating Lifestyle Magazine, boating website, Canadian marina websites, expert boat information, find a boat dealer, how much does a boat cost, how much does marina cost, how to choose a boat, how to drive a boat, marina products, marina supplies, motor boat, power boating magazine, top boat website, used boat reviews