Brunswick Corporation recently showcased its industry-leading technology for the first time at CES 2020, garnering broad media coverage from around the world and rave reviews from exhibitors, visitors and partners at the show. In addition to the debut of the Sea Ray SLX-R 400e with the all-new Fathom e-Power system, Brunswick displayed a concept helm that featured an enhanced consumer interface incorporating gesture and voice recognition.
See what everyone is saying about Brunswick's presence at CES 2020 in this video:
"The response to our exhibit was incredible," said Dave Foulkes, Brunswick Corporation Chief Executive Officer. "Throughout the show, we had waves of visitors from around the world who were just blown away by our suite of new technologies. CES 2020 was another major demonstration of Brunswick's commitment to using technology and new business models to redefine the marine consumer experience."
During the show and its related events, tens of thousands of people were able to experience Brunswick's leading-edge, human-centered development capabilities which deliver technology integration comparable to other sophisticated mobility experiences, for example in automotive and aerospace, and are rapidly evolving in the areas of Autonomy/ADAS, Connectivity, Electrification and Shared-Access models.
"We knew that CES would showcase Brunswick's capabilities on a global stage," said Foulkes. "The Brunswick team is excited about our participation at CES and we are already looking forward to demonstrating our rapidly evolving technologies and capabilities again next year."
About the all-new SeaRay SLX-R 400e
The all-new Sea Ray SLX-R 400e Outboard features cutting-edge technology paired with high-performance propulsion, elevated design elements and the orchestrated excellence of the SLX 400.  The "e" in the SLX-R 400e Outboard model name designates a first-of-its-kind boat electrification feature – the Fathom e-Power system. Developed by Brunswick, the Fathom system includes a high-capacity lithium-ion battery pack with an intuitive power management system capable of powering all of the boat's accessory systems and providing boaters with a convenient, smart way to enjoy all of the features of the boat, for a longer, quieter and more eco-friendly day on the water.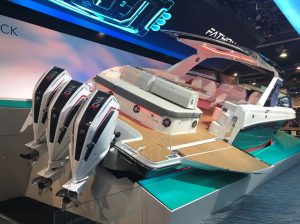 The SLX-R 400e Outboard is propelled by triple Mercury® Racing 450R outboard engines and features Mercury's Joystick Piloting for Outboards, NextWave™ innovations such as Quiet Ride™ and Dynamic Running Surface™. Other highlights include an exclusive helm display with Dual Digital Dash™ NSO evo3 16-inch displays, state-of-the-art systems from Simrad®, and a premier FUSION® Apollo RA770 marine audio system with a touchscreen display for the ultimate in technologically advanced sound. The boat also comes standard with the Sea Ray Connect™ remote monitoring system, powered by NAUTIC-ON™.
Enhancing the SLX 400 aesthetic, the SLX-R 400e Outboard showcases upscale design elements including special-edition Shadow metallic gel paint, superior quality upholstery with contrast stitching, red underwater lighting and red accent lighting throughout the vessel. Its best-in-class layout offers seating for 22 passengers, an abundance of storage space and iconic amenities like the inviting sunpad and fold down swim terrace. Below deck, a generous cabin that sleeps four creates a comfortable space to escape the elements, relax or spend the night.
For more information visit www.searay.com

best boat, Best boat buying website, best boat marina website, best boat travel website, best place to rent a boat, boat accessories, boat angler, boat boondocking, boat buyers guide, boat camper, boat camping, boat dealers, boat DIY, boat Fishing, boat Fixer, boat Home, boat information, boat insurance, Boat Maintenance, boat marinas, boat marinas in Alberta, boat marinas in BC, boat marinas in Canada, boat marinas in Manitoba, boat marinas in Saskatchewan, boat marinas in the USA, boat marinas near me, boat products, boat rentals, boat repair, boat road test, boat sharing, boat sites near me, boat supplies, boat Tech, boat tips, boat touring, boat trade, boat Travel, boat traveling, boat travelling, boat vacation, boat vacation cost, boat websites Canada, boating Canada, Boating Canada's Boat Lifestyle Magazine, Boating Lifestyle Magazine, boating website, Canadian marina websites, expert boat information, find a boat dealer, how much does a boat cost, how much does marina cost, how to choose a boat, how to drive a boat, marina products, marina supplies, motor boat, power boating magazine, top boat website, used boat reviews best boat, Best boat buying website, best boat marina website, best boat travel website, best place to rent a boat, boat accessories, boat angler, boat boondocking, boat buyers guide, boat camper, boat camping, boat dealers, boat DIY, boat Fishing, boat Fixer, boat Home, boat information, boat insurance, Boat Maintenance, boat marinas, boat marinas in Alberta, boat marinas in BC, boat marinas in Canada, boat marinas in Manitoba, boat marinas in Saskatchewan, boat marinas in the USA, boat marinas near me, boat products, boat rentals, boat repair, boat road test, boat sharing, boat sites near me, boat supplies, boat Tech, boat tips, boat touring, boat trade, boat Travel, boat traveling, boat travelling, boat vacation, boat vacation cost, boat websites Canada, boating Canada, Boating Canada's Boat Lifestyle Magazine, Boating Lifestyle Magazine, boating website, Canadian marina websites, expert boat information, find a boat dealer, how much does a boat cost, how much does marina cost, how to choose a boat, how to drive a boat, marina products, marina supplies, motor boat, power boating magazine, top boat website, used boat reviews