Galeon Yachts has debuted their all-new 640 FLY at the Progressive Miami International Boat Show.
The 640 FLY is a game changer, offering solutions never before seen in this class. This transformer yacht will revolutionize this segment of the motor yacht marketplace with its innovative approach to layout and space distribution. The Galeon 640 FLY follows a new design path to allow for bigger volume and better space distribution, all while maintaining the great exterior appearance Galeon models are known for. Outside, the aft cockpit dining area holds eight people who can enjoy an entertainment system with a TV sliding up from the aft galley, all while protected from the elements by the electric aft sunshade. Further back, find the hydraulic bath platform capable of handling all water paraphernalia and a convenient access to a large skipper cabin.
The flybridge is enlarged to offer a generous dining space, a full-sized bar and plenty of lounge space surrounding the steering console. The bow deck area can be approached by the revolutionary, electric front window entrance revealing two separate movable sofas with integrated convertible tables for sundeck purpose. Serve the area from a nearby forward bar to further impress your guests. Everyone's favorite Beach Mode makes a welcome reappearance, fitted with six-meter-long balconies with partially glazed floors and a breakfast bar on both sides.
Inside find extensive lounge and dinner areas with opening side windows next to the bar and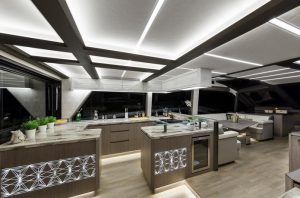 steering station. Thanks to the innovative, two-way stair system, a three full-beam cabin layout was made possible for extra privacy and comfort. A four-cabin layout is sure to please enlarged families and charter enthusiasts. Embrace the future of luxury yachts with the Galeon 640 FLY!
"To say we are extremely excited about the Galeon 640 FLY would be an understatement. This revolutionary and game-changing yacht is a natural progression from the popular 500 FLY and is already being considered to win innovation and design awards," stated Bob Burke, Galeon Brand Manager.
Galeon 640 FLY Specs:
| | | |
| --- | --- | --- |
| Length overall | [m] | 20,80 |
| Beam overall | [m] | 5,00 |
| Draft max. (canoe body) | [m] | 0,95 |
| Mass of Light Craft Condition | [kg] | 31000 |
| Max. engine (-s) power | [kW/HP] | 2x 895/1200 |
| Crew limit | | 14 |
For more information about Galeon Yachts all new 640 fly visit:
http://galeon.pl/en/model/620-fly-2/.
640 Fly, best boat, Best boat buying website, best boat marina website, best boat travel website, best place to rent a boat, boat accessories, boat angler, boat boondocking, boat buyers guide, boat camper, boat camping, boat dealers, boat DIY, boat Fishing, boat Fixer, boat Home, boat information, boat insurance, Boat Maintenance, boat marinas, boat marinas in Alberta, boat marinas in BC, boat marinas in Canada, boat marinas in Manitoba, boat marinas in Saskatchewan, boat marinas in the USA, boat marinas near me, boat products, boat rentals, boat repair, boat road test, boat sharing, boat sites near me, boat supplies, boat Tech, boat tips, boat touring, boat trade, boat Travel, boat traveling, boat travelling, boat vacation, boat vacation cost, boat websites Canada, boating Canada, Boating Canada's Boat Lifestyle Magazine, Boating Lifestyle Magazine, boating website, Canadian marina websites, expert boat information, find a boat dealer, Galeon, how much does a boat cost, how much does marina cost, how to choose a boat, how to drive a boat, marina products, marina supplies, MIBS, motor boat, power boating magazine, top boat website, used boat reviews, Yacht