Power Boating Canada was on hand this morning at the Miami International Boat Show when John Pfeifer, Mercury Marine president, introduced the all new V-6 FourStroke outboard family and the expansion of their SeaPro commercial line of outboards.
"This new platform will position Mercury to advance product leadership in the 175-225hp outboard category, and deliver across the board on consumer needs," said John Pfeifer, Mercury Marine president. "These new outboards address applications across recreational and commercial applications, strengthen our core product lineup by building off the success of our recent programs and delivering on the requirements of our global customers."
The new engine family, which builds on the success of Mercury's 75-150hp FourStroke outboards, features 175hp, 200hp and 225hp FourStroke outboards and a V-6 200hp SeaPro commercial outboard.
The new Mercury FourStroke and SeaPro outboards are built on Mercury's new 3.4-liter V-6 platform, which is designed to be powerful, light, compact and fuel-efficient.  The new V-6 engines are precision engineered from skeg to cowl.
The 3.4L V-6 employs a large displacement, naturally aspirated powerhead and proven mid-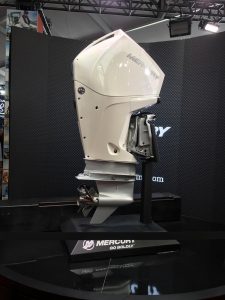 section and drive-system designs. Additionally, the 3.4L V-6 outboards are exceptionally versatile, offering the option of mechanical or digital controls, hydraulic or power steering, and black or white cowls on FourStroke-branded products, as well as a variety of accent panel colors.  This versatility makes the new V-6 an ideal engine for repower applications.
"These outboards set a new benchmark in the marine industry," said Pfeifer. "They are the quietest, lightest, smoothest, quickest and most fuel-efficient engines we have produced in this range."
The new FourStroke engine not only provides large displacement at 200hp, but is also exceptionally light weight at 475 pounds – the lightest weight in its class by more than 10 pounds.  Lean and mean, the 3.4L V-6 FourStroke boasts Mercury's best acceleration and 20 percent more torque than the closest four-cylinder competitor at cruise.  Fuel efficiency is also unmatched – the new 3.4L V-6 FourStroke is calibrated to maximize fuel economy at cruise, yielding an advantage of up to a 15 percent compared to the closest four-cylinder competitor.
"Based on what I'm hearing from our customers, we feel like we hit a homerun with the new V-6 FourStroke outboard lineup," said Randy Caruana, Mercury Marine vice president North & Central America, and Asia Pacific. "What a great addition to the portfolio.  These engines are light and quiet — to have a V-6 that's lighter than a four-cylinder is just incredible."
Watch for more information on this new outboard line in an upcoming Hands On Test report.
best boat, Best boat buying website, best boat marina website, best boat travel website, best place to rent a boat, boat accessories, boat angler, boat boondocking, boat buyers guide, boat camper, boat camping, boat dealers, boat DIY, boat Fishing, boat Fixer, boat Home, boat information, boat insurance, Boat Maintenance, boat marinas, boat marinas in Alberta, boat marinas in BC, boat marinas in Canada, boat marinas in Manitoba, boat marinas in Saskatchewan, boat marinas in the USA, boat marinas near me, boat products, boat rentals, boat repair, boat road test, boat sharing, boat sites near me, boat supplies, boat Tech, boat tips, boat touring, boat trade, boat Travel, boat traveling, boat travelling, boat vacation, boat vacation cost, boat websites Canada, boating Canada, Boating Canada's Boat Lifestyle Magazine, Boating Lifestyle Magazine, boating website, Canadian marina websites, Engine, expert boat information, find a boat dealer, how much does a boat cost, how much does marina cost, how to choose a boat, how to drive a boat, marina products, marina supplies, Mercury, MIBS, motor boat, outboard, power boating magazine, top boat website, used boat reviews