FROM THE PBC VAULTS: Volume 7 Number 3
originally published in 1992
We open the personal photo album of Tom Greavette, a Canadian boat industry giant.
By Harold Shield
During the Roaring Twenties, Tom Greavette, as Sales Manager for the H. Ditchburn Manufacturing Co. Ltd., launched some of the greatest pleasure craft ever built in Canada. Now, Power Boating Canada provides an exclusive look into his personal photo album.
With the development of the Muskoka tourist trade in the 1870s, the four Ditchburn brothers, recently emigrated from England, found themselves developing a fleet of rental rowboats and canoes. No stranger to naval affairs, the Ditchburn shipwright history could be traced back to the time of the Spanish Armada, and they were soon to establish a worldwide reputation as Canada's premier builders of luxury recreational watercraft.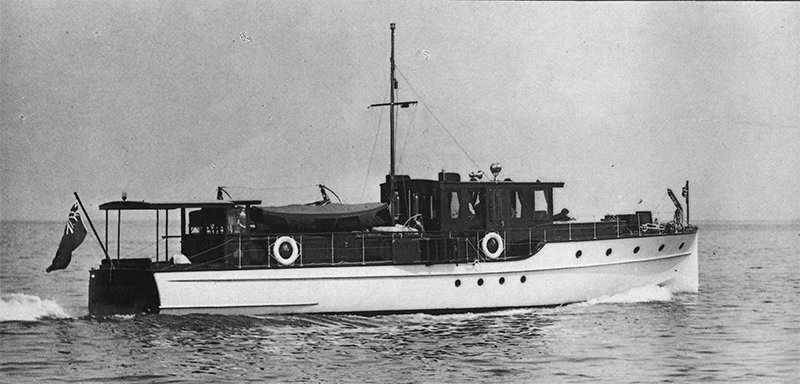 By 1890, Henry Ditchburn had established a boat-building company at Gravenhurst, the rail point from where Toronto's vacationing wealthy families were making their first tentative advances into the vacation wilderness. There, in 1893, he built his first powered craft, and there, he hired a young woodworker, Tom Greavette.
By 1904, his nephew Herb had joined the company, which was incorporated in 1907 as the H. Ditchburn Manufacturing Co. Ltd, Soon they were offering a full range of powered boats from a 16-foot skiff to a 45-foot daycruiser. By the beginning of World War I, they achieved a wide reputation for quality, superb materials and honest construction. Herb Ditchburn and Tom Greavette were establishing the standard for all others to try to match.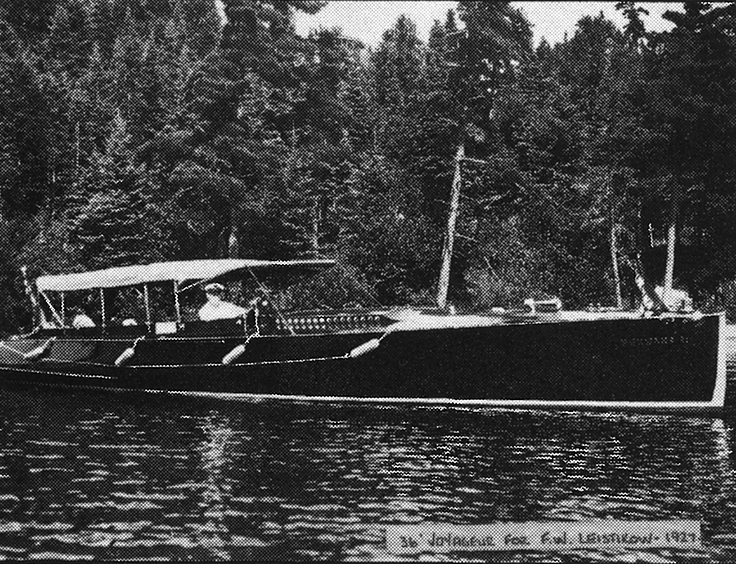 Kawandag, built in 1915 for Sir John Eaton, was their largest and most famous effort of the 'teens. At 73 feet by 12 feet with all yacht amenities, she was capable, nevertheless, of 24 mph, an astounding speed for her time. Designed by Bowes and Mower, she was powered by twin eight-cylinder Sterling gasoline engines, and suited her owning family well, remaining on Muskoka waters until 1938.
A few years later, designer Bert Hawker returned from the war, to create Idylese for Colonel T.A. Duff of Toronto. At 62 feet by 12 feet, she was powered by a single eight-cylinder Sterling, and easily maintained an 18 mph cruising speed.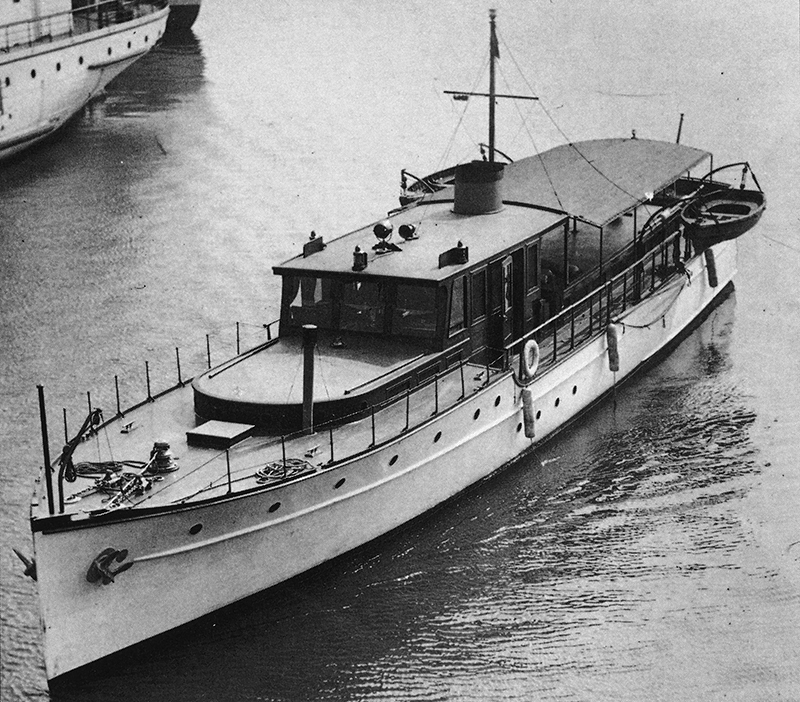 Speed was on everyone's mind in 1922, with Harry Greening's Rainbow racing to fame in the Fisher Gold Cup, and the 38-foot Dolly Durkin completed for Lady Eaton. Perhaps the finest launch yet built by Ditchburn, she was powered by a 275 hp Sterling engine and reached speeds of 38 mph. Crafted entirely of mahogany with aluminum and nickel-plated hardware, Dolly Durkin carried the growing fame of the company into the beckoning US markets.
By 1926, one half of the annual production was going to the United Staes and the success of Sales Manager Tom Greavette in finding new customers for large cruisers necessitated a new factory at Orillia where delivery access to the Trent Canal system was possible. Greening's racing victories in Canada, the US and Europe brought worldwide recognition to the builder, and a new, more technically-advanced Rainbow appeared almost every year.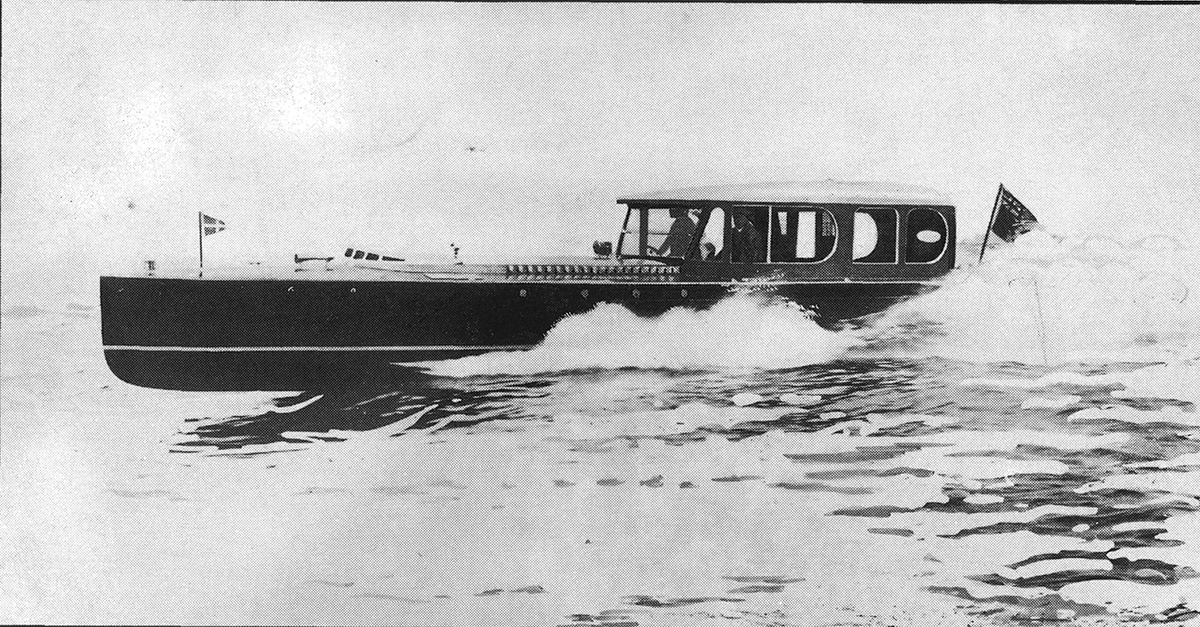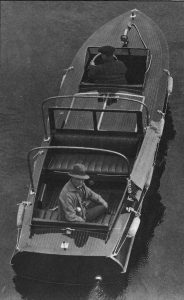 Colonel Cam McLaughlin, of Oshawa car-building fame, was also a Ditchburn customer, and in the Greavette album is seen seated in the stern of the 1927 21-foot yacht tender which whisked him offshore to his large yacht. A 37-foot closed launch names Blythewood was built in vermilion wood that same year for the family cottage on Lake Rosseau, and son Ewart took delivery in 1929 of Whippet, a 23-foot gentleman's racer which set a new standard for personal luxury transportation. These latter two vessels are still regularly seen at antique boat shows, still drawing admiring attention.
John Ringling, of Sarasota, Florida, best known as the circus impresario, in 1928 commissioned the building of The Silver Queen, a 28-foot racing boat which led to the famous Viking line of runabouts. Built form 1928 to 1931, these popular models featured a hard chine, stepped hull, and are now eagerly sought by today's collectors. The long, low displacement hulls, were giving way to the new look of power and speed – harder edges, planning hulls, with raised hatches to accommodate the larger overhead camshaft engines.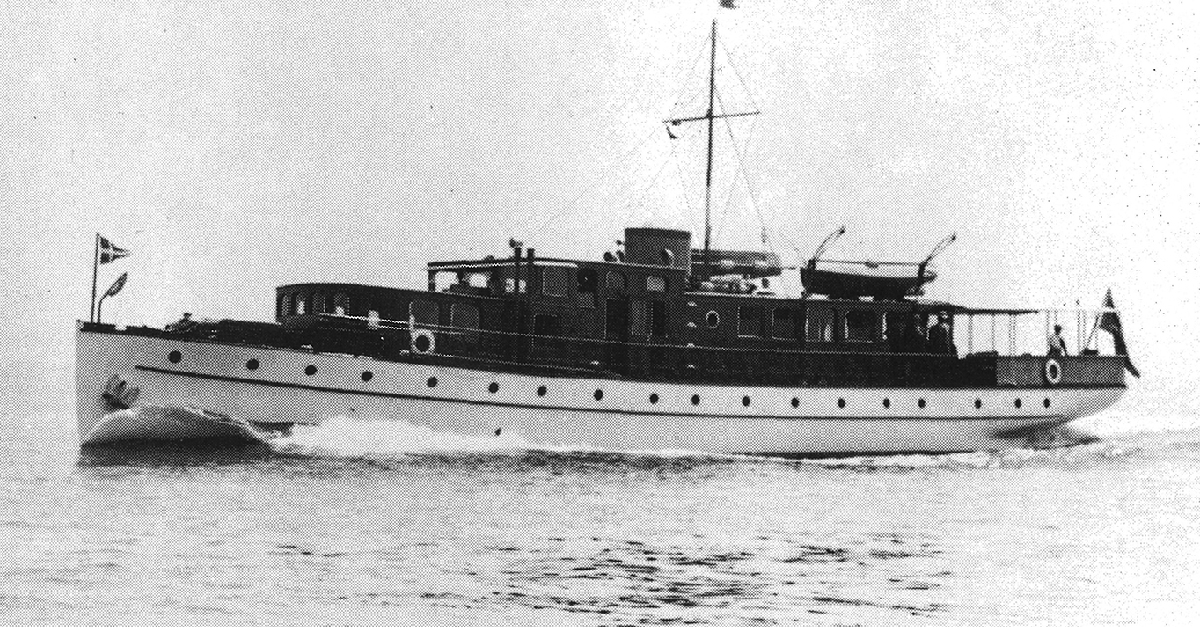 A series of huge cruisers formed the backbone of Orillia plant production as the booming economy swept towards the collapse of 1929. Toronto distiller Harry Hatch cruised this new 65-footer; for Gordon Lefebvre, Vice-President of General Motors, Ditchburn crafted a 78-foot by 14-foot cruiser with twin 150 hp Maybeck diesel; an 85-foot by 16-foot model with twin Winton diesels for E.L. Pease of Montreal; and for J.K.L. Ross, also of Montreal, a 100-footer whose gleaming white hull was seen in fashionable resorts from the Great Lakes to Florida.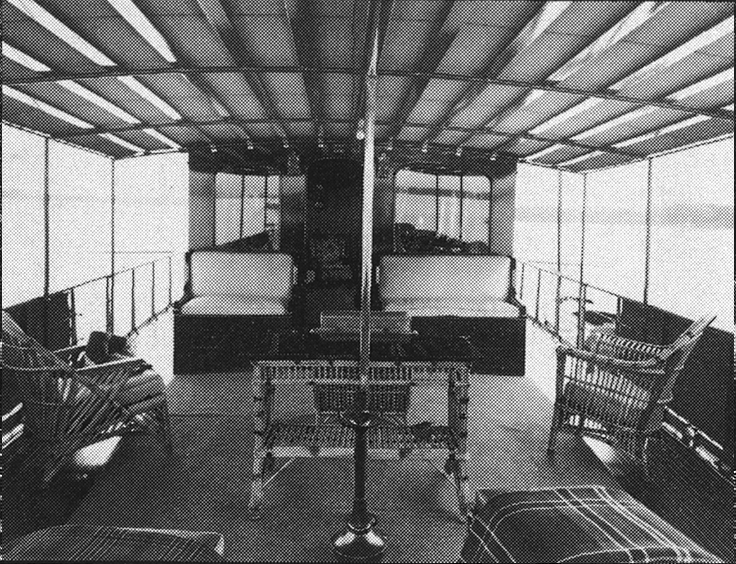 In 1930, Commodore Chauncey O. Stillman of the Royal Canadian Yacht Club in Toronto took delivery of Thalassa, a 1000-foot yacht from which he took the salute at the Club's annual sailpast. A veteran yachtsman, Stillman, as President of Imperial Oil Limited, was then building the Sarnia refinery for his company. The interior photos of this magnificent yacht, lovingly enshrined in Tom Greavette's personal sales album, probably illustrate the high point of Ditchburn production, a production that was now heading towards the disaster of bankruptcy. Sensing the collapse, Tom was now about to embark on a new career in the production of smaller, assembly-line runabouts of his own trademark, more suited to the tougher times ahead, and financed in his endeavours by many of his former Ditchburn customers.
It's a story we will follow in a future issue, with more exclusive photographs from the personal portfolio of Tom Greavette.

best boat, Best boat buying website, best boat marina website, best boat travel website, best place to rent a boat, boat accessories, boat angler, boat boondocking, boat buyers guide, boat camper, boat camping, boat dealers, boat DIY, boat Fishing, boat Fixer, boat Home, boat information, boat insurance, Boat Maintenance, boat marinas, boat marinas in Alberta, boat marinas in BC, boat marinas in Canada, boat marinas in Manitoba, boat marinas in Saskatchewan, boat marinas in the USA, boat marinas near me, boat products, boat rentals, boat repair, boat road test, boat sharing, boat sites near me, boat supplies, boat Tech, boat tips, boat touring, boat trade, boat Travel, boat traveling, boat travelling, boat vacation, boat vacation cost, boat websites Canada, boating Canada, Boating Canada's Boat Lifestyle Magazine, Boating Lifestyle Magazine, boating website, Canadian marina websites, Ditchburn Manufacturing, expert boat information, find a boat dealer, how much does a boat cost, how much does marina cost, how to choose a boat, how to drive a boat, marina products, marina supplies, motor boat, Muskoka, power boating magazine, top boat website, used boat reviews best boat, Best boat buying website, best boat marina website, best boat travel website, best place to rent a boat, boat accessories, boat angler, boat boondocking, boat buyers guide, boat camper, boat camping, boat dealers, boat DIY, boat Fishing, boat Fixer, boat Home, boat information, boat insurance, Boat Maintenance, boat marinas, boat marinas in Alberta, boat marinas in BC, boat marinas in Canada, boat marinas in Manitoba, boat marinas in Saskatchewan, boat marinas in the USA, boat marinas near me, boat products, boat rentals, boat repair, boat road test, boat sharing, boat sites near me, boat supplies, boat Tech, boat tips, boat touring, boat trade, boat Travel, boat traveling, boat travelling, boat vacation, boat vacation cost, boat websites Canada, boating Canada, Boating Canada's Boat Lifestyle Magazine, Boating Lifestyle Magazine, boating website, Canadian marina websites, Ditchburn Manufacturing, expert boat information, find a boat dealer, how much does a boat cost, how much does marina cost, how to choose a boat, how to drive a boat, marina products, marina supplies, motor boat, Muskoka, power boating magazine, top boat website, used boat reviews