They sure don't make 'em like they used to.
By Brad Roberts
Shepherd, Ditchburn, Minett-Shields, Dispro, Century, Chris-Craft.  Mention any one of these names to any boater and instant memories of the wooden classics come to mind.  Images of gleaming varnish, polished chrome, and powerful engines combined with craftsmanship and pride fill the mind.  Do you remember your first encounter with a wooden boat?  Perhaps you were lucky enough as a kid to own one at your family cottage.  Maybe you were fortunate one afternoon to be offered a ride in one at a boat show.  Or was it that you just saw one at a dock or driving down the highway on a trailer.  What was that feeling?  Awe?  Admiration?  Love at first sight?
It was Alan Jackson who put it to words, "You can't beat the way an old boat rides."  But just how much interest is there out there in old wooden boats?  Just ask the over 3,500 attendees who came out to the 34th annual Antique and Classic Boat Show in Gravenhurst, Ontario July 7th, 2012 weekend and you'll get a resounding answer: LOTS!
Held annually by the Antique and Classic Boat Society of Toronto (www.acbs.ca), the show draws wooden boat fans and devoted followers from all across North America.  This year, the Toronto based club partnered with the Antique and Classic Boat Museum from Clayton, New York (www.abm.org ), and the result was a showcase of over a hundred and ten boats in every configuration you could image from canoes to disappearing propeller boats to raceboats to limousines.  Many were in the water around the Muskoka Wharf and offered visitors a chance to see wooden boat history in motion. The Wharf is home to the famous R.M.S. Segwun, North America's oldest operating steamship, celebrating her 125th anniversary in 2012, and the Muskoka Boat and Heritage Centre (www.segwun.com) that is open all year round so that visitors can spend a day with classic boats anytime.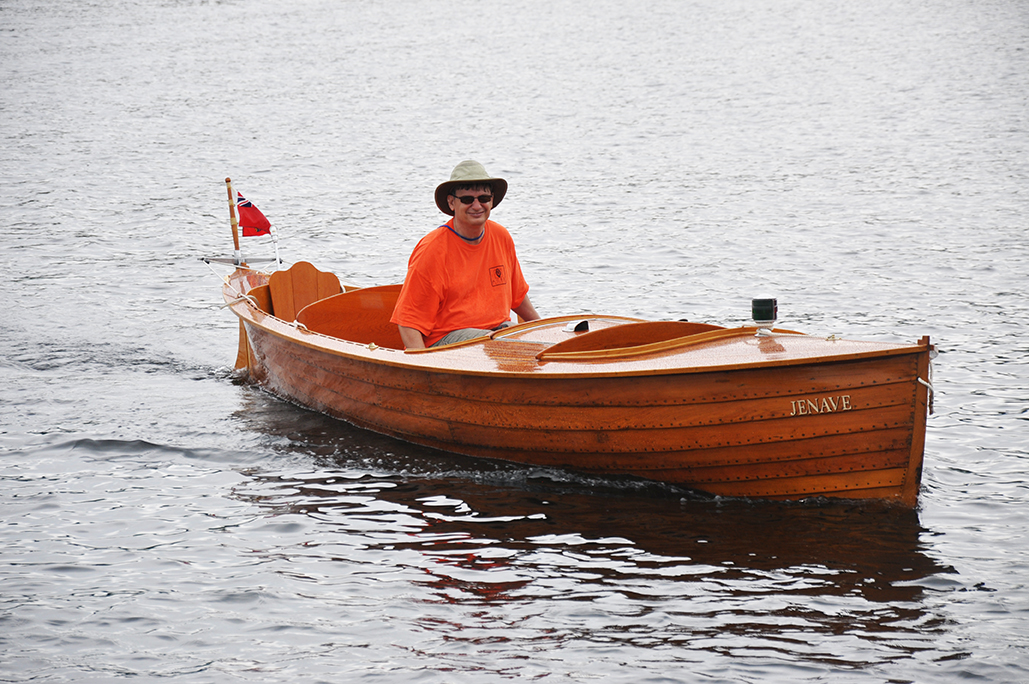 While many were local entries from Ontario, one entry came from as far away as Minnesota.  Tolka, is a 1928 limousine boat originally built in the Alexander Graham Bell Labs in Baddeck, Nova Scotia.  She is proudly owned by Lee and Penny Anderson and was awarded the Show Boat Award as well as the farthest distance traveled award.  Tolka caught the crowd's attention throughout the day, but the highlight was when she towed a water skier in 1920's vintage costume, with members of the original family, the current owner and the restorer as passengers in the boat.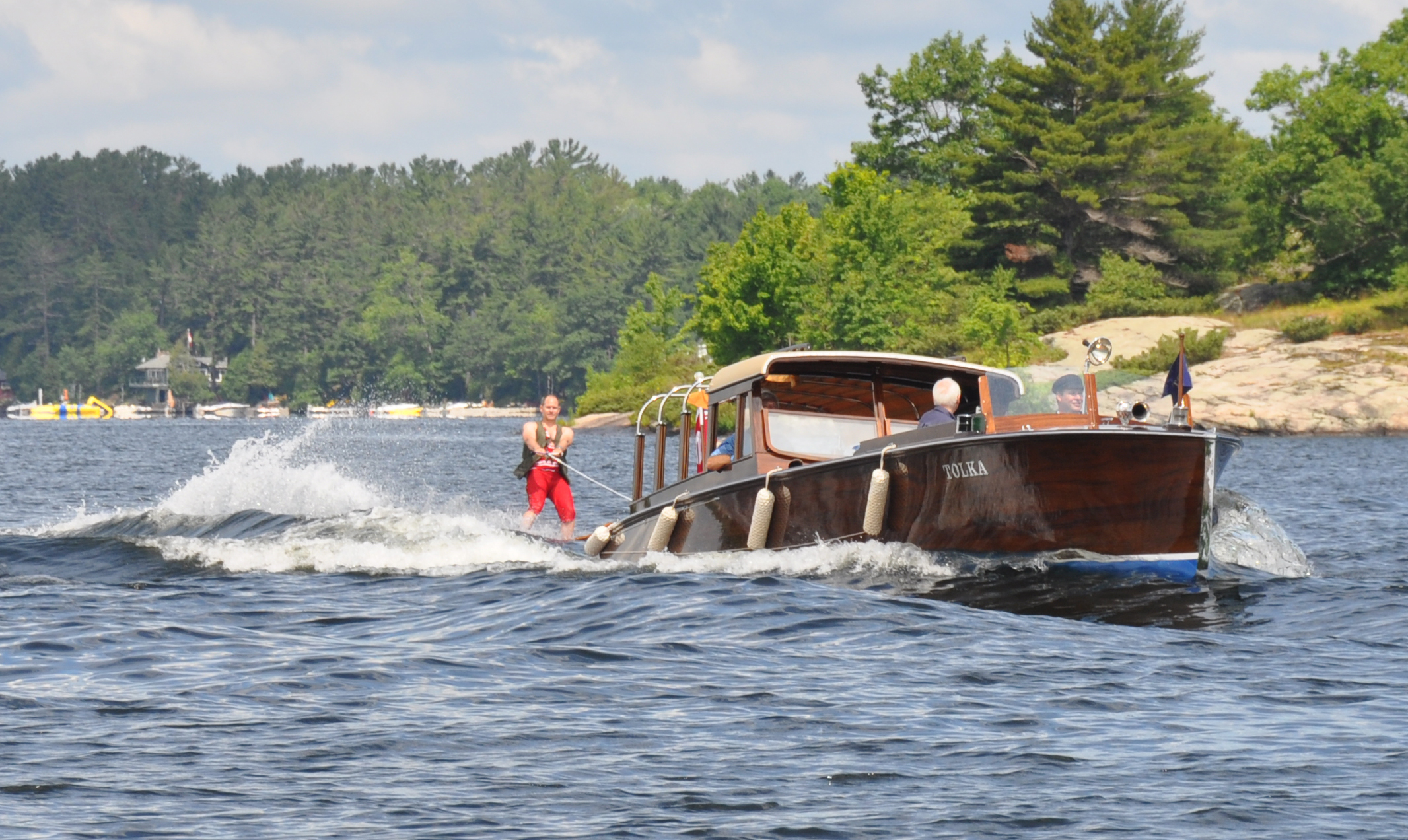 For those attending the show searching ideas and parts for their own restoration project, there were over fifty vendors present in the popular Flea Market area.  They offered up not only advice and laughs, but also an impressive selection of old and often hard-to-find boat parts, cleaned and in some cases re-chromed and ready for installation.  Had trouble locating a part for your project boat?  All you had to do was just ask around and you were likely to get a referral to where you could locate it or get a replacement made from scratch. 
For the kids, volunteers organized in advance pre-cut patterns for ten wooden Dories.  Parents and children teamed up, guided by Eric Seepa, and assembled the pre-made parts in about two hours into a complete boat right there on site.  The Cardboard Boat Building Parade was also popular with children eight and older making their own cardboard boat and then attempting to float it between two docks.   It was great fun and laughs for all participants and spectators.
There were displays of old antique engines in need of some tender loving care as well as completely restored versions to give visitors a glimpse into the past as well as something to strive for.  The Antique Motor Club was on hand to offer advice and to help make the history come alive with their stories of says gone by.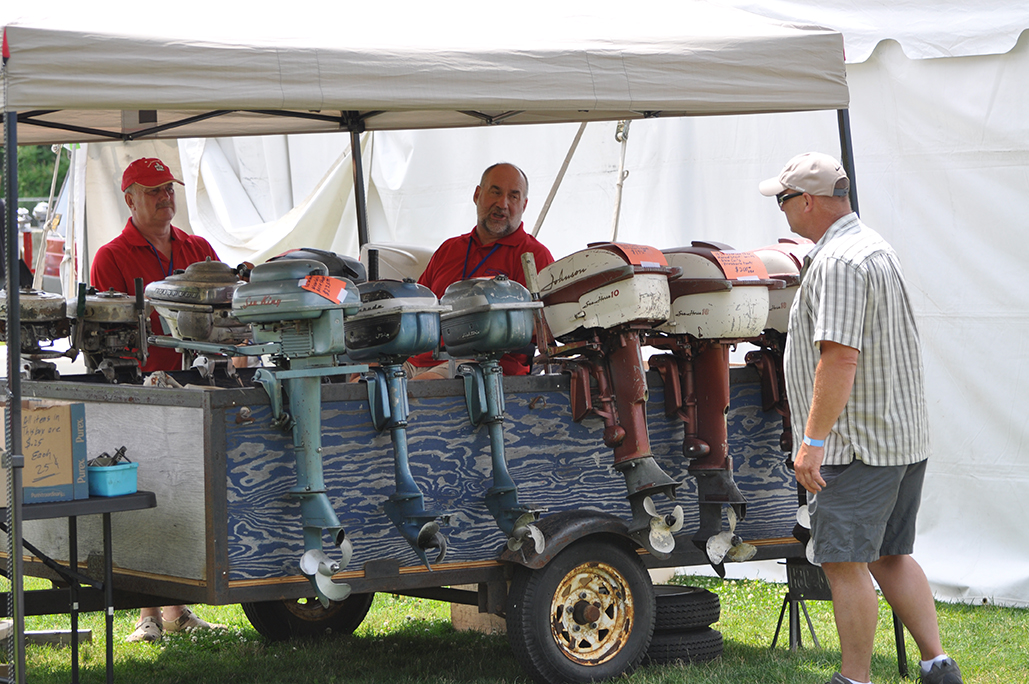 The Field of Dreams was, as always, a popular stroll.  Wooden boats in various conditions of repair or restoration sit on trailers up for inspection and for sale.  Many restoration projects start here with show visitors coming in search of a project boat to buy, restore and then enter into the other side of the show hoping to win an award.
This year, there were a number of awards handed out by the panel of Judges:
Best Presented Boat:

 

Heldena II, a

 

1916 36' JJ Taylor Raceboat owned by Rick and Gayle McGraw
Founders Award:

 

Owana, a 1899 canoe Built by Mortimer Threehouse (1 of 16 built) from Clayton Antique Boat Museum

Captain's Choice: Tolka, the show's poster boat, owned by Lee and Penny Anderson

Best Classic Glass:

 

Speed Dog, a 1976 22' Donzi Classic GT, owned by Tom Reburn
Longest Haul:

 

Tolka all the way up from Minnesota

People's Choice Car: 1915 Cadillac Touring, owned by Bob and Nancy Thompson of Port Elgin

Most Original Award:

 

Bythwood II, a 1926 38.5' Ditchburn Sedan owned by Peter and Matthew Hermann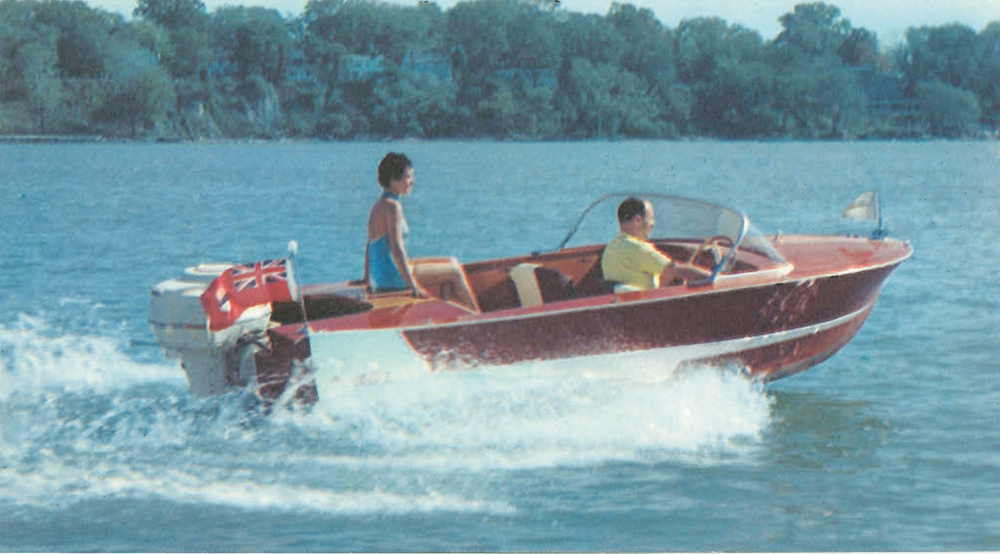 It was a stroll down this Field of Dream a few years ago, along with a love of wooden boats much of their lives, that sparked one couple – my parents – to take on their own restoration project.  After looking for several years in dusty country barns, old boathouses, and antique shows, John and Janet Roberts found "Cathy Ann", a 1960 16-foot Shepherd runabout, Model 55 according to the 1960 Shepherd brochure, up for sale in a boathouse on Lake of Bays, in Muskoka, Ontario. She was hull number 54, originally built in 1960 by Shepherd Boats from Niagara-on-the-Lake for Mrs. Hahn, the wife of Jim Hahn, then President of the Shepherd boat company.  She is a double planked mahogany hull and was the first Shepherd to have the interior side panels covered in upholstery rather than the traditional varnish over plywood. 
Her finish was rough, with the varnish peeling and cracked, and many boards well dried out from many years of not being in the water.  Restoration work began in October of 1999 and  proceeded over the winter.  The work was done inside at the Muskoka Marine Museum, then located in Huntsville, mostly by John and Janet themselves.  The stem was rotten above the waterline and was replaced with the help of Doug McGrath.  The entire hull was raised off the trailer and with the help of block and tackle hung from the ceiling, it was turned over and stripped down to the bare mahogany wood.  Only three planks in the hull needed replacement, and Mark Robinson assisted with this part. The boards were replaced and all seams filled with Sikaflex, sanded down, and given 12 coats of marine varnish and several coats of anti-fouling paint in "racing copper".
The hull was righted again, and Butson Boats mixed up a deep brown stain for the finish, custom-matched as closely as possible to the original Shepherd colour.  Several coats of stain and a total of twelve coats of varnish were applied to the hull and deck.  The interior of the hull had the floorboards removed and was completely sanded and recoated with two coats of varnish.  The floorboards were replaced and the seats completely re-upholstered by Janet to match the original. 
A 1978 Mercury 70hp 3 cylinder outboard was found to replaced the Mercury 'tower-of-power' outboard that was on the boat when John and Jan bought it, that was unfortunately not repairable.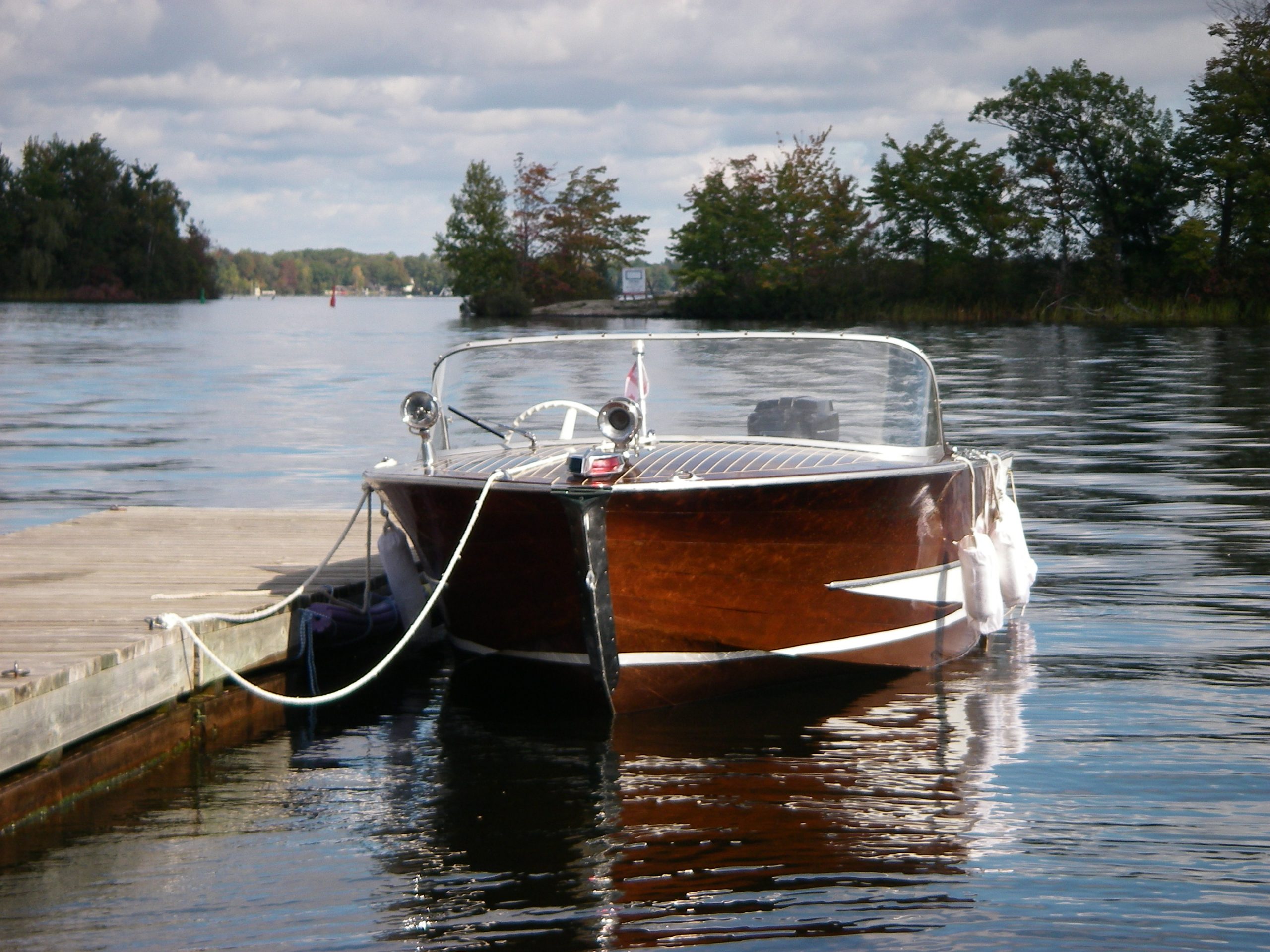 Approximately 1500 hours of work went into this restoration, and the boat was re-launched as "Capricorn II" in July 2000 on Echo Lake, just outside of Bracebridge.  Capricorn II has served for the past dozen years as a family runabout, a tubing and water ski tow boat, a wedding limousine at my wife's and my wedding, and will one day be passed down as a family heirloom to John and Janet's grandchildren.  For more information on Shepherd boats visit www.shepherdboats.com.  To learn more about restoring your own classic, refer to the information and links available at www.acbs.ca

antique boats, century, Chris Craft, dispro, Ditchburn Manufacturing, shepherd antique boats, century, Chris Craft, dispro, Ditchburn Manufacturing, shepherd