The following article by Gregg Mansfield appeared in Power Boating Canada Volume 35 Number 3. Photos courtesy Formula Boats. Want to subscribe for future issues? Click here!
Walk the docks at a major boat show and you'll notice outboards hanging off transoms as far as the eye can see. As consumers are increasingly opting for outboards over sterndrives, it makes sense for Formula Boats to offer an outboard version of the 380 Super Sport Crossover.
Formula introduced the 380 SSC in 2019 as part of the company's Crossover line; they followed it up over the summer with an outboard version that features triple Mercury Racing 450R power.
John Adams, Formula's longtime designer, was tasked with modifying the 380 SSC's stepped hull to deal with the inevitable change of gravity. The solution: hang triple engines on the transom. The bottom, meanwhile, required minor modifications such as the addition of flotation and repositioning steps because of the weight and performance changes from the outboard package.
"If it were just a sterndrive, you know, it's pretty straightforward, it was just an outboard, it's pretty straightforward," Adams said. "But knowing we had to start with a sterndrive hull, and then modify it to work to our standards, was something that took some effort."
The outboard version of the 380 SSC provided some notable performance improvements compared to the inboard version. Offering an additional 310 horsepower, the 380 SSC with outboards got on plane quickly and went from zero to 20 mph in 5 seconds – 4.8 seconds faster than Mercury Racing's 520 sterndrive version.
While the sterndrive version took 15.8 seconds to go from zero to 30 mph, the outboards did the same drill in just 8.8 seconds. With the triple outboards, the 380 SSC had a top speed of 65.2 mph at 6,400 rpm. That's impressive for a boat that weighs more than 21,200 pounds.
The outboard version generally had better overall fuel economy compared to its sterndrive counterpart. With the triple Mercury Racing 450R outboards turning 5,000 rpm, the 380 SSC has a range of 164 miles on a 250-gallon fuel tank.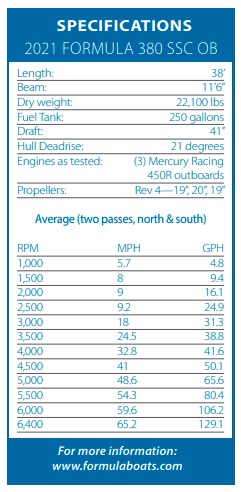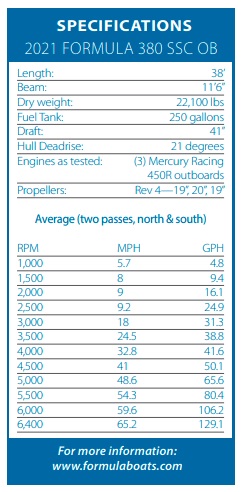 The 380 SSC is being offered with four outboard power options: Triple Mercury Marine 350 or 400 Verado engines and triple Mercury Racing 400R or 450R outboards. The sterndrive offering is twin 430 hp MerCruiser 8.2 MAG HOs or Mercury Racing 520s.
Adams said there is still a large market for sterndrive boats but consumers want outboards because they represent the latest technology. They also allow for easier routine maintenance.
"These outboards are so [much more] dependable now than they used to be, it's just a really nice package and so quiet," Adams said. "Like I say, it's almost a status symbol to pull in with a brand-new boat with three or four outboards on the back of it and it turns heads."
When Formula introduced the 380 SSC in 2019, the company saw the new model as a natural fit between the 330/350 Crossover Bowriders and the 400/430 SSC models. It was fast enough to have some fun on the water but also big enough to host family and friends.
The outboard configuration offers the same deck layout as the sterndrive version. With a beam of 11'6", Formula had lots of room with which to work. The highlight is a full-width fibreglass hardtop with a top-to-bottom windshield. The hardtop features both a motorized glass sunroof that opens and a sliding bow window to port.
The cockpit includes triple helm seating and a U-shaped lounge aft to provide a nice lounging area. If the customer wants to take it up a notch, Formula offers a 18,000 BTU reverse cycle air conditioner.
Formula touts its "SmartZone" design which creates two distinct lounge areas. The U-shape lounge offers a space for lunch while the Corian aft cockpit tables with filler cushions can be raised or lowered for lounging.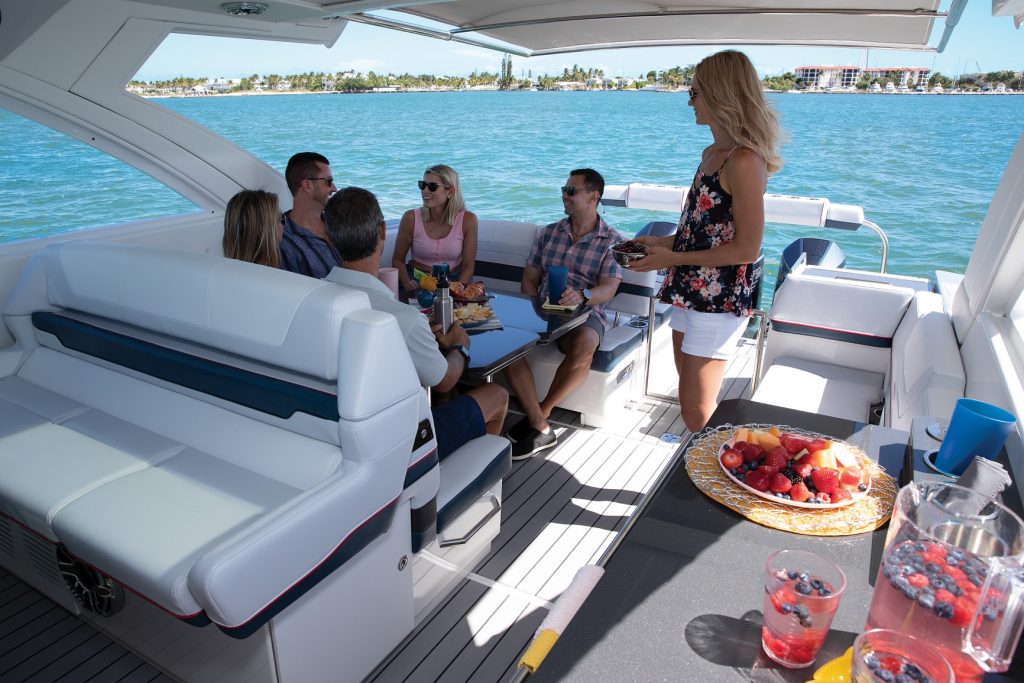 An outdoor kitchen to port allows for alfresco entertaining due to a large Corian countertop and a fibreglass-molded sink with faucet. Formula also included an Isotherm pullout fridge and room to stow a Cuisinart blender in the portside galley pantry. The builder provided multiple drawers to stow cooking tools.
Buyers can upgrade the galley with a 120V Kenyon electric grill and a YETI Tundra 35 cooler that glides out from an under-seat compartment at the helm.
The helm itself offers everything you'd expect for a boat with a starting base price of $935,330 (U.S.), triple Mercury Marine 350 outboards, and joystick piloting.
The composite dash showcases a Raymarine Axiom 12 GPS windscreen colour chartplotter which can be upgraded to larger dual screens. The 380 SSC also features Mercury DTS with SmartCraft VesselView. Owners will appreciate the padded mobile device station with dual USB charging port and wireless charging.
Access the bow through Formula's slide-open windshield; it has nearly 360 degrees of seating. Features include six cupholders and a molded-in cooler. Two dual-height top tables with filler cushions allow for entertaining or sunning.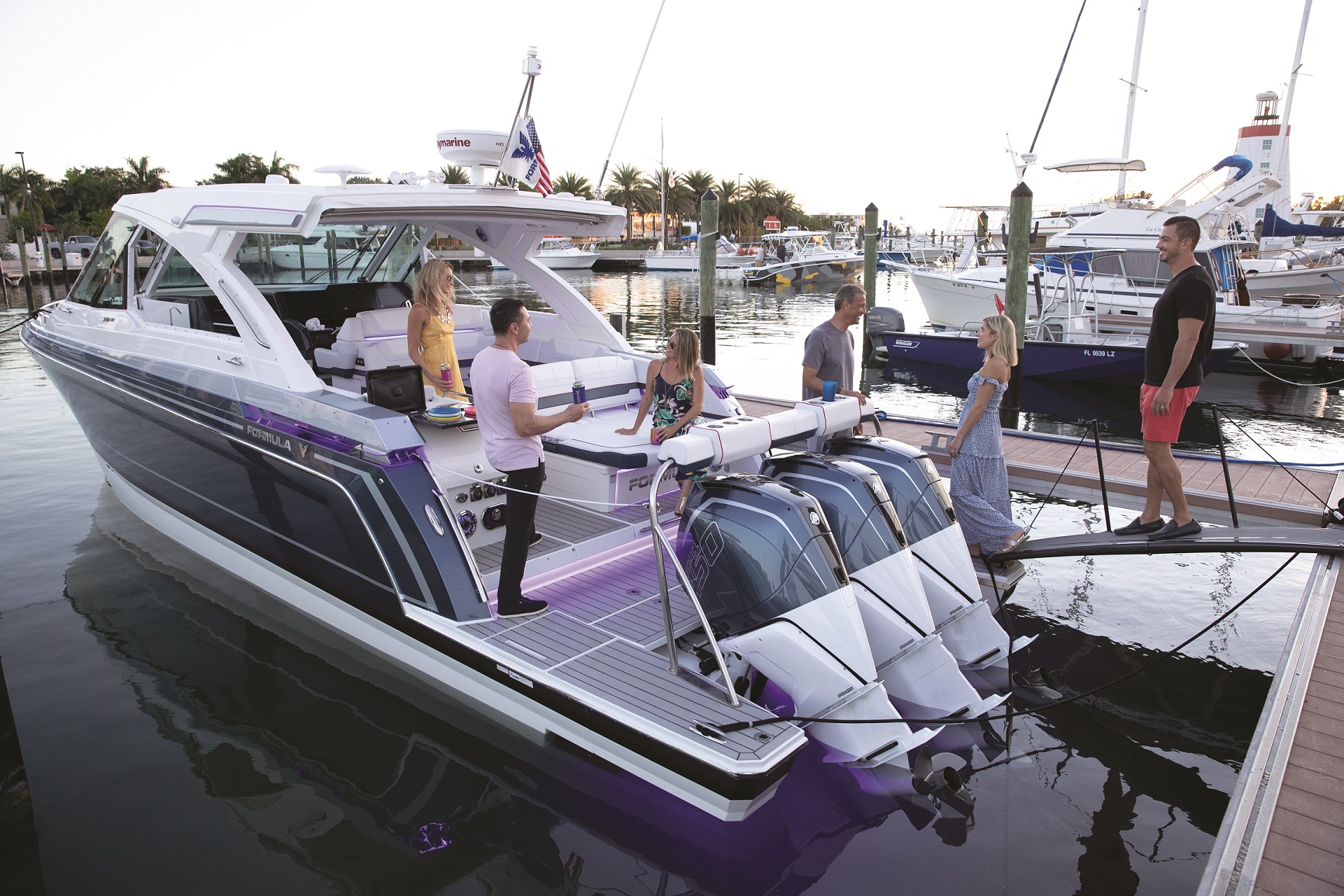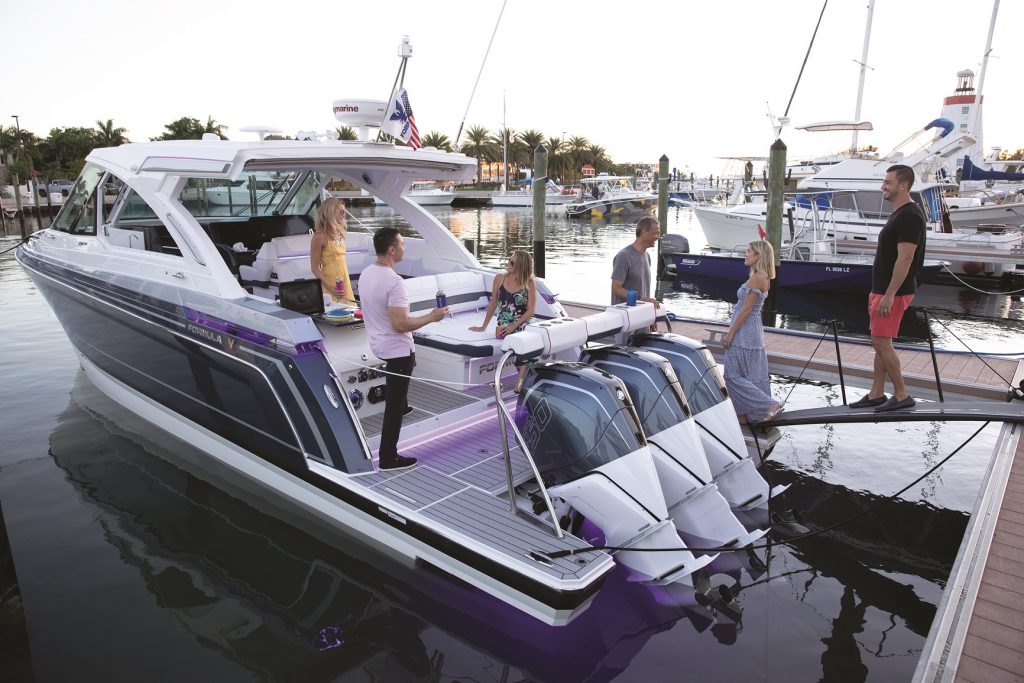 Formula offers an additional sunning area aft with a rear-facing sun lounge and adjustable backrests. Those aboard can manage the Rockford Fosgate stereo with a nearby waterproof stereo control. Potential buyers can add a SureShade (a $12,600 [U.S.] upgrade) that extends from the fibreglass top and provides shade. It's easy to move from the water to the swim platform with an undermount swim ladder.
While few builders offer full accommodations for overnighting below deck, Formula is all-in with the 380 SSC. The fully appointed cabin features 6'5" of headroom finely done with woodgrain finishes and Corian countertops.
Formula has stocked the cabin with a U-shaped Ultraleather lounge and high-gloss wood table that can be used for dining or an additional sleeping area.
The galley offers a countertop and sink as well as other goodies such as an overhead microwave and large pullout Isotherm stainless-steel refrigerator. Formula has included a 32" LED/LCD HDTV for entertainment.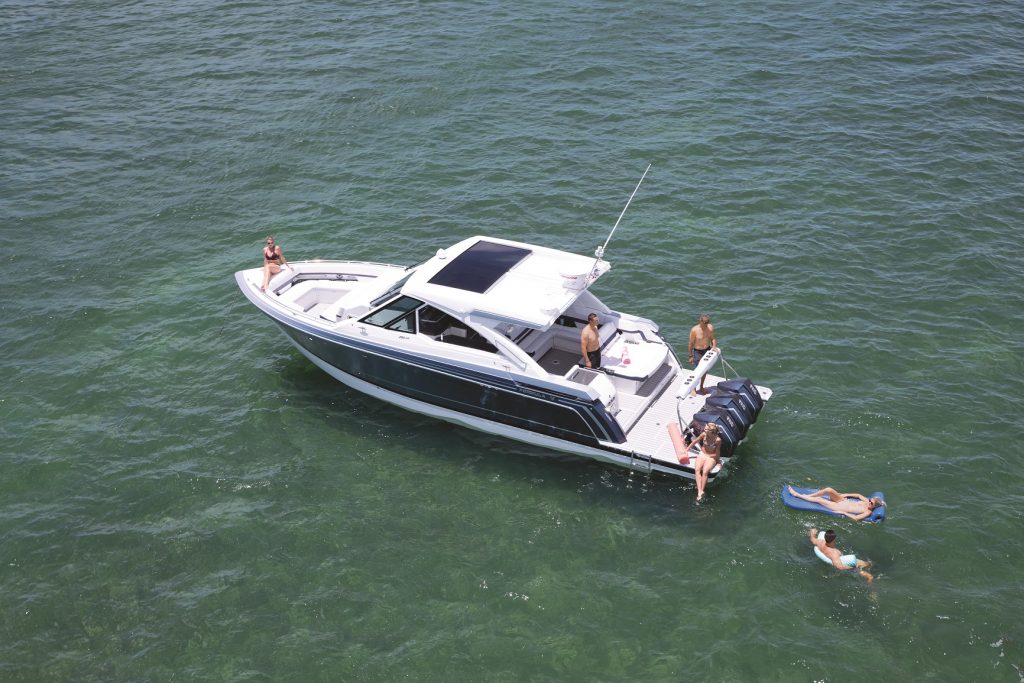 The spacious head includes a shower, a fully molded vanity with stowage, and a porcelain Vacuflush head unit.

The aft cabin stateroom holds a permanent queen-sized bed with memory foam mattress.

The upholstered headboard has hideaway storage and comes with two dual USB charging ports to keep the smartphone nearby.

The Super Sport Crossover model line has been a popular seller for the Decatur, Indiana boatbuilder.

With the option now for outboard power, dealers will have an even harder time keeping the 380 SSC in stock.

best boat, Best boat buying website, best boat marina website, best boat models, best boat trailer, best boat travel website, best center console, best centre console, best performance boats, best place to rent a boat, best pontoon, best runabout, Best Used boat, boat, boat accessories, boat angler, boat boondocking, boat buyers guide, boat camper, boat camping, boat dealers, boat DIY, boat Fishing, boat Fixer, boat Home, boat information, boat insurance, Boat Maintenance, boat marinas, boat marinas in Alberta, boat marinas in BC, boat marinas in Canada, boat marinas in Manitoba, boat marinas in Saskatchewan, boat marinas in the USA, boat marinas near me, boat parts, boat products, boat rentals, boat repair, boat reviews, boat road test, boat sharing, boat sites near me, boat supplies, boat Tech, boat tests, boat tips, boat touring, boat trade, boat Travel, boat traveling, boat travelling, boat vacation, boat vacation cost, boat websites Canada, Boating, BOATING Buyer's Guide, boating Canada, Boating Canada's Boat Lifestyle Magazine, boating guide, BOATING in-water Tests, boating lifestyle, Boating Lifestyle Magazine, boating magazine, BOATING rentals, BOATING rentals near me, BOATING traveller, boating vacation, boating website, buying a boat, Canadian marina websites, expert boat information, find a boat dealer, Formula, Formula 380 SSC, go boating, go boating Canada, how much does a boat cost, how much does marina cost, how to choose a boat, how to drive a boat, marina products, marina supplies, marine accessories, motor boat, new boat, New Boating Products, new boats for 2023, performance boats, Power Boating Canada, power boating magazine, Tender boat, top boat models, top boat website, top boats, top cottage boat, top cruiser, top power boat, used boat reviews best boat, Best boat buying website, best boat marina website, best boat models, best boat trailer, best boat travel website, best center console, best centre console, best performance boats, best place to rent a boat, best pontoon, best runabout, Best Used boat, boat, boat accessories, boat angler, boat boondocking, boat buyers guide, boat camper, boat camping, boat dealers, boat DIY, boat Fishing, boat Fixer, boat Home, boat information, boat insurance, Boat Maintenance, boat marinas, boat marinas in Alberta, boat marinas in BC, boat marinas in Canada, boat marinas in Manitoba, boat marinas in Saskatchewan, boat marinas in the USA, boat marinas near me, boat parts, boat products, boat rentals, boat repair, boat reviews, boat road test, boat sharing, boat sites near me, boat supplies, boat Tech, boat tests, boat tips, boat touring, boat trade, boat Travel, boat traveling, boat travelling, boat vacation, boat vacation cost, boat websites Canada, Boating, BOATING Buyer's Guide, boating Canada, Boating Canada's Boat Lifestyle Magazine, boating guide, BOATING in-water Tests, boating lifestyle, Boating Lifestyle Magazine, boating magazine, BOATING rentals, BOATING rentals near me, BOATING traveller, boating vacation, boating website, buying a boat, Canadian marina websites, expert boat information, find a boat dealer, Formula, Formula 380 SSC, go boating, go boating Canada, how much does a boat cost, how much does marina cost, how to choose a boat, how to drive a boat, marina products, marina supplies, marine accessories, motor boat, new boat, New Boating Products, new boats for 2023, performance boats, Power Boating Canada, power boating magazine, Tender boat, top boat models, top boat website, top boats, top cottage boat, top cruiser, top power boat, used boat reviews