Nestled in the heart of the Muskoka region, Skeleton Lake Marina is the only full-service marina on the lake from which it takes its name. Offering service, sales, and rentals in a year-round facility, the marina serves as the main hub under the Muskoka Marinas umbrella. We spoke with Kurtis Jones, Managing Director of Skeleton Lake Marina, about just what makes this location so special.
With 26 years in the industry, Kurtis knows a thing or two about boating. He has lived in Muskoka his entire life and began at the marina's shop back in 2007. Kurtis quickly climbed the ladder: six years ago, he took over as management and was keen to approach growth through service. In other words, Kurtis implies, success should not come at the cost of respect for the customer.
After all, the marina is a fixture in the community. Offering about 35 slips for water and docking access to those in the area, it seeks to employ local professionals – nearly fifteen in peak season – and provide upstanding service to every client.
Skeleton Lake Marina's on-site Kawartha Ice Cream stand is a calling card for the location, an excellent entertainment piece for children and adults alike. Partnering with such local businesses as Muskoka Springs and Bracebridge Propane, Skeleton Lake Marina has recognized that homegrown connections are at the heart of a successful company.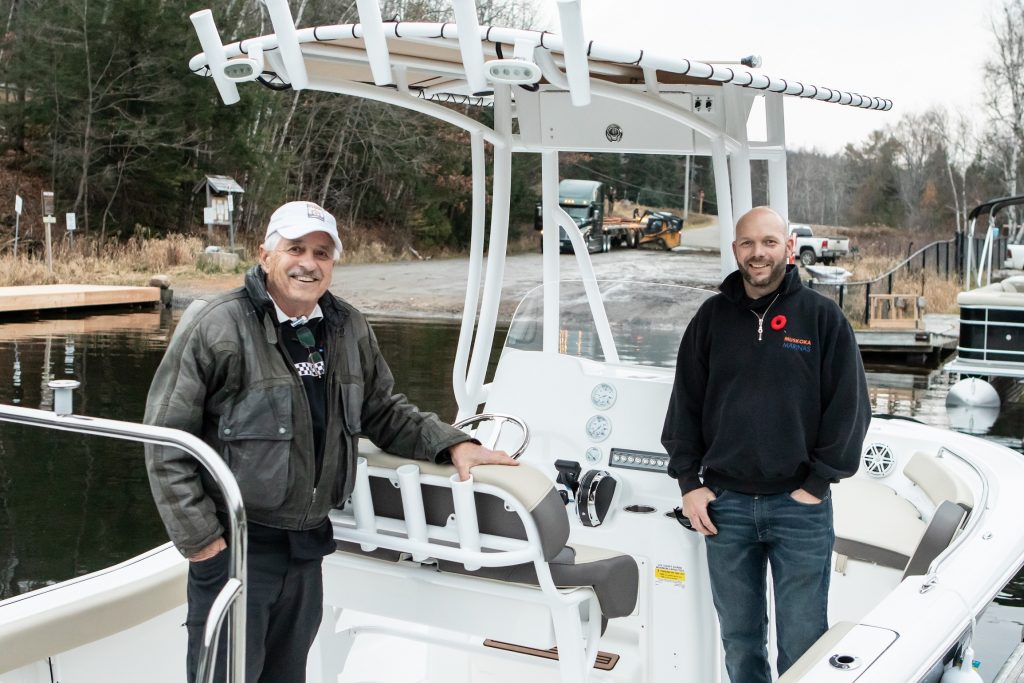 For this reason, Kurtis speaks optimistically about the company's future. Yes, he recognizes that the COVID pandemic has turned many lives upside down. He also notes, however, that this year has given people an opportunity to reset their lives and to reevaluate what they hold dear.

He mentions how fortunate Muskoka residents are to enjoy their lush surroundings, and he suggests that a younger generation is discovering the natural world. On the whole, Kurtis says, youth may find an appreciation for boating and the outdoors that they would not have normally experienced.

When asked about Skeleton Lake Marina's 2021 lineup, Kurtis mentions several intriguing leads. He speaks of Starcraft's new models and features as well as two exciting Tidewater boats for next year. Everything is going outboard, he explains; Kurtis looks forward to the marina – as a Mercury premier dealership – showcasing new technology and innovation for the upcoming year.

If you're a Muskoka resident or simply seek refuge from city life, stop by Skeleton Lake Marina. You might seek Kurtis. You might buy an ice cream. You might go out on the lake. One thing, however, is certain: you'll be treated with the respect and charm this marina has successfully cultivated. https://powerboating.com/starcraft-ex-20-c/

best boat, Best boat buying website, best boat marina website, best boat travel website, best place to rent a boat, boat accessories, boat angler, boat boondocking, boat buyers guide, boat camper, boat camping, boat dealers, boat DIY, boat Fishing, boat Fixer, boat Home, boat information, boat insurance, Boat Maintenance, boat marinas, boat marinas in Alberta, boat marinas in BC, boat marinas in Canada, boat marinas in Manitoba, boat marinas in Saskatchewan, boat marinas in the USA, boat marinas near me, boat products, boat rentals, boat repair, boat road test, boat sharing, boat sites near me, boat supplies, boat Tech, boat tips, boat touring, boat trade, boat Travel, boat traveling, boat travelling, boat vacation, boat vacation cost, boat websites Canada, boating Canada, Boating Canada's Boat Lifestyle Magazine, Boating Lifestyle Magazine, boating website, Canadian marina websites, expert boat information, find a boat dealer, how much does a boat cost, how much does marina cost, how to choose a boat, how to drive a boat, marina, marina products, marina supplies, motor boat, Muskoka Marinas, power boating magazine, Skeleton Lake Marina, top boat website, used boat reviews best boat, Best boat buying website, best boat marina website, best boat travel website, best place to rent a boat, boat accessories, boat angler, boat boondocking, boat buyers guide, boat camper, boat camping, boat dealers, boat DIY, boat Fishing, boat Fixer, boat Home, boat information, boat insurance, Boat Maintenance, boat marinas, boat marinas in Alberta, boat marinas in BC, boat marinas in Canada, boat marinas in Manitoba, boat marinas in Saskatchewan, boat marinas in the USA, boat marinas near me, boat products, boat rentals, boat repair, boat road test, boat sharing, boat sites near me, boat supplies, boat Tech, boat tips, boat touring, boat trade, boat Travel, boat traveling, boat travelling, boat vacation, boat vacation cost, boat websites Canada, boating Canada, Boating Canada's Boat Lifestyle Magazine, Boating Lifestyle Magazine, boating website, Canadian marina websites, expert boat information, find a boat dealer, how much does a boat cost, how much does marina cost, how to choose a boat, how to drive a boat, marina, marina products, marina supplies, motor boat, Muskoka Marinas, power boating magazine, Skeleton Lake Marina, top boat website, used boat reviews