On Saturday May 16th, Executive Yacht unveiled the all-new Carver C37 Coupe at Starport Marina on Lake Simcoe.  This beautiful yacht is one of the newest in the Carver lineup.
The unveiling was accompanied by a BBQ where Executive Yachts re-introduced themselves as the new Carver dealer in Ontario (the announcement was originally made late last fall and Executive Yacht represented Carver, among other brands, at the Toronto Boat Show this past January 2015).  The event also served as an opportunity to introduce a partnership between Executive Yachts and the Starport family of marinas.
Mark Lariviere, General Manager of Starport Marina Inc. Ltd., had this to say, "Starport welcomes Executive Yacht as the new yacht sales dealer and broker within each Starport property. Executive Yacht represents many new brands of luxury boats including Carver, Marquis, Sunseeker, Azimut, Benetti and Wajer.  With this, Executive Yacht will also represent all current and future, brokerage and used listings, currently held by Starport Yacht Sales."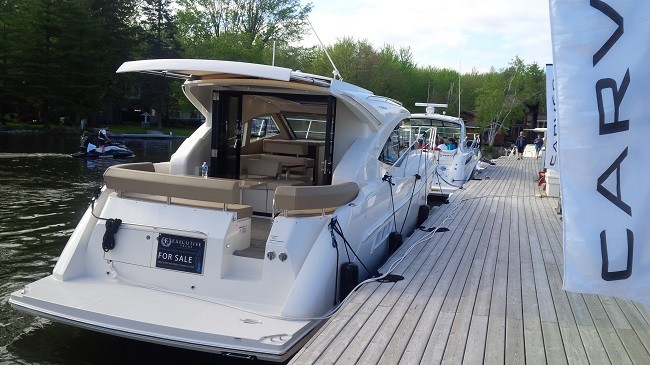 Derek Mader, President and CEO at Executive Yacht said, "Executive Yacht is proud to join the Starport family of marinas to provide a first class purchasing experience to its members and boaters. With support from Starport's well managed facilities, Executive Yacht looks forward to continuing the long standing tradition of exceptional customer service to which Starport marinas are known for.  Executive Yacht is also honoured to welcome Sales Associate, Aaron Goodman to their team. Offering client's a wide range of new boat choices, Aaron Goodman can be reached at aaron@executiveyachtcanada.com or mobile at 1-705-321-5375."
For more information please visit: www.executiveyachtcanada.com or www.starportmarina.com.
EB Boats