"We have a great range of offerings, from studio condos to six-bedroom townhomes," says Jonah Rumm, sales manager for Friday Harbour. "All units are open concept with great features like high ceilings, all appliances and ceiling-to-floor windows." About half of the Friday Harbour units are in phase one, scheduled to be ready for the summer of 2016. The rest are in phase two, ready for summer 2017.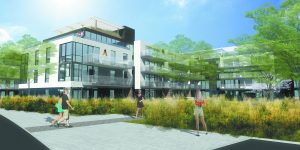 "Our boardwalk condos sit directly above shops and restaurants in the heart of
the village, with a premium waterfront view," says Rumm. Units range from studios starting at $239,000 to million-dollar three-bedroom penthouses. Only six remain in phase one; about half are sold in phase two.
"Just a two-minute walk away, the harbour flat condos are close to the village and surrounded by trees and a courtyard." These one, two and three-bedroom.
Units range from $269,000 to $899,000. All phase-one units are sold, as is about 60 per cent of phase two. "All our condo buildings have rooftop decks with barbecues and outdoor kitchen facilities," says Rumm.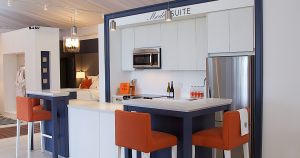 The two-story three- bedroom marina townhouses are on the water and
priced at $849,000 to $1 million. On a private island in the harbour, the island townhouses are connected to the mainland by a bridge and gated entrance.
"They're the largest suites, with premium lakeviews and a shared private pool," says Rumm. Sizes range from three to six bedrooms and cost from $1.1 million to just under $2 million. "Each marina and island townhouse has its own private boat slip and dock," adds Rumm. Phase one is sold out; 12 marina townhouses and 13 island townhouses are still available.