A
fter 50 years of operating boat charters for people with any level of boating experience in eight other countries, LeBoat has come to North America, specifically Canada and the beautiful and historic Rideau Canal.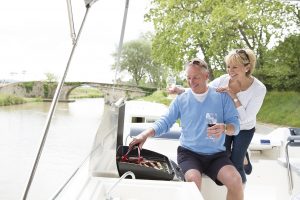 I had the fortunate opportunity to attend LeBoat Canada's grand opening this past June. "This is so breathtakingly beautiful!," exclaimed Cheryl Brown, General Manager of LeBoat Canada (www.leboat.ca ) as she shared her excitement about the historic Rideau Canal and said it was an easy choice for the company's first venture into the North American market. "As you start to explore different parts of it [the Rideau] and the different villages it really starts coming to life. You start to see all the best of our European cruising grounds all in one place," continued Brown.
A staple of self-drive cruise vacations on European rivers, LeBoat looked long and hard for a venue to jump into the lucrative North American market, and invested three years in research and planning before launching its new operation in Smiths Falls on the historic Rideau Canal on June 13, 2018.
The Rideau Canal was a case of strategic engineering on the part of the British army. Under army engineer, Col. John By, work on the 202-kilometer (120-mile) Kingston to Ottawa Rideau Canal began in 1826 to provide a defendable transportation route following the War of 1812. It is now the oldest continually operating canal in North America, and in 2007 it was designated as a World Heritage Site.  Today, the Rideau Canal is operated and managed by Parks Canada as a National Historic Site (https://www.pc.gc.ca/en/lhn-nhs/on/rideau)
LeBoat's Canada headquarters are located in Smiths Falls, in a fortified lock keeper's house, overlooking the canal.
  LeBoat launched their first operating season with 16 boats. For the summer season of 2019, the company is planning to add four more boats to the fleet.  Investments by LeBoat in their Rideau operation will total more than $16million (CDN) over the next five years.  Their plan is to increase their fleet to 32 boats along with enhancing and creating infrastructure.
The Boats: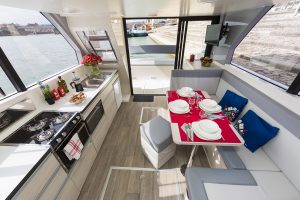 All the boats are purpose-built for the Rideau Canal. The Horizon 5 model (coming next year) is the first to be completely designed in-house by LeBoat and built by Delphia Yachts of Poland (http://en.delphiayachts.eu/ ).
Delphia was established in 1990 by brothers Piotr and Wojciek Kot, shortly after the country gained its independence from the Soviet Union. Their head office is in Warsaw and the production facility is 230-kilometres (140-miles) northeast of Warsaw in the town of Olecko. Delphia Yachts has become a major builder on the European scene.
For the 2018 season, LeBoat is offering four different sizes of boat ranging from the Horizon 2 (37' 8") to the Horizon 4 (44' 3") that are able to accommodate anywhere from two to ten people comfortably in double cabins.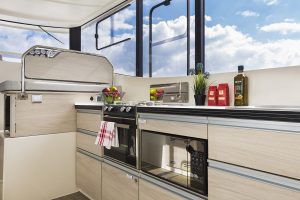 Brown pointed out that the boats' accommodations are designed to be like floating hotel rooms. Each stateroom comes with a double berth and an ensuite head with an electrically operated commode, fresh water shower as well as a sink, mirror and cupboard space.  Throughout the boat, in staterooms and common areas, there are plenty of USB ports for charging electronic devices.
Bedding, dishes, cookware, basic food staples and a "breakfast" package of food for the first overnight are included in the price. As are lock and overnight mooring fees.  Groceries and liquid provisions are up to the charterer, but LeBoat does work with local grocers and liquor stores so food and drink can be ordered online.  In the galley, there is a three-burner propane stove, refrigerator and hot and cold water in the single basin sink.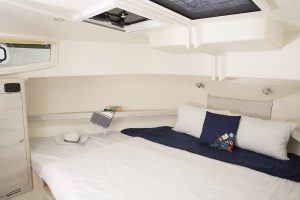 Powered by 50 and 65hp Nanni diesels (the marine version of Kubota diesels), driving 22" props, both engines have been governed down so the max speed is 10-kilometres an hour to keep people from getting into too much trouble.
One steering station is located on the sun deck and protected by a Bimini top, while a second station is situated in the main salon with a good 360° view.
Steering is hydraulic (prop and rudder) along with hydraulic bow and stern thrusters. Controls for the thrusters are reduced to a single switch. The thrusters make docking the boat as easy as pie.
In case of hard landings on lock walls or in some of the Rideau's more notorious shallow spots, the boats are protected by thick rubber bumper pads that encircle the boat at the hull/deck joint and along the waterline. For extra insurance a ¼-inch steel shoe is fitted along the full length of the keel from the stem to the rudder assembly.    
Each boat is equipped with large fuel (600-litre), water (600-litre) and holding tanks. Diesel is charged on an as-used basis at market rates (like a rental car you take it out full and return it full).
Itineraries:
LeBoat doesn't have hard and fast cruising itineraries. They suggest different routes according to the interests and time available to their clients. Boaters can travel the entire length of the Rideau Canal system in about two weeks, but most people don't have that kind of time available to them.
Still, even the historic locks are interesting and at most locks you'll find cute villages like Merrickville, Perth and Westport. The Canal is book-ended by Ottawa to the north and Kingston in the south. These are also the navigational limits for cruises. Charterers are requested not to enter the Ottawa River below the Parliament Buildings or Lake Ontario at Kingston.
  Navigation has also been made as easy as possible. Each boat is provided with a "Ports Cruising Guide To The Rideau" and a Trakmap for the waterway. None of the boats come equipped with GPS (but if a cruiser wants one, it's available) as LeBoat works on the theory of keeping it simple. The company also recommends the free, downloadable app from Navionics.
Understanding that most people now have a cell phone, there is no VHF radio (not used much on the Rideau anyway) aboard the boats.
Chartering Opportunities:
At the check-in briefing session prior to their charter, clients are taught how to handle the boat, transit locks, tie up, anchor and identify their location from the buoy numbers on the canal system's buoys. 
Although Canada has a boat operator licensing system (the Pleasure Craft Operator's Card), for people chartering a boat, this requirement is waived.
According to LeBoat Marketing manager Andrew Le Duc, the boats are easy to drive. "…You don't need any experience or a license. What happens is you come to our base and we spend an hour with you showing you how to operate the boat and how to go through the locks making sure you're really comfortable."
The first clients actually set sail on May 19 (prior to the grand opening) and their customer satisfaction reports continued Brown "… are the best we've ever seen in any of our destinations around the world."  Brown told the crowd at the base camp's grand opening that this year's charters were 70% booked and bookings were already flooding in for next year.
Prices start at $1,083 in Canadian dollars for a three-night cruise aboard a Horizon 2 and go up to $14,067 for fourteen days on a Horizon 4.  Accordingly, in our up and down economic world, prices are subject to change without notice.
Aside from Canada, LeBoat offers boat chartering in eight other countries: Belgium, England, France, Germany, Holland, Ireland, Italy and Scotland.  
By Bruce Kemp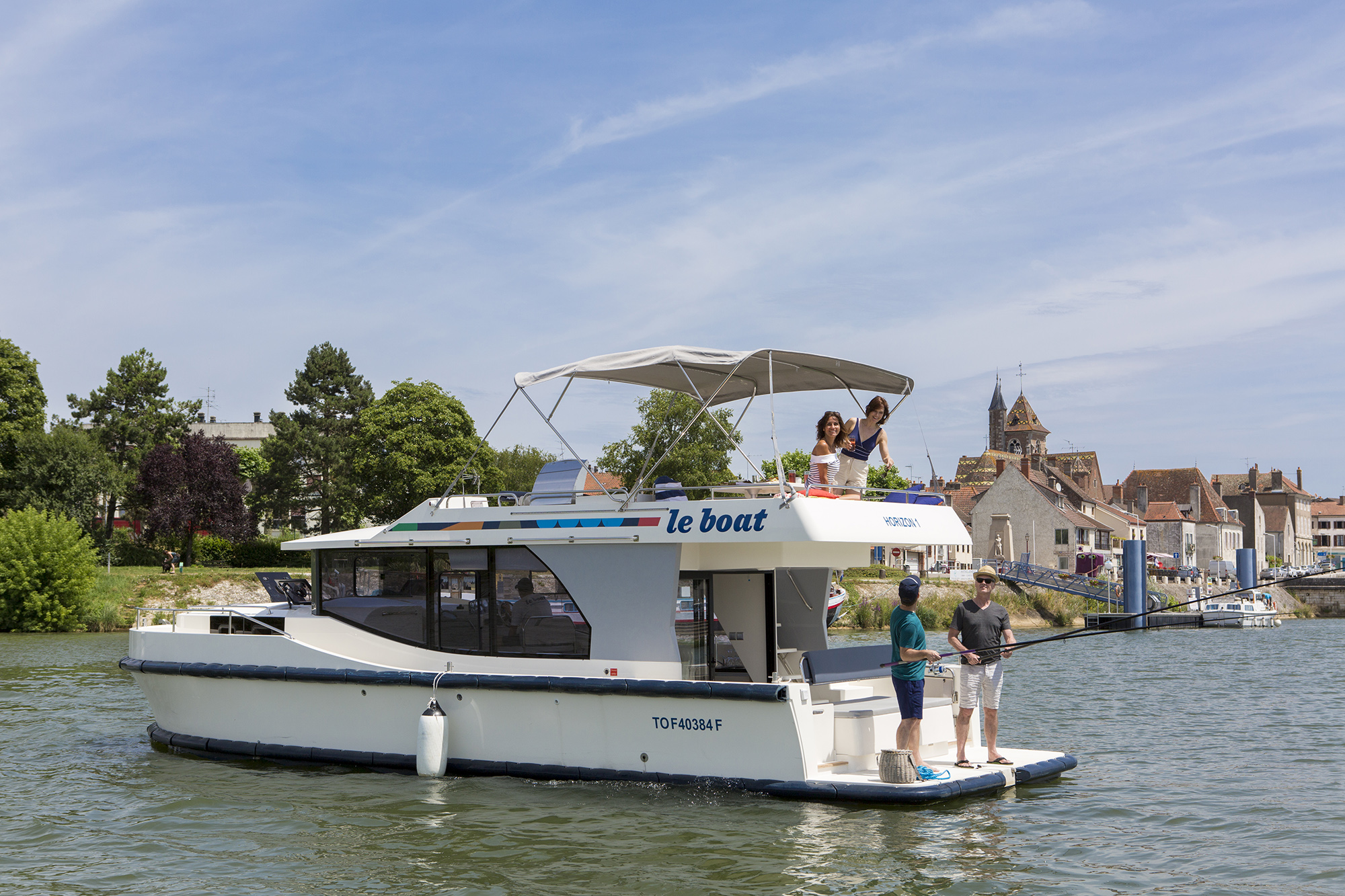 Planning Your Trip:

Rideau Canal National Historic Waterway Parks Canada
https://www.pc.gc.ca/en/lhn-nhs/on/rideau 

LeBoat Canada
1 Jasper Ave., Smiths Falls, Ontario, Canada K7A 4B5  1-800-734-5491
www.leboat.ca

There is a Le Boat Rideau Canal cruise guide (print) and they also recommend the Navionics App:
https://www.navionics.com/gbr/apps/navionics-boating

 Ports Guide
http://www.portsbooks.com/rideau-canal-2/

Trakmaps
https://www.trakmaps.com/en/search/?q=Rideau+canal++

best boat, Best boat buying website, best boat marina website, best boat travel website, best place to rent a boat, boat accessories, boat angler, boat boondocking, boat buyers guide, boat camper, boat camping, boat dealers, boat DIY, boat Fishing, boat Fixer, boat Home, boat information, boat insurance, Boat Maintenance, boat marinas, boat marinas in Alberta, boat marinas in BC, boat marinas in Canada, boat marinas in Manitoba, boat marinas in Saskatchewan, boat marinas in the USA, boat marinas near me, boat products, boat rentals, boat repair, boat road test, boat sharing, boat sites near me, boat supplies, boat Tech, boat tips, boat touring, boat trade, boat Travel, boat traveling, boat travelling, boat vacation, boat vacation cost, boat websites Canada, Boating, boating Canada, Boating Canada's Boat Lifestyle Magazine, Boating Lifestyle Magazine, boating website, Canadian marina websites, expert boat information, find a boat dealer, how much does a boat cost, how much does marina cost, how to choose a boat, how to drive a boat, marina products, marina supplies, motor boat, power boating magazine, Rideau Canal, top boat website, used boat reviews best boat, Best boat buying website, best boat marina website, best boat travel website, best place to rent a boat, boat accessories, boat angler, boat boondocking, boat buyers guide, boat camper, boat camping, boat dealers, boat DIY, boat Fishing, boat Fixer, boat Home, boat information, boat insurance, Boat Maintenance, boat marinas, boat marinas in Alberta, boat marinas in BC, boat marinas in Canada, boat marinas in Manitoba, boat marinas in Saskatchewan, boat marinas in the USA, boat marinas near me, boat products, boat rentals, boat repair, boat road test, boat sharing, boat sites near me, boat supplies, boat Tech, boat tips, boat touring, boat trade, boat Travel, boat traveling, boat travelling, boat vacation, boat vacation cost, boat websites Canada, Boating, boating Canada, Boating Canada's Boat Lifestyle Magazine, Boating Lifestyle Magazine, boating website, Canadian marina websites, expert boat information, find a boat dealer, how much does a boat cost, how much does marina cost, how to choose a boat, how to drive a boat, marina products, marina supplies, motor boat, power boating magazine, Rideau Canal, top boat website, used boat reviews