Garmin announced this morning the Fusion Handheld Microphone, a device which allows for easier communication with those in and around the boat.
The Handheld Mic features built-in pre-amplification as well as a compact, marinized design. Garmin writes that the item "fits easily in the dash of the helm allowing boaters to make quick-and-easy annoucements [sic] over Fusion marine entertainment systems. With a simple squeeze of the trigger, this handheld mic activates Playback Override to telemute and pause audio on compatible Fusion stereo systems. With Playback Override, there is truly no reason to miss the best part of the song."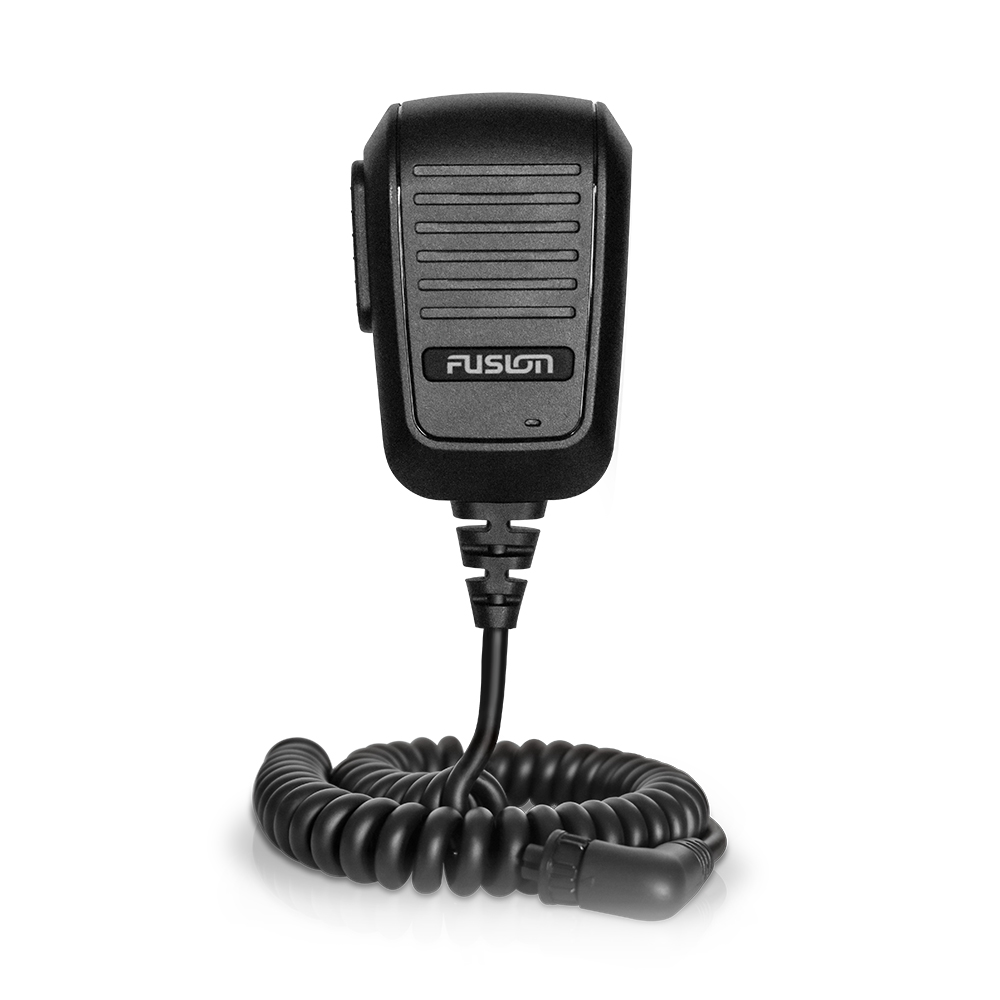 The Handheld Mic also boasts an IPX7 weather-resistant rating. What does this mean? The device is built to last season after season, enduring harsh marine and outdoor environments. Both a practical and versatile accessory to have onboard, Garmin writes that Fusion's Handheld Mic is perfect for a variety of communication needs out on the water. Garmin believes in its product's versatility whether you're looking to communicate with water skiers and wakeboarders being towed behind the boat, broadcast announcements at social gatherings and local raft-ups, or caution fellow boaters in water-hazard situations.
In the box:
Handheld microphone
Power-telemute RCA cable
Mounting plate with screws
Microphone hanger with screws
Mounting plate gasket
Documentation
Specs:
| | |
| --- | --- |
| General | |
| Physical dimensions (WxHxD) | 2.36″ x 3.46″ x 1.34″ (60 x 88 x 34 mm) |
| Weight | 8.75 oz (250 g) |
| Water rating | IPX7 |
| Power input | 10.5-32 VDC |
| Operating temperature range | 32° to 122° F (0° to 50° C) |
| Current consumption | 5 mA @ 14.4 V input |
| Output (Max) | 1 V RMS |
| Total harmonic distortion and noise (Vo = 1 V RMS, 1 kHz) | < 0.1% V RMS |
| Frequency response | 100 Hz – 4 kHz |
| Gain | +18 ± 0.5 dB |
| Load impedance | 10k ohm |
| Fuse (not included) | 3 A |
| Cable length | 23.62″ (60 cm) |
| Warranty | 1 year |
best boat cleaning supplies, best new boat products, boat accessories, boat chairs, boat checklist, boat cleaning supplies, boat equipment, boat furniture, boat hacks, boat Lifestyle Products, boat products, boat supplies, boat tips, boat water purifier, boat water softener, boating equipment, boating gear, Fusion, Garmin, How to clean a boat, how to level a trailer, how to set up a boat, microphone, must have boating gear, new boat products, water softener best boat cleaning supplies, best new boat products, boat accessories, boat chairs, boat checklist, boat cleaning supplies, boat equipment, boat furniture, boat hacks, boat Lifestyle Products, boat products, boat supplies, boat tips, boat water purifier, boat water softener, boating equipment, boating gear, Fusion, Garmin, How to clean a boat, how to level a trailer, how to set up a boat, microphone, must have boating gear, new boat products, water softener