The Regal 42 FXO celebrated its world premiere at the 2020 Fort Lauderdale International Boat Show last week. Regal Boat describes its new model as an "adrenaline-charged, 42' flybridge [which] is an unrivaled overnighter, ultimate sandbar hopper, unparalleled entertainer, and the only one in its class."
Certainly, excitement is high for the 42 FXO. "We've never had a flagship model with this much versatility, storage, performance, or comfort, and the list of standard features is exciting," said Jake Kuck, Regal's North American Sales Manager. "The triple Yamaha 425s move this 42' flybridge at nearly 50 mph, and because it doesn't have IPS power, we've been able to utilize that space to create an unmatched storage area that's full-beam wide, 42" tall, and nearly 6' deep. That's enough room for your beach cruiser bicycles and more."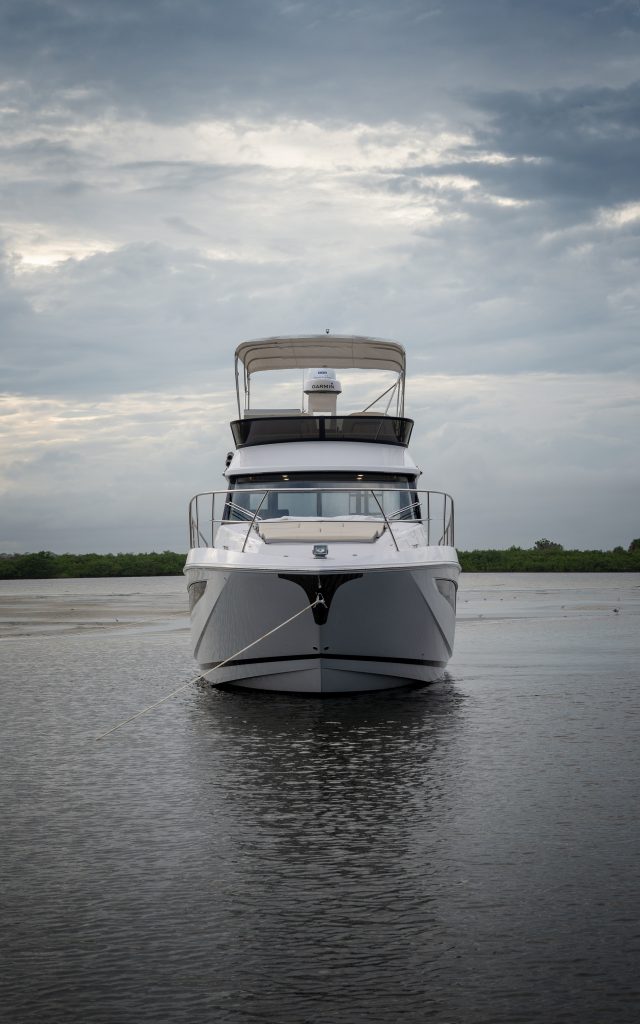 Kuck elaborated further on the model's flexibility. "There are different cabin layouts for even more versatility, and with the standard Seakeeper, this new model ensures that everyone's boxes are checked. And, saving the best for last, here's my favorite part of the 42 FXO. Thanks to the outboards and hull design, you can stern-in only steps away from your favorite beach or sandbar."
The 42 FXO's flybridge is appointed with a full-service helm, including a 22" Glass Cockpit display or optional 16" displays, and a joystick for docking ease. It also offers an L-shaped lounge, multi-position UltraLounge, and "unlimited" storage under almost every seat complete.
Like the 2021 Regal 42 Fly, the 42 FXO upper salon boasts a feature-rich upper galley, full-service lower helm, and a layout designed for entertaining. Slide open the glass doors to combine the aft patio seating, salon seating, galley, and outdoor grilling area into one entertainment space. The large single-piece glass windows, meanwhile, surround the upper salon for an abundance of natural light and 360-degree views. 
In the open-air atrium below, Regal Boats explains, consumers will find a cabin containing handcrafted cabinetry, countertops, and accent lighting while port of the stairs offers choice of a second head or a lower refreshment center. When boaters look starboard, they will find a head with modern finishes and walk-in shower.
The forward stateroom features a queen island berth with walk-around space to both sides and storage; the aft stateroom features a king-size bed.
42 FXO, best boat, Best boat buying website, best boat marina website, best boat travel website, best place to rent a boat, boat accessories, boat angler, boat boondocking, boat buyers guide, boat camper, boat camping, boat dealers, boat DIY, boat Fishing, boat Fixer, boat Home, boat information, boat insurance, Boat Maintenance, boat marinas, boat marinas in Alberta, boat marinas in BC, boat marinas in Canada, boat marinas in Manitoba, boat marinas in Saskatchewan, boat marinas in the USA, boat marinas near me, boat products, boat rentals, boat repair, boat road test, boat sharing, boat sites near me, boat supplies, boat Tech, boat tips, boat touring, boat trade, boat Travel, boat traveling, boat travelling, boat vacation, boat vacation cost, boat websites Canada, boating Canada, Boating Canada's Boat Lifestyle Magazine, Boating Lifestyle Magazine, boating website, Canadian marina websites, expert boat information, find a boat dealer, FLIBS, Fort Lauderdale International Boat Show, how much does a boat cost, how much does marina cost, how to choose a boat, how to drive a boat, marina products, marina supplies, motor boat, power boating magazine, Regal, Regal Boats, top boat website, used boat reviews 42 FXO, best boat, Best boat buying website, best boat marina website, best boat travel website, best place to rent a boat, boat accessories, boat angler, boat boondocking, boat buyers guide, boat camper, boat camping, boat dealers, boat DIY, boat Fishing, boat Fixer, boat Home, boat information, boat insurance, Boat Maintenance, boat marinas, boat marinas in Alberta, boat marinas in BC, boat marinas in Canada, boat marinas in Manitoba, boat marinas in Saskatchewan, boat marinas in the USA, boat marinas near me, boat products, boat rentals, boat repair, boat road test, boat sharing, boat sites near me, boat supplies, boat Tech, boat tips, boat touring, boat trade, boat Travel, boat traveling, boat travelling, boat vacation, boat vacation cost, boat websites Canada, boating Canada, Boating Canada's Boat Lifestyle Magazine, Boating Lifestyle Magazine, boating website, Canadian marina websites, expert boat information, find a boat dealer, FLIBS, Fort Lauderdale International Boat Show, how much does a boat cost, how much does marina cost, how to choose a boat, how to drive a boat, marina products, marina supplies, motor boat, power boating magazine, Regal, Regal Boats, top boat website, used boat reviews