Raising your boat out of the water has some advantages
By Bill Jennings
For many years, private boat lifts have been a common dock addition for people who live in the southern states. More recently, you may have noticed their fast growing popularity in Canada.
There are many reasons to lift you boat out of the water when not in use, rather than just tying it to your dock. When a boat is cradled three feet above the action of the waves, it is not subject to the damage that waves can cause when your boat is continuously bumped into your dock or pulling on lines. Considering the reasonable cost to install a lift for your boat, you may well pay for the lift from the money you save on repairs in the very first year that you own the lift.
While this is the main reason cited for purchasing a boat lift, there are several others. When boats are parked in water, they inevitably acquire a waterline dirt ring. In more severe cases algae and barnacles will grow on the hull, which dramatically downgrades your boat's performance. The bottom line is, you want to keep your boat as clean as possible and a lift will do exactly that. Another problem, even more onerous than dirt is the corrosion of metal parts through electrolysis that occurs when your boat is sitting in water. A lift will save you time and effort and also help maintain the resale value of your boat.
Few boaters consider lifts as an anti-theft device, but when your boat is high above the water, thieves are less likely to target either your boat, or its contents. I know several boaters who stopped vandalism and theft cold, by simply installing and using a lift.
When a boat is tied to a dock, there is still considerable movement. This action can loosen screws, pull on wiring and even cause items stored onboard to break. A boat on a lift does not have these risks. To understand your options as to what is available in the world of lifts, let's look at the basic types of lifts that are on the market.
Cable Lifts: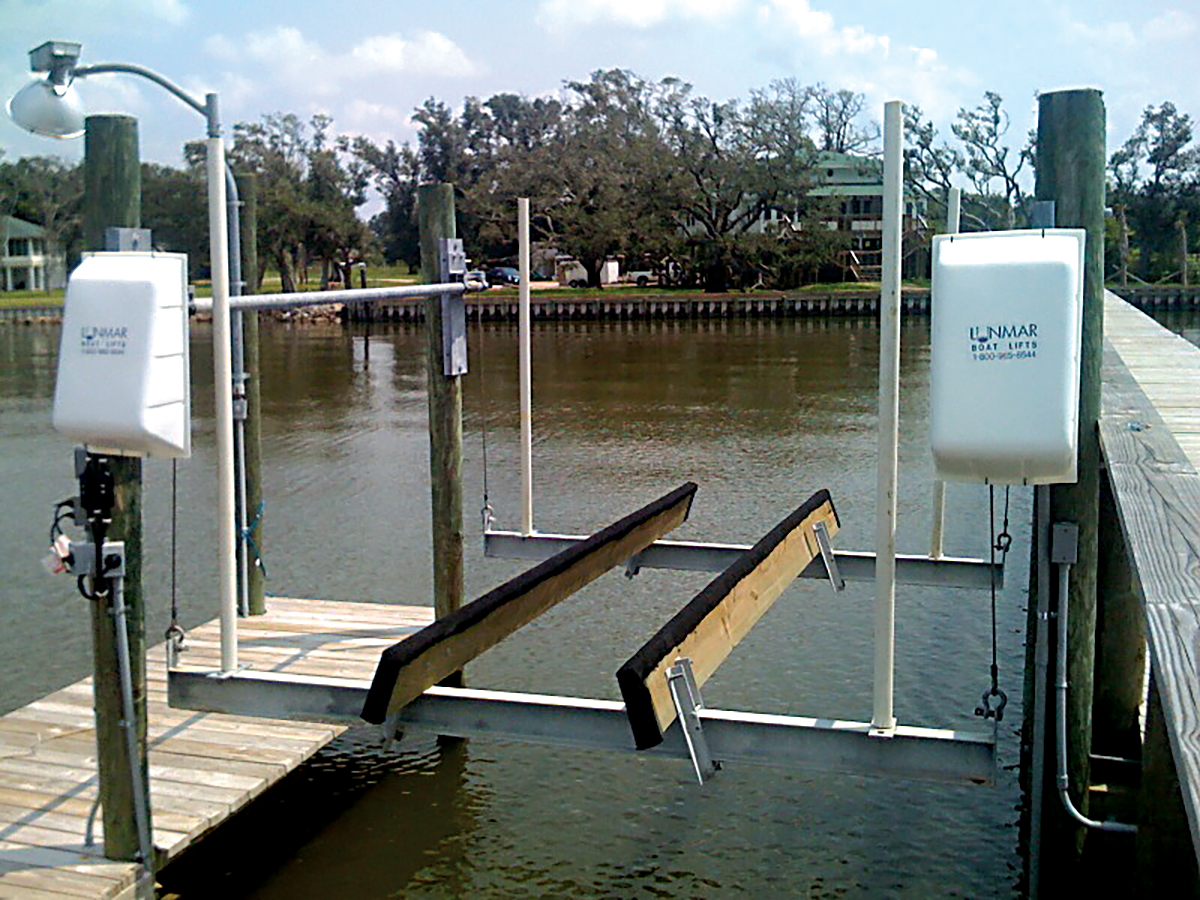 Cable lifts – either electric or manual – are the most common of lift types. You drive your boat over two supporting beams like the ones on an aluminum boat trailer and then gradually wind up supporting cables that raise your boat to the desired height. Most cable winder lifts are powered by one or two electric motors like your garage door opener but you can also order them in a manual version that gives you a large wheel that you turn to wind up the cables. With cables, there is considerable leeway in how high above the water you can raise your boat, so if you have fluctuating height requirements, such as in tidal waters, this may be a good choice for you. A drawback to this type of lift is that they should be moved to shore during winter months where ice is a factor.
Scissor Action Lifts: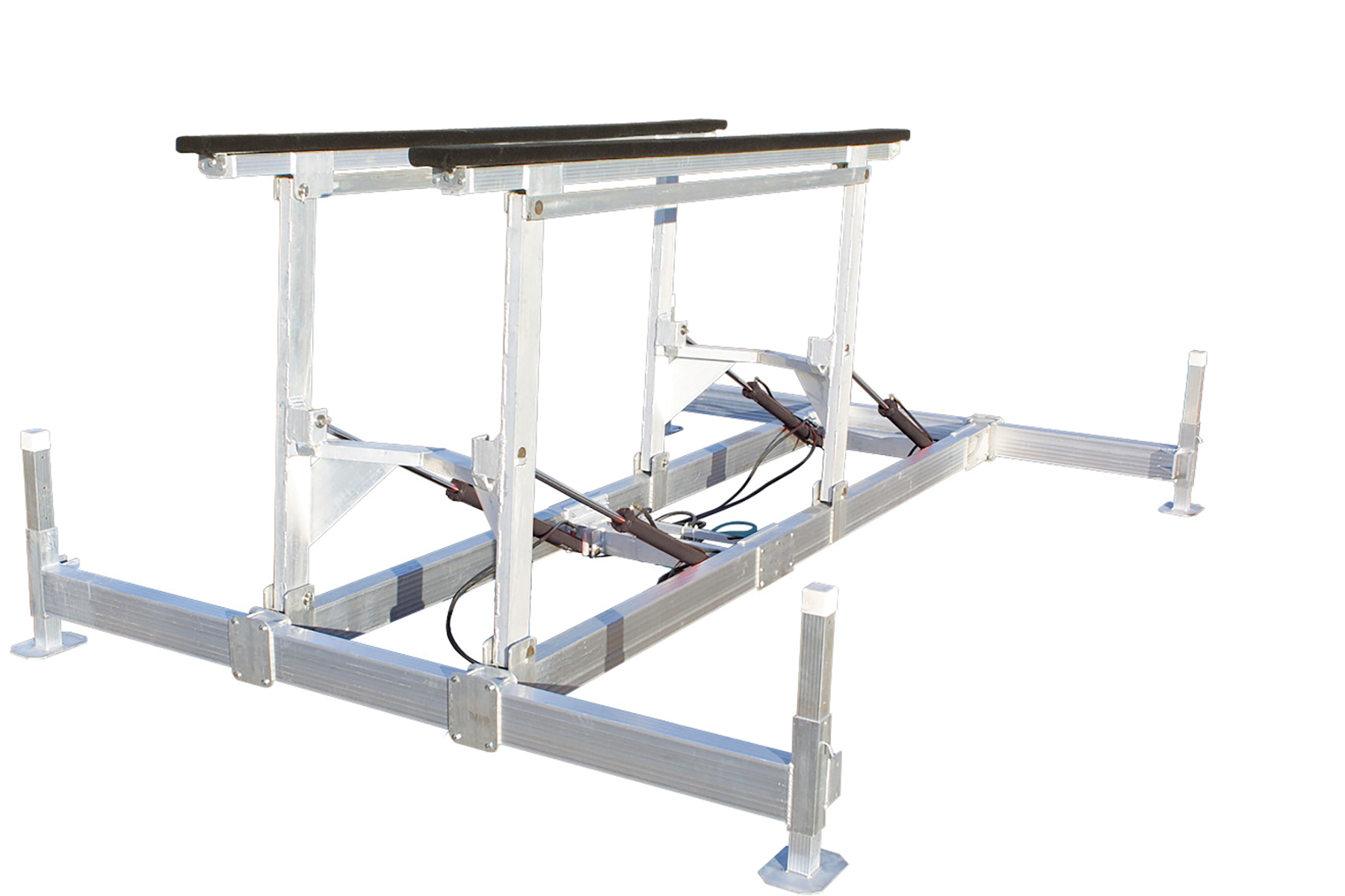 A scissor lift sits on the bottom of the lake. Once you drive your boat over top of it, you hit the up button and the electric motor powers a hydraulic lever action to raise the boat slightly above the level of the water. These lifts are most commonly found in boat house slips. They do not lift your boat as high out of the water and usually do move the boat's final position either slightly forward or aft of where it sat before lifting.
Air Floatation Lifts:
This type of lift is fun to watch in operation. A small electric motor, the same size as a vacuum cleaner motor, pumps air into fiberglass or rotomolded tanks below the boat. As the tanks fill with air the whole assembly including the boat is raised. There is little corrosion possible on this lift type because virtually all of the superstructure is above the water when the boat is on it. But again, they are susceptible to the movement of ice and are usually removed in winter.
Floating Dock 'Lifts':
Relatively new in the world of boat lifts is the drive-on floating dock/lift system. These lifts are comprised of large floating plastic blocks onto which you literally drive or winch your boat. You design a lift to suit your specific requirements and then the blocks are fitted together like giant Lego blocks. The completed block system is shaped to match the contours of your boat, with rollers in key places that make it fast and easy to load. Once you are 'in the groove', simply attach the bow security line and your boat is high and dry. While generally more expensive, this method of lifting your boat offers many advantages. You can walk around your boat on the floatation cubes for easy access and you can even order built in storage and railings. Your boat cannot fall from a floating dock style lift because it is cradled in a crib that is already floating on the water. There are no cables to break or need replacing. This dock type is long lasting and you can just leave it in over the winter months, even where there is ice.
While there are additional lift designs, such as elevator and davit lifts, the ones described above are the most popular with Canadian boaters. Prices for lifts vary significantly, so be sure to shop around. Generally for an average sized runabout they run five to ten thousand dollars. A personal watercraft lift sells for less.
If you are interested in an 'uplifting experience' for your boat, check out the next issue of Power Boating Canada, where we will describe lift installation procedures and how to determine which lift is best for your boat and shoreline situation.

best boat, Best boat buying website, best boat marina website, best boat travel website, best place to rent a boat, boat accessories, boat angler, boat boondocking, boat buyers guide, boat camper, boat camping, boat dealers, boat DIY, boat docks, boat Fishing, boat Fixer, boat Home, boat information, boat insurance, Boat lifts, Boat Maintenance, boat marinas, boat marinas in Alberta, boat marinas in BC, boat marinas in Canada, boat marinas in Manitoba, boat marinas in Saskatchewan, boat marinas in the USA, boat marinas near me, boat products, boat rentals, boat repair, boat road test, boat sharing, boat sites near me, boat supplies, boat Tech, boat tips, boat touring, boat trade, boat Travel, boat traveling, boat travelling, boat vacation, boat vacation cost, boat websites Canada, boating accessories, boating Canada, Boating Canada's Boat Lifestyle Magazine, Boating Lifestyle Magazine, boating website, Canadian marina websites, docking, expert boat information, find a boat dealer, how much does a boat cost, how much does marina cost, how to choose a boat, how to drive a boat, marina products, marina supplies, motor boat, power boating magazine, top boat website, used boat reviews best boat, Best boat buying website, best boat marina website, best boat travel website, best place to rent a boat, boat accessories, boat angler, boat boondocking, boat buyers guide, boat camper, boat camping, boat dealers, boat DIY, boat docks, boat Fishing, boat Fixer, boat Home, boat information, boat insurance, Boat lifts, Boat Maintenance, boat marinas, boat marinas in Alberta, boat marinas in BC, boat marinas in Canada, boat marinas in Manitoba, boat marinas in Saskatchewan, boat marinas in the USA, boat marinas near me, boat products, boat rentals, boat repair, boat road test, boat sharing, boat sites near me, boat supplies, boat Tech, boat tips, boat touring, boat trade, boat Travel, boat traveling, boat travelling, boat vacation, boat vacation cost, boat websites Canada, boating accessories, boating Canada, Boating Canada's Boat Lifestyle Magazine, Boating Lifestyle Magazine, boating website, Canadian marina websites, docking, expert boat information, find a boat dealer, how much does a boat cost, how much does marina cost, how to choose a boat, how to drive a boat, marina products, marina supplies, motor boat, power boating magazine, top boat website, used boat reviews