It quietly states that you've arrived.
By Brad Roberts
During the ride home from the marina after testing any boat, I get quiet time to myself to reflect back on the test. In my mind, I walk through the boat again several times, I revisit the feelings I experienced during the on-water test, and I let whatever words and descriptions I'll write in my test report percolate up to the surface. Often, I'll pull over and scribble a particularly good phrase or thought down on my test notes and work with it later. It's the creative process at work, and it's such a necessary part of good journalism.
While I've enjoyed all the rides home after all my boat tests over many years, the drive home from Bayport Marina in Midland after testing Sea Ray's 520 Sedan Bridge was one of those shining moments you'll never forget. I'm headed down highway 93, day dreaming quite honestly about this incredible boat I've just had the pleasure of enjoying (for a measly few hours – it so deserves more), and I'm trying to come up with the hook to hang the test report on. I come up behind a Rolls Royce sedan, white with gleaming chrome, driven just under the speed limit by a silver haired gentleman with his wife sitting beside him, and the license plate reads "WVARIVED".
Indeed. They have arrived. And that's exactly what the Sea Ray 520 Sedan Bridge yacht says – quietly without any need to state it on the transom – as you pull up to any dock, anywhere. It quietly says you've arrived – in style, with grace, to a place in your life where you settle for nothing but the very best.
The optional extended hydraulic swim platform (a must) is large enough to have an after-dinner dance on, barefoot and carefree, in a quiet anchorage while the music spills out from the Bose stereo in the salon. Guests not wishing to dance, could enjoy the space and L-shaped seating of the aft cockpit just through the port-side transom door. Both groups will appreciate the transom entertainment centre with icemaker and grill.
When your guests arrive, and step through the sliding glass doors into the salon, they'll be treated to an interior finished in beautiful dark cherry Lignapal wood and Prestige charcoal upholstery with a light maple hardwood floor. Simply stunning. There's an ultraleather couch with pull out sofabed to port, a facing couch with storage underneath for the bedding to starboard.
Forward, the raised L-shaped dinette over the guest stateroom, features a beautiful bird's-eye maple table that swivels for easy in-and-out access, and there's clever storage in the table base that's accessible from the starboard galley. Seated, everyone has a commanding 360 degree view through the large forward and side windows and aft out through the sliding door.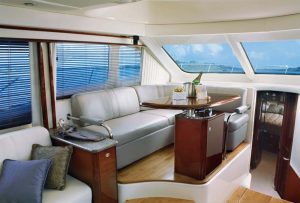 The galley says that the chef has arrived. A solid surface u-shaped counter in mystic black is centered around an under counter separate stainless fridge and freezer. There's a two burner electric stove with an over-the-range vent hood; a convention/microwave; large stainless sink and coffee maker.
My wife thought there was ample storage in the galley cabinets but then she discovered "the pantry". Under the galley floor, which rises via an electric hatch, and down two steps, there's a massive space that houses the washer/dryer combo and on two large shelves dedicated space for four large storage bins. Heaven.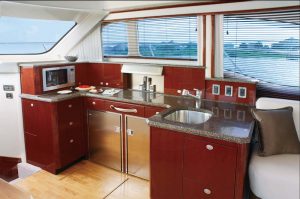 Moving forward, the guest stateroom is to port with a double innerspring mattress, hanging storage, a flatscreen TV and access to the day head. I love the thoughtful touches like the skylight overhead that provides plenty of light through from the forward windows. To starboard, the kids' stateroom features twin bunk beds as well as hanging storage and a skylight.
The day head with separate shower also features the same mystic black solid surface counter, a stainless sink and large mirrors on the overhead cabinet doors. As you'd expect in a yacht of this size, the day head isn't a closet shoe-horned into stolen space, but rather a proper room with space and décor to match.
All forward rooms are accessed through a solid wood dark cherry door with chrome handset and hinges that just feel luxurious. The master stateroom features an island queen with large drawers underneath and his and hers hanging storage to either side. A private TV/DVD and stereo system, with overhead indirect lighting make this room a true private oasis. The overhead hatch features both blackout and screen roller blinds. Two portholes provide you with a view of the morning before you decide to rise or roll over and drift back off to sleep. The private head is to starboard and appointed identically to the day head, yet it features a curved plexi-glass wall that provides plenty of room to move (and yes ladies, to shave) in the shower.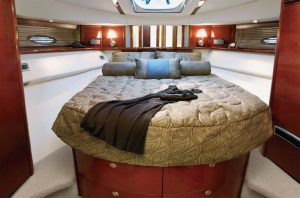 When either you or your guests arrive on the foredeck, you'll be treated to an abundance of space thanks in part to the over fifteen foot beam. Up here there's a large double sunpad with separate adjustable backrests, cupholders, two large anchor locker access hatches, a rope/chain windlass with foot pedals and a remote searchlight.
Up on the 520's bridge, twin captain's chairs are positioned behind a dream helm equipped with a Raymarine VHF, widescreen radar and GPS, the Raypilot autohelm, and controls for the Vetus bow and stern thruster,. Overhead, the Mercury SmartCraft displays provide every possible number on the performance of the twin Cummins MerCruiser diesels you could possibly want. Forward of the helm, there's a large u-shaped sofa centered around a table with the entertainment centre to port. There is room enough up here for all your guests to cruise "above-it-all" in style with a commanding view, and the fridge and wet bar means you don't have to go back down below for snacks or beverages. The hardtop protects from the sun, while the Isinglass side curtains provide roll up access to that wind-in-your-hair feeling we all know and love, for those days that you don't want the bridge air conditioning on.
I always find a couple of things that I don't like in any boat I test. It's honestly hard to find something to not like about the five-twenty, but it came to me as I was sitting in the salon below making my notes as Kevin prepped for our sea trial. I'm sitting there sweating from the humidity inside on what was not a particularly hot or humid day outside, and I looked around. None of the windows open. As a Canadian boater, I'd like to see side windows that open to provide cross ventilation for those days that you need it but don't want the air-conditioning on all the time. It's an option I'd pay for.
Sea Ray provides only two engine options on the five-twenty, and the standard Cummins MerCruiser 640 hp QSM11 670 Diesels installed in our test boat, rolled over and fired with a familiar deep hum. Despite the strong cross wind, and tight slip space, we maneuvered out effortlessly with the Vetus bow and stern thrusters. Once clear of Bayport's breakwall, we turned on the sync on Mercury's digital-throttle-and-shift and ran the boat in a light chop on Midland Bay. Sea Ray calls the 520 Sedan Bridge a yacht. At over 14,000 pounds it certainly qualifies on paper. On the water however, it handles more like a sport yacht as we rolled it through our test protocol and jotted down the performance specs.
There's definitely no lack of power throughout the rpm range, however there is a sweet spot in both cruising feel and fuel efficiency at around 1700 rpm doing 17.5 knots using 50.2 liters of diesel per hour. With the almost 1900 liter fuel tanks, that works out to a cruising range of over 37 hours – enough to arrive at virtually any destination you choose. The thought of an afternoon run to Killarney for dinner was so very, very tempting. But alas…
Sea Ray has hit the mark with the 520 Sedan Bridge, the smallest in the line of yachts ranging from 52 to 61 feet. Space, luxury, performance and design all combine in uncompromised quality to meet your need to state "we've arrived….and we're not settling for anything short of the very best," without saying a word.
Specifications
Overall Length: 52′ 3″ / 16 mBeam: 15′ 3″ / 4.65 m
Draft: 51″ / 1.30 m
Dry Weight: 42,000 lbs / 19,051kg
Fuel Capacity: 500 gal / 1,892 L
Water Capacity: 140 gal / 530 L
Holding Tank: 68 gal / 257 L
Dead Rise: 15 degrees
Power (as tested): Twin Cummins MerCruiser 640 hp QSM11 670 Diesel Inboards with DTS
MSRP: starting at $1,400,000 plus options.

Performance
KTS     RPM     LPH
6.1      600      16.3
9.4      1000    16.3
13.3    1500    50.2
17.5    1700    63.4
19.2    1800    69.8
23.9    2000    84.7
29.4    2340    122

For more information
Test Boat Provided By
Skyline Marina 75 Forestview Road
Oro-Medonte [Orillia] Ontario L3V-6H1
705-327-2002
http://www.pridemarinegroup.com/


best boat, best boat models, best boat trailer, best center console, best centre console, best performance boats, best pontoon, best runabout, Best Used boat, boat accessories, boat parts, boat reviews, boat tests, boat touring, BOATING Buyer's Guide, boating guide, BOATING in-water Tests, boating lifestyle, Boating Lifestyle Magazine, BOATING rentals, BOATING rentals near me, BOATING traveller, boating vacation, go boating, go boating Canada, how to choose a boat, marine accessories, New Boating Products, new boats for 2023, performance boats, Power Boating Canada, Tender boat, top boat models, top boats, top cottage boat, top cruiser, top power boat best boat, best boat models, best boat trailer, best center console, best centre console, best performance boats, best pontoon, best runabout, Best Used boat, boat accessories, boat parts, boat reviews, boat tests, boat touring, BOATING Buyer's Guide, boating guide, BOATING in-water Tests, boating lifestyle, Boating Lifestyle Magazine, BOATING rentals, BOATING rentals near me, BOATING traveller, boating vacation, go boating, go boating Canada, how to choose a boat, marine accessories, New Boating Products, new boats for 2023, performance boats, Power Boating Canada, Tender boat, top boat models, top boats, top cottage boat, top cruiser, top power boat