Sutphen has a boat for everyone – from $67,000 with 350 hp to $120,000 for a full-dressed 21-footer
By Bill Jennings
Photos Credit by Michelle Goldfarb
When a third generation boat builder launches a refined twenty-one foot sports boat that looks great and can outrun other runabouts on your lake, you should know about it. But when the manufacturer prices this boat lower than your neighbor's boats, you really should take a test ride.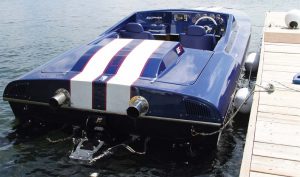 Sutphen Boats originally built PT boats for the war effort. Over the last 60 years they have developed a name for themselves in the offshore marketplace, winning several championships. They even entered a turbine boat in the fray of Unlimited Hydroplane racing. Sutphen Powerboats is still building winning boats, but their latest performance sport models are now designed and targeted for the general boating market. I recently spent an interesting day with Rich Sutphen Jr., who explained the details.
One look at a Sutphen 21 and your visual sense will draw you in for a closer examination. The windshield has been replaced by incorporating a wind deflector into the deck design. While windshields are most commonly used to shield from wind, they can be a concern at high speeds, so Sutphen has replaced it with a 'deflector' built into the deck mold that does a good job of reducing airflow to your face without any danger from breakage. This feature, as well as small details like hide-away cleats, adds to the clean lines of the boat.
The cockpit is equally attractive. Firm but comfortable individual bucket seats are arranged two forward and three aft. The two-tone upholstery colour-matches the exterior gel coat and looks great. The five seats, standard in all Sutphen 21s, are indicative of the manufacturer's obsession with quality. The billet aluminum footrests and four stainless steel cup holders are a nice touch. Storage is provided in the side gunnels along with a large open space under the foredeck, but I would add a fender rack in the spacious engine compartment. Overall, the 21 Sutphen is as timeless a design as that of an exotic sports car.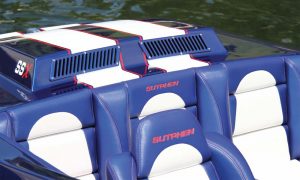 Boats capable of high speeds require equipment and materials to match their performance. In this department, Sutphen has done an excellent job of providing industry winners. For example, the accurate and reliable gauges are by Livorsi and the dual hydraulic steering is by Zeiger. The waterproof and stain proof flooring is Lonseal which not only looks great, but is a superbly practical solution for the sort of wear and tear that boats experience.
While all 21 Sutphens may look the same on the outside, the big difference comes in the power you choose. The more you pay – the faster you go. A 350hp model retails for $67,000 and turns a respectable 72mph. If you need more speed you can order the popular 377hp for under $75,000. Moving up in power plants, there is a 430hp, a 525hp and a 565hp, all from Mercury Racing Engines. Since all Sutphens are custom boats, you can literally order one to match your needs by opting for anything from Sirius radio and iPod, to ski tow bars and finished upholstery under the foredeck.


When the time came to water test the 21, Rich Sutphen offered me a choice of models. You might guess that I could not resist opting for the 525hp 21-SSX. After all, I figured Power Boating Canada readers would want to know just what sort of numbers this boat could really deliver. So, I fired up the engine and with a full fuel tank and unrestricted visibility, I turned towards open water.
Because of the high drive mount required to achieve speed priorities, the 21-SSX is slower than you would expect onto plane. With a couple of practice runs the technique can be quickly learned. Once the 32" pitch, four-blade propeller, hooked up in the water, acceleration was brisk. The helm layout consists of eight easy to read gauges in a row, with six switches to the left of the aluminum wheel. The throttle and gear levers are to the right. Once underway, I would have appreciated an arm support on the gunnel.
Setting the drive and tab trims, we began a tour of the lake. I noted that the ride was comfortable and dry. The small triangular keel 'pad' at the transom delivered sufficient lift and a smooth ride. Interestingly, the 1.35:1 gear ratio provided consistent 10 mph speed increases for every 500 rpm. In other words, at 3,000 rpm we ran 50 mph. At 3,500 rpm we ran 60 mph and at 4,000 rpm we ran 70 mph. The Zeiger steering is precise and solid. The 525 Sutphen powers smoothly out of turns – but drivers must be aware that tight turns in the 21-SSX are best accomplished when the boat has 'set' in the water and not while accelerating or running at top speed. The Sutphen 21 provides four easy to reach, stainless grab rails for added security. One more should be added for the passenger in the center rear seat. Later in the day, as our fuel level diminished, Rich and I went for a speed run, smoothly and easily achieving 94 mph at 5,300 rpm.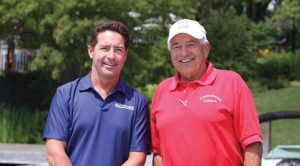 While the 21-SSX, 525 horsepower Sutphen is very exciting to drive; even Rich Sutphen admits that it may be a bit too exciting for the average runabout owner. For example, the heavier V-8 results in more porpoising than I expected, even with the high performance Kiekhaefer trim tabs. So, for boaters wanting a high-end lake performance boat, the 21-SSX is right up there, but it's good to know that Sutphen also offers a full selection of lower power and price cottage sport boats. One of them can exactly match your requirements as well as budget. And with the timeless design of this twenty-one footer, it is sure to hold its value.
Specifications
Make: Sutphen Powerboats
Model: 21-SSX
Length: 21′ / 6.3 m
Beam: 7′ / 2.10 m
Draft: 14″ / .35 m
Fuel: 50 gals / 190 litres
Weight: 2,400 lbs / 1090 kgs
Deadrise: 18 degrees.
Person Capacity: 5
MSRP: From $67,000
Engine HP available: 350, 377, 430, 525, 565.
As tested
Power: Mercury Racing 525 HP.
CID: 502
Gear Ratio: 1.35:1
Drive: Bravo XR sportmaster.
Prop: 32″ pitch 4 blades.
Plus performance options.
MSRP: $120,000.
For more information
Sutphen Boats

239-220-0805

best boat, best boat models, best boat trailer, best center console, best centre console, best performance boats, best pontoon, best runabout, Best Used boat, boat accessories, boat parts, boat reviews, boat tests, boat touring, BOATING Buyer's Guide, boating guide, BOATING in-water Tests, boating lifestyle, Boating Lifestyle Magazine, BOATING rentals, BOATING rentals near me, BOATING traveller, boating vacation, go boating, go boating Canada, how to choose a boat, marine accessories, New Boating Products, new boats for 2023, performance boats, Power Boating Canada, Tender boat, top boat models, top boats, top cottage boat, top cruiser, top power boat best boat, best boat models, best boat trailer, best center console, best centre console, best performance boats, best pontoon, best runabout, Best Used boat, boat accessories, boat parts, boat reviews, boat tests, boat touring, BOATING Buyer's Guide, boating guide, BOATING in-water Tests, boating lifestyle, Boating Lifestyle Magazine, BOATING rentals, BOATING rentals near me, BOATING traveller, boating vacation, go boating, go boating Canada, how to choose a boat, marine accessories, New Boating Products, new boats for 2023, performance boats, Power Boating Canada, Tender boat, top boat models, top boats, top cottage boat, top cruiser, top power boat