Family friendly space, comfort and performance
By Brad Roberts
You know the old Looney Tunes cartoon where the coyote sneaks inside the fence dressed in sheepdog clothes, stands up and unzips his costume and goes to work? That's the analogy I got when I drove this flagship of the Sea Ray Sport Cruiser lineup: underneath she's a runabout dressed in Sport Yacht clothing.
Now understand that is a huge compliment. Usually by the time you increase the beam, and then increase the length, and then add in all the comforts of home – plus some really cool extras – and then fill the tanks with gas and water, you've created such a heavy load that it is virtually impossible to get sprightly spirited performance. Somehow, Sea Ray managed.
Let's start with a tour of the 370 Sundancer. She's impressive in size from the dock with a beam of twelve feet, which seems bigger due to the massive extended swim platform that our test boat had. (The regular platform brings the LOA to 37' 6", the extended platform brings it to 39'2" and the optional hydraulic one measures in at a whopping 40'6".) The platform features two stereo speakers, a flip out rumble seat, and a transom shower with stainless fittings.
Entry to the cockpit is through the starboard side, and directly forward there's a small step to help you reach the wide sidewalks up to the bow. Ahead of this step, is the Kenyon electric grill with a sink and recycling bin for your pop cans, a fridge, and a flat screen TV mounted on the radar arch. The helm seat is double side and rotates on a swivel base to face into the cockpit for conversation. This is a great idea that makes the helm seat truly useable for entertaining without someone having to twist their back around to be included in the conversation.
To port, the almost full stern-wide bench seat (with massive storage underneath) wraps up the port side and a filler cushion quickly turns this into a massive sunpad (or an extra bed, it's really that large!). A single forward facing companion seat also swivels to easily bring the cockpit seating up to eight with everyone facing each other. Overhead, the radar arch is s semi-hardtop. I'd order the modified canvas enclosure so that guests can sit on the stern bench seat full upright, as the camper back canvas slopes too sharply to make that seat unuseable in a rainstorm or a buggy night.
The helm is a modern marvel of electronics, well laid out and centered around the beautiful 3-spoke cherry and leather wheel that is your first hint of any sportscar-like underpinnings. There's the requisite set of full gauges for both engines, a VHF radio, and a Raymarine C120 radar chartplotter well placed in front of the navigators seat beside the captain. But it was the joystick that caught my eldest daughters' eye.
Steps up to the bow (and the tip up sunpad) are integrated into the sliding door to the cabin below which features a teak and holly sole. The head with the toilet in the standup shower is to port, and further forward the large galley with solid surface countertop that you could serve an entire buffet off of. It's really that large. I love the cherry cabinets with flip up doors for the overhead storage!
A recessed two burner Kenyon electric stove, a large and very deep stainless sink, undercounter Dometic fridge and separate drawer freezer, and a large LG microwave complete the galley.
The galley counterspace is large enough to serve an entire buffet from.
The forward v-berth lies behind a curtain enclosure. Size wise it is an island queen with massive storage drawers underneath and a head section that tips up for television viewing or reading comfort. Sometimes it's the little things like that attention to detail that make all the difference.
To starboard there's a large sofa that drops and pulls out for a single adult berth or two kids. There's good storage underneath for duffel bags and games, and great hidden storage behind the backrest (in reality it's under the gunwale) for stuff you don't access often (like extra bags of chips!). The overhead storage cabinets are handy as well.
The mid-cabin features good headroom behind another curtain enclosure and when dropped the area would easily sleep two large adults or several excited kids who'll talk all night in there. It has it's own TV with AC inputs and a plug on a nearby shelf to power the kids' games. That's a brilliant touch. Keeping this all cool isn't a problem either with it's own dedicated AC/heat vent.
The large head is bright with plenty of headroom. There's a large flat screen television over the mid-cabin entrance – easy to watch from the island bed, not so from the starboard sofa unless you're lying down. I didn't however like the fact that there was no bug screen on the sliding door, and no real way of effectively adding one aftermarket either. It just means that in bug season you have to put up the entire canvas outside in the cockpit each night, or close the door and run the air conditioner.
Power wise, being a Brunswick company, it's all gasoline Mercruiser or Cummins or Yanmar diesel, but with some interesting options ranging from v-drive inboards to sterndrive with Axius control.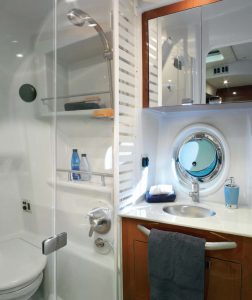 Performance wise the twin 8.2L engines in our test boat had the 18,000 plus pound 370 Sundancer on plane in an incredible 5.7 seconds. I had to test that several times to make sure I didn't make a mistake. It's unbelievable acceleration and with little bow rise with the tabs employed. We reached a top speed of 45.2 miles per hour at 4800 rpm drinking 66 gallons of fuel per hour. Standing up with the helm seat flip up bolster under my behind, and my eyes well over the upper frame of the windshield, running across Georgian Bay at this speed in a boat this large was exhilarating to say the least. Every single touch of the steering wheel resulted in an instant response by the hull. Carving and cutting, large sweeping turns and fast zigzags to surprise the kids (and my wife), were fun as the hull responded instantly and predictably. There's no "turn the wheel and wait for it". Think sportscar with performance tires on dry pavement. Yes, it's that good.
Settling down just a little, I found the sweet spot to be a comfortable cruising speed of 32.5 mph at 3500 rpm with the lowest fuel consumption of 14.7 gph. The new 8.2L big blocks paired with the Bravo III Sea Core drives with a four blade inner and a three blade outer stainless prop setup trimmed right out were more than enough power for this big boat that thinks it's a runabout.
Heading back into the Bayport Marina for Skyline's Sea Ray in-water demo days last July, I turned the helm over the my eldest daughter and walked her through switching it into joystick mode. Our test boat was fitted with the Axius system and it took her only a few minutes to get the feel of the joystick. As the nervousness quickly faded from her face, the confidence grew rapidly and soon she was feathering the boat around making it do exactly what she wanted with a grin from ear to ear. She didn't say it – but I can see this discussion coming soon. Something along the lines of "Daddy we need to get us a boat with that joystick control." (Hmmm, the monster I've created.) But it's totally true – a kid can handle this boat in any wind, weather or tight situation with the Axius system that is making boating so accessible to everyone.
Overall, the 370 Sundancer is a family-friendly cruiser with enough space for the kids, enough comforts for Mom, and enough performance for Dad. She'll make everyone happy.
Specifications
Length: 37'6" / 11.43 m
w/ Opt. Swim Platform 39'2" / 11.95 m
Beam 12' / 3.66 m
Draft – Stern Drive Down 37" / 94 cm
Draft (Inboards) 39" / 100.5 cm
Weight 18,064 lbs / 8,194 kg
Fuel Capacity 225 gal / 851.7 L
Water Capacity 50 gal / 189.3 L
Holding Tank 28 gal / 106 L
Dead Rise 21° / 21
Manufacturer
Sea Ray Boats,
Knoxville, TN
www.searay.com
Test Boat Provided By:
Skyline Marina
75 Forestview Road
Orillia, Ontario L3V-6H1
www.skylinemarina.com

best boat, best boat models, best boat trailer, best center console, best centre console, best performance boats, best pontoon, best runabout, Best Used boat, boat accessories, boat parts, boat reviews, boat tests, boat touring, BOATING Buyer's Guide, boating guide, BOATING in-water Tests, boating lifestyle, Boating Lifestyle Magazine, BOATING rentals, BOATING rentals near me, BOATING traveller, boating vacation, go boating, go boating Canada, how to choose a boat, marine accessories, New Boating Products, new boats for 2023, performance boats, Power Boating Canada, Tender boat, top boat models, top boats, top cottage boat, top cruiser, top power boat best boat, best boat models, best boat trailer, best center console, best centre console, best performance boats, best pontoon, best runabout, Best Used boat, boat accessories, boat parts, boat reviews, boat tests, boat touring, BOATING Buyer's Guide, boating guide, BOATING in-water Tests, boating lifestyle, Boating Lifestyle Magazine, BOATING rentals, BOATING rentals near me, BOATING traveller, boating vacation, go boating, go boating Canada, how to choose a boat, marine accessories, New Boating Products, new boats for 2023, performance boats, Power Boating Canada, Tender boat, top boat models, top boats, top cottage boat, top cruiser, top power boat