The following comes to us from Rob Edwards, Director of Sales, NTP Stag Canada. Mr. Edwards is one of the largest Canadian distributors of RV products and accessories; he also provides marine parts to dealers across the country. Mr. Edwards' story demonstrates that fiberglass boats, despite the wear of rolling waves and driving wind, simply keep going. Rebuild the engine, touch up the drives, and slap on a new coat of paint: these tweaks support the market and demonstrate that a boat is always capable provided it has power. There are also many used boats available for those on tighter budgets looking to join the boating community. No doubt fibreglass is king – the boat will always be there. Mr. Edwards writes below.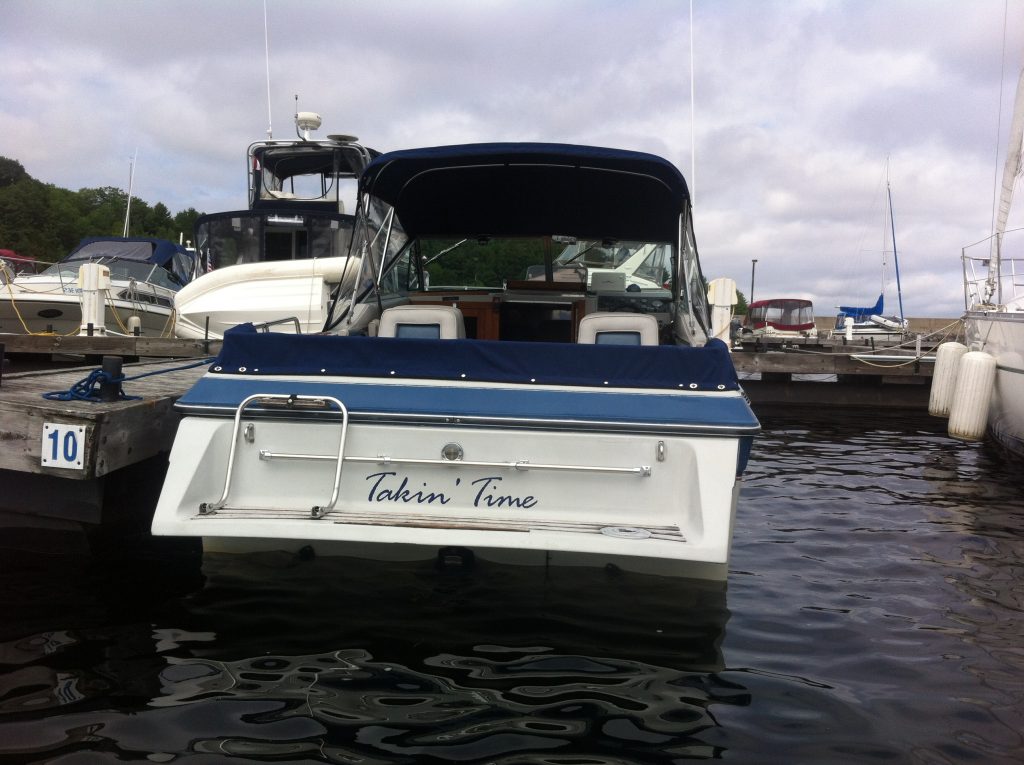 This is our old girl, a 1987 Grew 240 [editor's note: Grew was one of the largest manufacturers in Canada and built one of the strongest hulls at that time]. It was built in Penetanguishene on Georgian Bay for Georgian Bay.
Living and cottaging in Midland, I've been a Southern Georgian Bay enthusiast all my life. Our family has enjoyed a broad range of boats and boating experiences including simple fishing boats, runabouts, old-school speed boats, cuddy boats, and an express cruiser. I've had some great ones and some not-so great, but they've always brought us home. I have been so happy with this old Grew as a safe, reliable, and Georgian Bay-capable vessel. Picking the weather days, of course, my wife Denise and I enjoy the many bays and inlets our southeastern shores have to offer. Every year over the past several years, we take our annual adventure north from Midland through Parry Sound and then through Pointe au Baril to Britt for some fuel and a little R&R.
From Britt, we run the inside channels to Key River or Pickerel River, then go up through the back of the breathtaking Bustard Islands to Beaverstone Bay and Collins Inlet for another night or two of R&R at Killarney Mountain Lodge. From Killarney, we take our time and run up through to Kagawong on Manitoulin Island. We've made a couple attempts to make it to Gore Bay but have been met by unfavourable weather and winds which managed to turn out boat around in search of shelter.
Our return trip takes us back through the same route and stops along the way, including a couple nights of North Channel hospitality in Little Current. We could shave a lot of travel time off our North Shore trips by simply crossing the bay straight to Killarney but prefer taking in the scenic shoreline route instead. For us, it's about the journey and the destination.

Want to see your story featured online and in our newsletter? Write to us.
Boating, Fibreglass, Georgian Bay, Great Lakes, Grew