Serious fishermen place serious demands on their boats, and that's particularly true for anglers who venture far offshore on big water for species like salmon and lake trout. This is no-compromise fishing, and demands a no-compromise fishing platform.
Smokercraft's Phantom 202 is a classic example of what a big-water fishing boat should be. Built on a deep V hull with a 17-degree deadrise, the Phantom is designed to handle long runs over rough water, yet still offers spirited performance with less than maximum horsepower. Part of Smokercraft's American Angler series of fishing boats with welded aluminum hulls, the Phantom 202 is built more like a battleship than an aluminum boat. The hull plates on the Phantom are a whopping .190 thick, while the side plates are a beefy .125 aluminum – heavy stuff built for rough use. Further clues to this rig's toughness include an all-aluminum interior for durability and easy cleaning; four oversized, welded-on cleats; diamond plate on the bow step and on the lid of the bow fish box; a self-draining bow construction with welded, stainless steel grab rails; and durable vinyl flooring in the main cockpit, covered by a lifetime warranty.
The Phantom 202's helm-forward design and big, welded, walk-through safety glass windshield is fairly typical of serious offshore fishing boats. This arrangement not only provides the crew with excellent protection from the elements (particularly with an optional canvas enclosure), but allows an open stern with plenty of room for fighting that catch of a lifetime.
The main cockpit is finished in a speckled grey aluminum finish, with a pair of pedestalmount fishing seats with adjustable arm rests for the driver and navigator, plus an inwardfacing bench seat with storage beneath along each gunnel. Between the two bench seats, our review boat featured a worthwhile option in the form of a large, removable in-floor fish box built from welded aluminum.
The Phantom's helm is simple and functional, with classic black-on-white analogue gauges by Faria including a speedometer to 65 mph, tach, fuel gauge and volt meter. The beefy tilt wheel comes with standard hydraulic steering, while heavy-duty rocker switches control the bilge pump, navigation lights and accessories. The helm is flat-topped and offers plenty of clearance for mounting additional electronics, such as a GPS or a high definition fish finder. Both the helm and passenger console offer additional storage beneath for smaller items.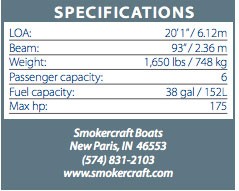 The open stern of the Phantom 202 is highlighted by wide, flat gunnels that are ideal for mounting downriggers. A pair of flush-mount rod holders, integrated into the sides of the engine splash-well, are a nice touch, as are the triple rod storage mounts located along each side wall.
Although rated to handle outboards to 175 hp, our review boat was set up with a Honda BF115. I had been told the Phantom was built to perform well with less than maximum power.
With two of us aboard an a little over a half-tank of fuel, our test boat literally sprang out of the water with little effort, and with a touch of trim was quickly passing 40 mph on the speedometer. Whoa! Handling at speed is exactly as one would expect – firm and committed, which quickly builds a sense of security behind the wheel.
The Smokercraft Phantom 202 comes built to fish, but prospective buyers will still find some goodies on the option list that should be considered. The aforementioned in-floor removable fish box, a windshield wiper, factory-installed downrigger mounting brackets and a washdown kit are useful options no serious angler would be without. By Craig Ritchie

best boat, best boat models, best boat trailer, best center console, best centre console, best performance boats, best pontoon, best runabout, Best Used boat, boat accessories, boat parts, boat reviews, boat tests, boat touring, BOATING Buyer's Guide, boating guide, BOATING in-water Tests, boating lifestyle, Boating Lifestyle Magazine, BOATING rentals, BOATING rentals near me, BOATING traveller, boating vacation, go boating, go boating Canada, how to choose a boat, marine accessories, New Boating Products, new boats for 2023, performance boats, Power Boating Canada, Tender boat, top boat models, top boats, top cottage boat, top cruiser, top power boat best boat, best boat models, best boat trailer, best center console, best centre console, best performance boats, best pontoon, best runabout, Best Used boat, boat accessories, boat parts, boat reviews, boat tests, boat touring, BOATING Buyer's Guide, boating guide, BOATING in-water Tests, boating lifestyle, Boating Lifestyle Magazine, BOATING rentals, BOATING rentals near me, BOATING traveller, boating vacation, go boating, go boating Canada, how to choose a boat, marine accessories, New Boating Products, new boats for 2023, performance boats, Power Boating Canada, Tender boat, top boat models, top boats, top cottage boat, top cruiser, top power boat