By Craig Ritchie
For decades the term "cottage boat" has come to mean a fibreglass bowrider in the 18- to 20-foot range. But that began to change in the late 1990s when fibreglass deckboats gained popularity with their ability to seat more passengers than a bowrider could handle.
The subsequent arrival of specialized ski boats and wakeboard boats brought even more choice, but also further complicated the boat buyer's decision process. Little wonder that Starcraft received such a positive response in 2011, when the company introduced its SCX line of "crossover" powerboats that blend a deckboat's passenger capacity with a bowrider's sporty handling, and add a tow boat's ability to haul skiers and boarders – all in one stylish package. At the time, Starcraft said its SCX gave boat buyers the best of everything.
And they were right. SCX was such a hit with boat buyers that the line has grown to include eight different models with a choice of I/O or outboard power. The newest member of the SCX family is the SCX 210 I/O, a sporty 21-footer that packs all the great features of the SCX series into an easily towable package.
The 210 SCX I/O rides on a high performance reverse chine hull with a pickle-fork bow and generous interior depth. The hull holds its substantial 102-inch beam for almost its entire length to provide greater interior space, especially up front. Where most 21-foot bowriders can fit two adults up front, the 210 SCX seats four in comfort when you pull out the side filler cushions on its "quad pod" seats. Or leave the filler cushions in and you have plenty of space to stretch out and catch some sun.
The interior depth of the 210 SCX is also impressive, and contributes to enhanced passenger comfort by providing just a touch more seating support where it really counts. The port-side wrap-around lounge backs against the passenger console, making the perfect place to spot for skiers or wakeboarders. You can stretch out all along the port-side bench, or slide aft and face forward with the driver. The transom bench seat sits back-toback with a second seat cushion on the swim platform – the idea spot to get set up for a turn on the skis, or dry off after a swim. Access to the rear swim platform is through a spacious transom walk-through on the starboard side, with an in-floor compartment that neatly conceals a 36-quart removable cooler.
No matter where you sit, cup holders always seem to be within easy reach, neatly integrated into the trim. But if anyone gets spoiled in the 210 SCX, it's the driver, reclining in a high-back Captain's chair that sits on a sliding base, so that drivers of all heights and builds can easily position the seat for optimal comfort.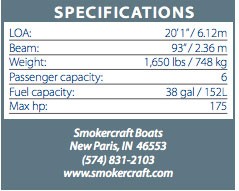 With such an extensive standard feature list, even the base model 210 SCX comes pretty well loaded. But there are a few fun options, most of them available in convenient packages. The Sport Package, for example, adds a wake tower with racks and speakers, a Bimini top, sport furniture and unique colours and graphics, while the LS Package offers snap-in carpet, LED-lighted beverage holders, an upgraded stereo with USB port, a sub amp and LED-lighted speakers, a sink with transom shower, and more.
While the 210 SCX certainly looks sporty, it isn't just show – this boat has the power and handling to match. The hull design reduces drag to such a degree that the standard MerCruiser 4.3L V6 and Alpha drive the 210 SCX delivers a truly thrilling ride, with jet-like acceleration and precise, solid handling – along with excellent fuel economy. For those who value performance above all, engine upgrades up to a 270 horsepower V8 are available.

best boat, best boat models, best boat trailer, best center console, best centre console, best performance boats, best pontoon, best runabout, Best Used boat, boat accessories, boat parts, boat reviews, boat tests, boat touring, BOATING Buyer's Guide, boating guide, BOATING in-water Tests, boating lifestyle, Boating Lifestyle Magazine, BOATING rentals, BOATING rentals near me, BOATING traveller, boating vacation, go boating, go boating Canada, how to choose a boat, marine accessories, New Boating Products, new boats for 2023, performance boats, Power Boating Canada, Tender boat, top boat models, top boats, top cottage boat, top cruiser, top power boat best boat, best boat models, best boat trailer, best center console, best centre console, best performance boats, best pontoon, best runabout, Best Used boat, boat accessories, boat parts, boat reviews, boat tests, boat touring, BOATING Buyer's Guide, boating guide, BOATING in-water Tests, boating lifestyle, Boating Lifestyle Magazine, BOATING rentals, BOATING rentals near me, BOATING traveller, boating vacation, go boating, go boating Canada, how to choose a boat, marine accessories, New Boating Products, new boats for 2023, performance boats, Power Boating Canada, Tender boat, top boat models, top boats, top cottage boat, top cruiser, top power boat