By Cam McRae
Radical." It's one of the most overused words in boating, usually describing some aspect of a boat's equipment, styling, paint scheme or hull design that is, in fact, silly, outrageous, or in the current vernacular, "X-Treme!" What the word should denote is change or progress that is fundamental as well as revolutionary. Radical aptly describes SeaRay's novel new SunDeck Outboard.
That it is an outboard is a fundamental and progressive change for SeaRay. The company truly made the break last year with a thirty-seven foot cruiser, tidily hiding two 300hp Verados under the stern of the new 370 Venture. Given SeaRay's long history of exclusive inboard or sterndrive power, I'd take the leap and call the change revolutionary. SeaRay's motor box housing for the Venture's Verados did little to change or limit the cruiser's traditional aft facilities.
A deck boat is a natural for outboard power. Moving the engine outside the cockpit area provides even more room for the spacious accommodations that are the point of deck boat. SeaRay has abandoned the transom, as such. The engine is now integrated with the boat in a manner that minimizes any impact on the swim platform. Wide, broad and low to the water, the 270's swim platform will serve little kids scrambling aboard, tired skiers, or SCUBA divers dumping their gear equally well.
Why the dramatic switch to outboards?
Outboard power is proving to be more desirable than sterndrive power, providing spirited performance, economical operation, low emissions and easier serviceability – at less cost. Not surprisingly, industry analysts tell us that boating's economic recovery is being driven by outboards.
The styling on this boat is as innovative as its source of power. Sleek, rakish and almost futuristic, the craft's lines aren't garish, they're pleasing to the eye. High sides, minimalist windshield, long bow and cascading stern look like nothing else on the water. And, that fashion-forward tow tower cum Bimini is a stand-out. The idea has been tried before, with little to moderate success. The 270's folding, removable, structure is simple, functional, and it's an eye-grabber.
It's also not a pontoon. Faced with the explosive surge in popularity of the pontoons, other high-end boatbuilders, including SeaRay's arch rival Cobalt, have begun to produce their own. Instead, SeaRay brings us a deck boat, a style of craft that was supposed to replace the pontoon – and never did. The secret here is in the word "boat". There are no big aluminum pipes to be found here. For all of its elaborate and spacious topsides, the 270 is a fully capable runabout, with a twenty-one degree deep vee. Some deck boat designers choose to enhance the boat's at-rest stability with a shallow vee. Although effective for the purpose, the tactic also limits a boat's rough water capabilities. The SeaRay retains that vee and relies on its size and wide chines to stay rock solid when not underway.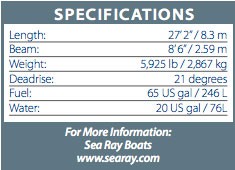 Moreover, the 270's finely crafted topsides are competitive with today's luxury pontoons. Some of the features are comparable. There's the mandatory wet bar and a spacious head. The cockpits, fore and aft, are surrounded by richly cushioned upholstery. There are tables to be mounted in both spaces. If you do the count, there's seating for fifteen passengers. There's a lounger at the stern that articulates, lifting to fit your body. A handy fore deck, complete with ladder, makes for easy boarding over the bow. All 'toon-like.
But crank up the 250hp Verado and carve some turns and any thoughts of similarity start to disappear. Head home in a stiff chop, tucked down behind the windshield in double-wide front seats, and they're gone forever. The SunDeck 270 is a real boat, a radical boat.

best boat, best boat models, best boat trailer, best center console, best centre console, best performance boats, best pontoon, best runabout, Best Used boat, boat accessories, boat parts, boat reviews, boat tests, boat touring, BOATING Buyer's Guide, boating guide, BOATING in-water Tests, boating lifestyle, Boating Lifestyle Magazine, BOATING rentals, BOATING rentals near me, BOATING traveller, boating vacation, go boating, go boating Canada, how to choose a boat, marine accessories, New Boating Products, new boats for 2023, performance boats, Power Boating Canada, Tender boat, top boat models, top boats, top cottage boat, top cruiser, top power boat best boat, best boat models, best boat trailer, best center console, best centre console, best performance boats, best pontoon, best runabout, Best Used boat, boat accessories, boat parts, boat reviews, boat tests, boat touring, BOATING Buyer's Guide, boating guide, BOATING in-water Tests, boating lifestyle, Boating Lifestyle Magazine, BOATING rentals, BOATING rentals near me, BOATING traveller, boating vacation, go boating, go boating Canada, how to choose a boat, marine accessories, New Boating Products, new boats for 2023, performance boats, Power Boating Canada, Tender boat, top boat models, top boats, top cottage boat, top cruiser, top power boat