To truly appreciate how very far we've come in the personal watercraft market space, sometimes you have to look back. Way back. It was 1968 – 47 years ago – when the original Sea-Doo was introduced. The one, the only model that year, Sea-Doo had a 320cc two-stroke engine that at best developed less than half the power of today's entry level machines, had chrome bicycle-like handle bars, and was a single rider machine with no reverse gear. It was however, yellow and black. The public was leery, sales were slow.
Fast forward to 2014 when BRP introduced the 899 cc four-stroke powered entry level Sea Doo Spark with ergonomic handlebars, composite hull and deck, 2 and 3 rider options, and reverse. It was available in 5 vibrant colours. The public loved it, resulting in one of BRP's best new product launches ever!
The Sea-Doo lineup for 2015 has once again, thankfully, evolved and improved. It was the BRP innovators and design team who have brought to market many industry firsts: on-water brakes, exclusive suspension systems, three-passenger models, dedicated tow-sports models, the list goes on and one.
Of the five model lines that Sea-Doo offers the recreation lite line is where the Spark model resides. While it may be the so-called 'entry-level' machine based more than anything on the affordable price-point, don't let that fool you that is a base model with no features or bells and whistles. Nothing could be farther from the truth.
At its' heart, the Spark features a Rotax 900 ACE (available on the 2-up model only) or Rotax 900 HO ACE (2-up HO and 3-up models). This new Rotax is an 899 cc four-stroke engine, with three inline cylinders and four valves per cylinder making it the most compact and lightweight engine on the market. The ACE (Advanced Combustion Efficiency) engine also boasts being the most fuelefficient watercraft in the industry while still delivering excellent power-to-weight ratio. Plus it is closed-cooled so it's protected from salt-water corrosion.
Sea-Doo engineers dropped this all new engine into an all new-hull made of recyclable, low density and high-impact composite material. It was designed to maintain structural integrity while under stress and still be lightweight and easy to manufacture.
There are five vibrant colour choices for the deck, and when you factor in six new for 2015 graphic packages, and the result is over 26 ways to customize your Spark. The deck is bolted onto the hull, so removal is simple offering full access to the engine for easy servicing.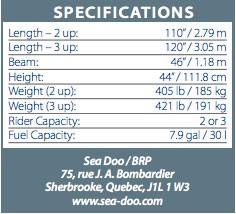 The 2- or 3-up seat on the Spark is narrower than most PWCs allowing for smaller and younger riders to really get a hold of this machine and ride it, and for veteran PWC's operators to push it to the limits. Performance wise, the Spark should top out at around 40mph, or 50mph with the HO engine.
Despite the Spark's low price point, it still includes a number of high-tech features like Sea-Doo's D-Sea-Bel noise reduction system that combines a series of resonators and vibration-absorbing components to make Sea-Doo watercraft some of the quietest on the water. Also standard is the Off Throttle Assisted Steering, and the multifunction digital information display that provides information on sixteen key operating functions. The Spark comes with a one-year warranty.
For towing a pair of Sparks to a friends' cottage, you'll only need a tow rating of 1500lbs which means almost any car or small SUV can pull this fun little package. The Spark puts the fun and affordability for everyone back into the PWC marketplace.

best boat, best boat models, best boat trailer, best center console, best centre console, best performance boats, best pontoon, best runabout, Best Used boat, boat accessories, boat parts, boat reviews, boat tests, boat touring, BOATING Buyer's Guide, boating guide, BOATING in-water Tests, boating lifestyle, Boating Lifestyle Magazine, BOATING rentals, BOATING rentals near me, BOATING traveller, boating vacation, go boating, go boating Canada, how to choose a boat, marine accessories, New Boating Products, new boats for 2023, performance boats, Power Boating Canada, Tender boat, top boat models, top boats, top cottage boat, top cruiser, top power boat best boat, best boat models, best boat trailer, best center console, best centre console, best performance boats, best pontoon, best runabout, Best Used boat, boat accessories, boat parts, boat reviews, boat tests, boat touring, BOATING Buyer's Guide, boating guide, BOATING in-water Tests, boating lifestyle, Boating Lifestyle Magazine, BOATING rentals, BOATING rentals near me, BOATING traveller, boating vacation, go boating, go boating Canada, how to choose a boat, marine accessories, New Boating Products, new boats for 2023, performance boats, Power Boating Canada, Tender boat, top boat models, top boats, top cottage boat, top cruiser, top power boat