Based on the very successful Nanook hull, the all new for 2015 Amarok's measurements are the same – a sixteen foot boat with an 88" beam and a 20" transom. From there, the Princecraft designers made a number of changes. In the beginning the idea was to respond to new EPA regulations regarding built-in fuel tanks. The new regs require modifications and upgrades compared to previous years' installation criteria that raise the price of the finished boat significantly. Those same regs don't apply if the fuel tank is portable. So that was the first step – remove the in-floor fuel tank – which of course now allows for a very nice in-floor rod lockable storage locker that will accommodate up to five 7.5 foot fishing rods. There's a second rod storage area in the port side of the Amarok for up to 8 foot rods. This is a very interesting open design that allows for quick access while still protecting the rods from getting tangled in each other.
Of course, the PrinceTrak system is built into the Amarok's gunwales and accessories like rod holders, etc. are available separately. The bow area is carpeted, has an in-floor 31" 16 gallon livewell, a carpeted trolling motor mount, and it is pre-wired for 12V or 24V motors.
Step down from the bow, through the high windshield (that gives great protection in all elements – something some competitive smaller boats are lacking) and you'll find the same helm and companion console setup as on the Nanook. There's plenty of room to add aftermarket electronics, but our test boat had the Humminbird Piranha MAX175 installed. Throughout the boat there are six seat bases, four in the vinyl floor of the cockpit, one in the bow and one in the stern. Our test boat had the optional stern bench seat installed. This upgrade is a must have in our opinion. It features two flip-up and well padded vinyl seats with low backs and no-pinch hinges – perfect for little kids – and folds down to create a wider aft casting platform. There's still some room for the cooler or for kids to play on the cockpit floor. Oh, and the requisite protable fuel tank? It hides under the stern bench.
Performance wise, the Amarok is rated up to a 75hp outboard, but would perform well with a 40 or 50. The 75 however would be mandatory if you wanted to cross utilize your fishing boat to do any tubing or skiing with the family. Our test boat had Mercury's all new 75hp Four Stroke released last summer along with an all new 4 blade Splitfire 13.4 x 15 aluminum prop that produced a blistering hole shot of less than 2 seconds and a top speed of 40.5 mph @ 5500 rpm with two adults aboard and half tank of fuel. While it is only sixteen feet, this little number produces a feeling of confidence in the captain that it'll take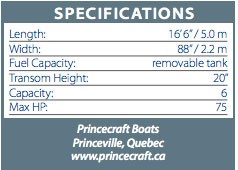 on anything and win. It's fast, sprightly and instantly responds to input from the wheel. What fun!
We'd suggest getting the optional full standup high-top enclosure to extend your boating and fishing into the shoulder seasons. This option also comes with a full tonneau cover for the summer months and trailering to your favourite launch ramp.
The Amarok is proudly made in Canada in Princeville, Quebec at the Princecraft factory with 2.3mm think aluminum floors and 1.8mm sides that'll withstand years of use and enjoyment with very little to no maintenance that aluminum boats are so well known for. If you are looking for a full-featured fishing boat that's also trailerable, garagable and affordable then next spring, you'll want to water-test Princecraft's all new Amarok DLX WS at a dealer near you.