Since they first entered the aluminum boat business in 1963, Smoker Craft has established a loyal following among serious anglers. With a full line of V-hulled aluminum fishing boats from 12 to 20 feet, Smoker Craft has become a top choice for hard-core fishermen across Canada and the United States. So when word leaked out last fall that the company had developed an all-new, 18-foot model in its Pro Angler series, internet fishing boards began bristling with activity, as weekend warriors and tournament pros alike began speculating on how the boat would perform.
Having now had the chance to spend some quality time on the water aboard Smoker Craft's 182 Pro Angler XL, I can say it doesn't just live up to the hype – it positively crushes it.
While its' generous freeboard, optional fold-down, split bench seat and available ski tow pylon speak to the Pro Angler XL's ability to do a lot of jobs well, at its heart this is a no-nonsense fishing boat that's made with big water in mind. Evidence of that lies in its beefy construction, using heavy 0.125-gauge bottom plates and ribs.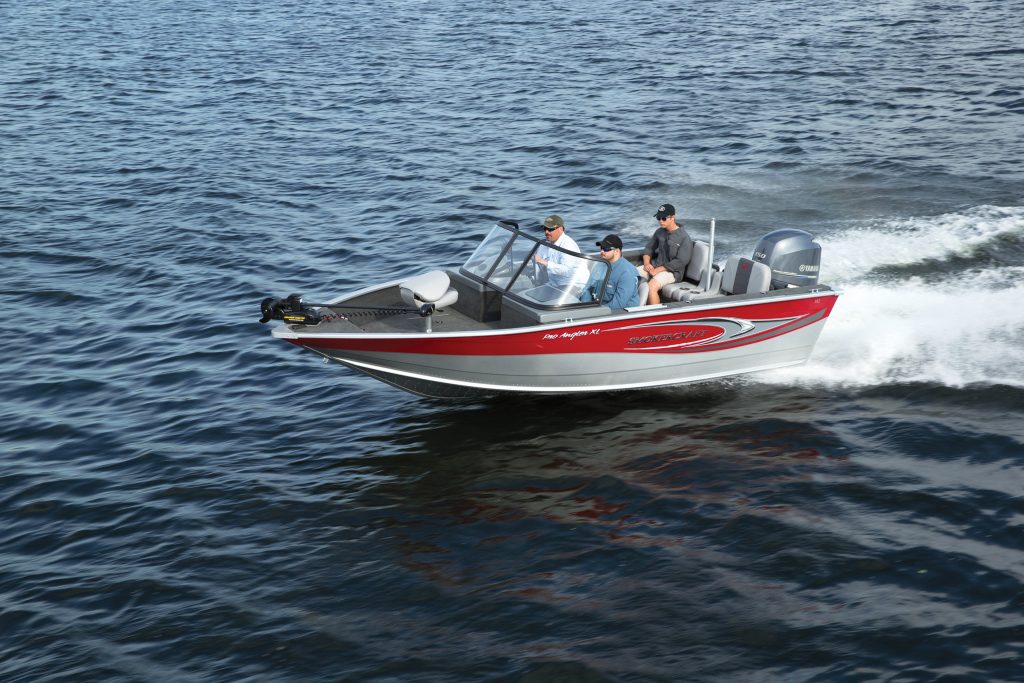 The 182 Pro Angler XL is built on Smoker Craft's high-performance Hydra-Lift hull, incorporating a full 17-degree deadrise to tame big waves. Its one-piece bottom and double-riveted construction are built for rugged use, while its five-keel construction ensures clean, straight tracking regardless of what angle the waves come from. The boat's curved walk-through windshield and liberal 27 inches of interior depth keep everyone dry, even in a nasty walleye chop. Extra-wide, full-length gunnels are reinforced for mounting downriggers, rod holders, and other accessories. No detail has been overlooked.
The 182 Pro Angler XL follows the same versatile interior layout as other models in the Pro Angler series, giving it the ability to effectively fish for a wide variety of different species – trolling far offshore for salmon and lake trout one day, gliding through shallow stumpy bays during a bass tournament the next. The raised front casting deck is simply huge, especially when you remember this boat has a full walk-through windshield.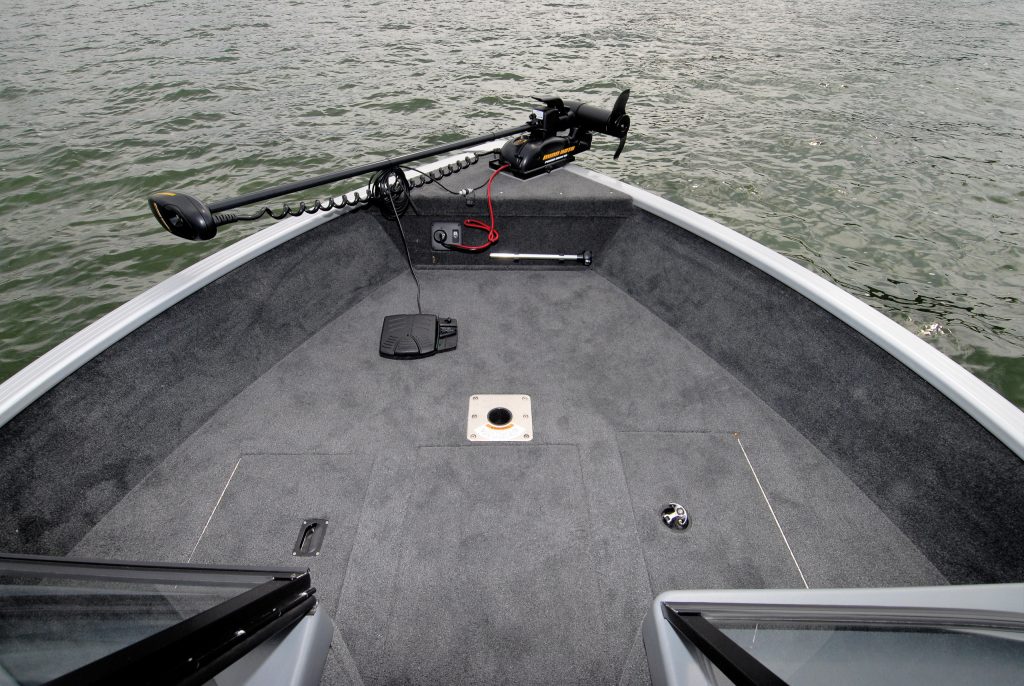 By positioning the bow-mount electric motor on an elevated platform, the boat provides a clean, open fishing space up front that easily accommodates multiple anglers. A removable, pedestal-mount fishing seat provides extra comfort and security on choppy days, while expansive under-deck storage keeps items like PFDs close at hand. There's also a huge 68L (18 gallons) Flow Rite aerated livewell system in the bow floor. It's one of two – a second 106L (25 gallons) Flow Rite recirculating well in the stern not only allows anglers to keep their catches separate during a tournament but allows the bow live well to be used as a baitwell when you're just out there fishing for fun.
The front and rear casting decks are fully carpeted, providing comfort and a secure, non-slip surface on these elevated surfaces, while the main cockpit deck features a treated floor (with lifetime warranty) covered by durable, hard-wearing vinyl. This is a sensible arrangement since it is the main cockpit floor that will see the most wear by far.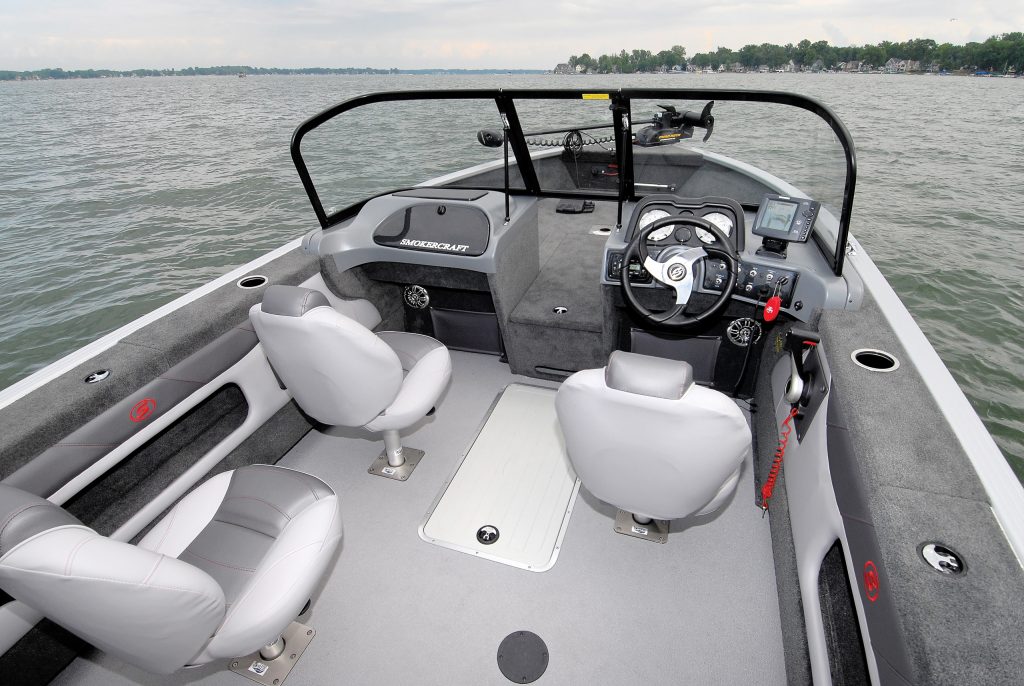 If there's one thing a serious fishing boat needs, it is secure storage for extra fishing rods. Where some models accommodate six or even eight rods, the 182 Pro Angler XL offers safe storage for no less than 23 of them! As a boat designed to tackle a wide range of fishing situations, the rod lockers naturally accommodate rods of different lengths. Nine rods up to 8 feet in length fit in the oversized, locking compartment that runs up the center of the front deck, while a half-dozen more to 7-1/2 feet in length fit in an in-floor locker located in the main cockpit. Two additional rod lockers, accessed through flush-closing lids on the top of the gunnels, accommodate a total of eight more rods of up to 8-1/2-feet in length. I love those in-gunnel rock lockers – it's a slick design that allows quick, unhindered access without having to first move tackle boxes or other gear out of the way. Someone really did their homework here. But when the company President is a passionate fisherman, you can expect that kind of attention to even the smallest details.
The 182 Pro Angler XL comes with three ergonomic, pedestal-mount fishing seats that use a wood-free design for added durability. Multiple seat bases throughout allow you to set up quickly and easily for any sort of fishing. Colour-coordinated LED lighting is a nice touch, as is the removable, top-mount storage tray in the passenger console. It's the perfect spot for small items you want easy access to and saves having to dig through the cavernous main storage compartment of the port-side console.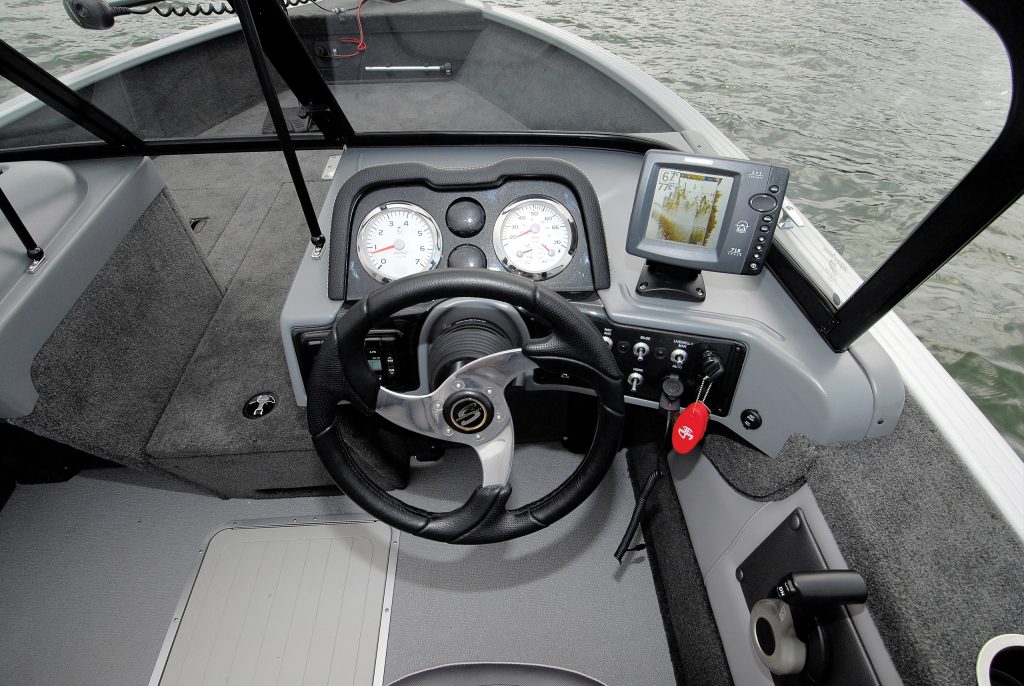 The helm is built to equally generous proportions. Smoker Craft knows that die-hard anglers are often out on the water early or late in the season and that having a little extra room means a lot when you're wearing boots and a floatation suit. The primary gauges – speedometer, tach, voltmeter and fuel gauge, all in classic black-on-white with chrome accent bezels – reside in a smart-looking module atop the console, where they're clearly seen no matter how one adjusts the seat. To the right, a large, open dash top easily accommodates electronics like the Humminbird 718 GPS-capable sonar in our review boat. Some well-spaced, large toggles (easily operated while wearing gloves) situated to the right of the wheel take care of basic functions like the navigation lights, live wells and bilge, while an Infinity AM/FM stereo with MP3 input rests to the bottom left of the console.
While Smoker Craft's 182 Pro Angler XL comes with pretty much every standard feature you can think of, it is the extensive options list that sets this boat apart and lets you personalize it down to the last detail. Some of the more popular upgrades include snap-in carpet for the main cockpit, tilt steering, hydraulic steering, and a two-Bank ProMariner ProSport 8 onboard battery charger. A variety of canvas options provide extra comfort for those who will regularly fish late into the year, while anglers with families can select a ski pylon, rear swim platform with boarding ladder, and the flip-down, split bench seat in the stern for extra passenger capacity. Some of these options can be selected together as convenient packages – the All-Weather Package, for example, provides a fisherman's top, mooring cover and snap-in carpet as a bundle, while the Power Pack 1 option groups the Humminbird 718, a 70-pound thrust electric motor and a quick-disconnect bracket in one handy option set.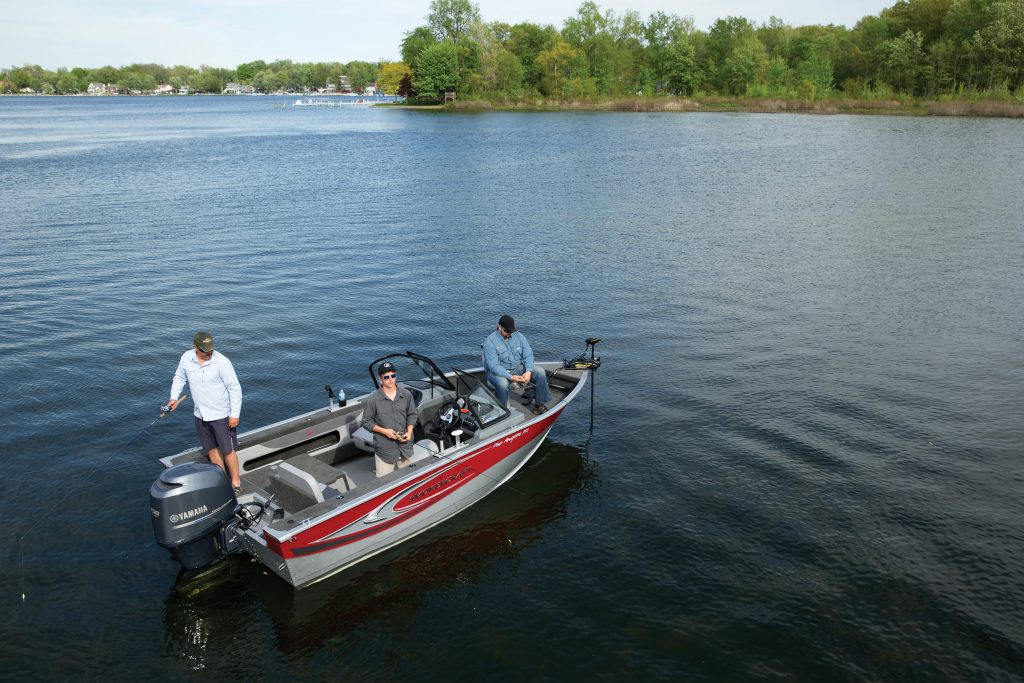 The 182 Pro Angler XL is rated to handle outboards up to 175 horsepower. Our review boat came rigged with a Yamaha F150, one of the most popular engines in this size range and a great match to the big Smoker Craft's 1,425-pound hull.
With two of us in the boat with a full tank of fuel, I wasn't surprised to find the F150 popped us up on a plane pretty much instantaneously and reached a top speed of 50 mph with ease. But what was truly impressive wasn't so much the speed or acceleration of this boat, but its vice-like grip on the water, even when subjected to overly sharp turns at inappropriate speeds. Smoker Craft's Hydra-Lift hull really shines – with the 182's ample freeboard and comfortable seating, it's a boat that easily inspires confidence, and while still putting a big smile on your face.
Countless surveys have shown that fishing is one of the most popular reasons that people buy boats. That being the case, Smoker Craft should win a lot of new customers with its outstanding 182 Pro Angler XL. If you like to fish, this boat is hard to beat.
Have a thought or comment to share about the Smoker Craft 182 Pro Angler XL? Click here to visit our forum and join the discussion on this article.

Aluminum, best boat, best boat models, best boat trailer, best center console, best centre console, best performance boats, best pontoon, best runabout, Best Used boat, boat accessories, boat parts, boat reviews, boat tests, boat touring, BOATING Buyer's Guide, boating guide, BOATING in-water Tests, boating lifestyle, Boating Lifestyle Magazine, BOATING rentals, BOATING rentals near me, BOATING traveller, boating vacation, fishing, go boating, go boating Canada, how to choose a boat, marine accessories, New Boating Products, new boats for 2023, performance boats, Power Boating Canada, Smoker Craft, Tender boat, top boat models, top boats, top cottage boat, top cruiser, top power boat Aluminum, best boat, best boat models, best boat trailer, best center console, best centre console, best performance boats, best pontoon, best runabout, Best Used boat, boat accessories, boat parts, boat reviews, boat tests, boat touring, BOATING Buyer's Guide, boating guide, BOATING in-water Tests, boating lifestyle, Boating Lifestyle Magazine, BOATING rentals, BOATING rentals near me, BOATING traveller, boating vacation, fishing, go boating, go boating Canada, how to choose a boat, marine accessories, New Boating Products, new boats for 2023, performance boats, Power Boating Canada, Smoker Craft, Tender boat, top boat models, top boats, top cottage boat, top cruiser, top power boat