When you think of a catamaran, most people have an image of a sailboat or a high performance powerboat come to mind. But rarely does one think of an under twenty-five foot family bowrider. It's sort of the shock value that Caroline Cat is going for to make you take a closer look.
This North Carolina independent boat builder is based in Tarboro, NC, just off I-95. Established in 1989, their 140,000 square foot plant has produced over 80,000 hulls for customers all over the world. It's no small operation.
The construction techniques used in all Caroline Cat hulls is unique. Beginning from 3D computerized models, full sized mock-ups are made and tested, then perfected. Then the all-composite construction begins with a fiberglass stringer systems along with highdensity composite transoms and coring to give each boat lasting strength and stiffness. There is no wood in the construction, making for a slightly more expensive boat but one that will never rot! A flexible exterior gelcoat is followed by three ounces of hand-rolled skin coat (to produce a water-resistant skin coat barrier), which is in turn followed by multiple layers of biaxial knitted fiberglass cloth that is overlapped at stress points and then rolled smooth by hand for a higher glass to resin ratio than traditional woven roving laminates. A fiberglass grid stringer system and closed-cell foam for basic flotation and sound absorption is bonded to the hull and the inner fiberglass liner and deck installed.
All Carolina Cats are built for speed, a soft ride and stability with unique planing hull designs that skim the top surface of the water using minimal power. Their wave-parting dry ride and silky-soft re-entry is a unique feeling that is honestly best experienced first-hand in an on-water test.
The 23 DC model is a dual console family bowrider design. From outside the hull, the two cat hulls are unmistakable and feature a high bow rise and sharp entry lines that result in the unique and very dry ride no matter how high the waves or how rough the water may be. From inside the boat, the bow area looks traditional with facing seats in front of the windshield, complete with well-padded backrests all the way around, and a large rectangular pedestal table. There are four cupholders, an anchor locker and anchor roller forward. The port and starboard 150-quart insulated fishboxes with overboard drains could double as storage boxes. Either way they are very large for this class of boat.
Behind the walk thru windshield, you'll find the head to port behind a full fiberglass sing away door, and opposite the well-appointed helm station. Both captain and companion seats are well padded and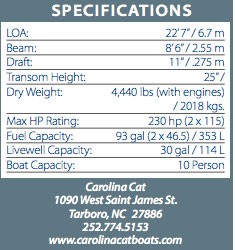 adjustable to suit various sized occupants. The helm is large enough for an array of aftermarket electronics and will accommodate up to a 12-inch screen.
The self-bailing, non-skid fiberglass cockpit floor is all one level from the bow all the way back to the twin aft seats that bracket the 30 gallon aft livewell. There's a 10-gallon fresh water system with pull-out shower as well as a raw water washdown pump.
`Being a cat, the pair of up to 115hp outboards are mounted outboard leaving room down the centreline for easy access to the optional swim platform and stairs. With that power configuration, you can expect typical cruising speeds in the neighbourhood of 22mph with a top end in the low 40's – with a cruising range of over 250 miles given the twin 46.5-gallon polyethylene fuel tanks. You can also expect a performance that both dances over the waves while underway, and turns heads at the dock when you're enjoying dinner at your favourite water-side eatery.