Campion's boats are sold in over 30 countries around the world. The Allante 545i is a sleek twenty foot bow rider with an abundance of features.
The seat layout is the proven four passenger bench aft and two, adjustable, suspension buckets, with a flip lip, located aft of the windshield. Several Campion features are classified as options on many other boats – such as a transom tilt switch, and four exterior speakers. Cockpit courtesy lights and integrated halogen docking headlights are standard.
Campion terms like "Apex Hull Design" and "F.I.S.T. stringer system", may confuse a first time buyer, but there is no question that these building techniques deliver a runabout that is designed to endure. Perhaps we should simply point out here, that the 545i applies Kevlar for reinforcement, builds the transom from composites, bonds and bolts deck joints and provides generous applications of stainless steel. Hull graphics are hand laid and gelcoats sprayed.
For most weekend applications, the features that come standard on the 545i are sufficient, eliminating the need to add to the base price. However, you might consider adding a dual battery switch, a convertible top, flush mounted pull out cleats, tilt steering, a bow filler cushion, an arm rest for your throttle arm, and a bow walk through slider, for wind protection.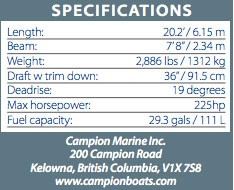 It is hard to really appreciate the Campion 545i bowrider until you take a test drive. Acceleration with the 220 hp MerCruiser, 4.3L MPI, is smooth and it fast. Through chop and other boat wakes, the cockpit remains dry. Crank the wheel into a turn and the response is immediate with true tracking, which makes it easy to maneuver. The profile and centerline make it impervious to cross winds at low speeds. In summary, you will find this boat meets your runabout needs very comfortably.
Knowing that Campion is committed to reducing their environmental footprint, while continuing to build boats of top quality, finish and performance, should be good reason to test drive this manufacturer's product, before ordering your next runabout.

best boat, best boat models, best boat trailer, best center console, best centre console, best performance boats, best pontoon, best runabout, Best Used boat, boat accessories, boat parts, boat reviews, boat tests, boat touring, BOATING Buyer's Guide, boating guide, BOATING in-water Tests, boating lifestyle, Boating Lifestyle Magazine, BOATING rentals, BOATING rentals near me, BOATING traveller, boating vacation, go boating, go boating Canada, how to choose a boat, marine accessories, New Boating Products, new boats for 2023, performance boats, Power Boating Canada, Tender boat, top boat models, top boats, top cottage boat, top cruiser, top power boat best boat, best boat models, best boat trailer, best center console, best centre console, best performance boats, best pontoon, best runabout, Best Used boat, boat accessories, boat parts, boat reviews, boat tests, boat touring, BOATING Buyer's Guide, boating guide, BOATING in-water Tests, boating lifestyle, Boating Lifestyle Magazine, BOATING rentals, BOATING rentals near me, BOATING traveller, boating vacation, go boating, go boating Canada, how to choose a boat, marine accessories, New Boating Products, new boats for 2023, performance boats, Power Boating Canada, Tender boat, top boat models, top boats, top cottage boat, top cruiser, top power boat