Bennington is a company that takes a lot of pride in their work. From the earliest phases of the designing process to the warranty program that looks after their boats, every aspect is carefully thought out and planned. A visit to Bennington's website proves this allowing you to explore the many facets of their company and the process behind the boats they create.
The 2550 GBR is part of the G Series. The G Series is Bennington's mid-range offering for the pontoon boat market. These models offer the high quality construction and excellent design that people have come to expect from Bennington, while providing a great platform for those people who don't need all the bells and whistles.
The GBR model is centred around the Enhanced Entertainment Bar and Galley which are located at the stern. This large and functional counter area comes with a faux stone top, a sink and a large capacity cooler that serves dual duty as an ottoman. The counter runs across the stern just forward of the swim platform and stretches down the starboard side, providing lots of counter space and storage, there is also a large walkthrough to provide access to the aft end of the boat. If your needs require more than just the standard cooler, there is also a fridge option available. Two swivelling recliner chairs allow you to enjoy drinks at the bar, or spin around to get a great view over the stern.
Going forward from the entertainment bar, you have a large couch with a table along the port side, opposite to the helm station. The bow features two opposing couches with wrap-around seats, providing seating for a lot of guests. With all of the seating, counters and table top space, the GBR is well suited for its role as a platform for entertaining.
There are a wide range of performance packages available for the 2550. Depending on what your intended use for the boat is you can have anything from a two-pontoon, low HP boat for relaxing on the lake, right up to the three-pontoon, V-shape high-performance Elliptical Sport Package. The specific details, which depend upon the package you choose, vary from full-length keels, to lifting strakes, to under deck wave shields.
The quality of the construction is evident throughout the boat, from the smallest details to the high performance packages. Bennington makes extensive use of stainless parts, closer frame spacing at areas of high stress and tying it all together with stainless fasteners for longevity and minimal maintenance. An all metal extruded side skirt provides all around protection for your boat. Bennington's rattle-free rails are another great feature. With a bit of thought and effort Bennington has managed to remove the rattle you hear on many other pontoon boats, a small but important point that showcases the care that is put into these boats.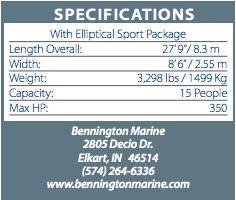 If you need one more reason to check out Bennington, there is Club Bennington. Owners are encouraged to join so they can receive a wide range of benefits, including a two year extension on the warranty, bringing the length of warranty up to a full seven years, unmatched by any other pontoon boat manufacturer.
The 2250 GBR is a great choice for anyone looking to get a boat that is meant for entertaining groups, large or small. With the wide range of options available for performance and propulsion, you are sure to get exactly what you want out of this watercraft. By Rhys Weed

best boat, best boat models, best boat trailer, best center console, best centre console, best performance boats, best pontoon, best runabout, Best Used boat, boat accessories, boat parts, boat reviews, boat tests, boat touring, BOATING Buyer's Guide, boating guide, BOATING in-water Tests, boating lifestyle, Boating Lifestyle Magazine, BOATING rentals, BOATING rentals near me, BOATING traveller, boating vacation, go boating, go boating Canada, how to choose a boat, marine accessories, New Boating Products, new boats for 2023, performance boats, Power Boating Canada, Tender boat, top boat models, top boats, top cottage boat, top cruiser, top power boat best boat, best boat models, best boat trailer, best center console, best centre console, best performance boats, best pontoon, best runabout, Best Used boat, boat accessories, boat parts, boat reviews, boat tests, boat touring, BOATING Buyer's Guide, boating guide, BOATING in-water Tests, boating lifestyle, Boating Lifestyle Magazine, BOATING rentals, BOATING rentals near me, BOATING traveller, boating vacation, go boating, go boating Canada, how to choose a boat, marine accessories, New Boating Products, new boats for 2023, performance boats, Power Boating Canada, Tender boat, top boat models, top boats, top cottage boat, top cruiser, top power boat