If there is one thing I have learned about cruising, it is this: you don't need a large yacht to go cruising. This being the case, you can enjoy the pleasures of cruising without spending a lot of money. Of course there is a boat size, below which there is inadequate space to travel comfortably. With their vast experience in designing practical boats for everyday people, Bayliner has a model with some interesting possibilities. They started with a capable runabout and then modified it for use as a mini-cruiser.
A twenty-two foot boat can handle most lakes and waterways, so Bayliner selected this length as the minimum length for their new model. They recognized that an enclosed area is necessary for accommodations, (as opposed to a bow rider), so they chose an enhanced cuddy-design. Then they incorporated some cruising specs, such as a high windshield and gunnels for passengers in order to protection them when running on choppy water. They built a helm with antiglare gauges and space to add electronics. To make the most of available square footage, they put in a walkway to the aft swim platform and a sliding stairway to the foredeck, from the cockpit. A choice of comfortable seating was added by going to reclining lounges.
Storage space is critical when cruising, so the 462 was built with both dedicated lockers and under seat storage. Because the cuddy provides nothing more than sleeping space, savvy travelers in small boats would probably spend some of their travel nights at B&B, but with fifty two inch headroom, twin skylights and opening porthole, this cuddy certainly works for resting and the occasional overnight. Finally, Bayliner chose a proven stern drive engine, with good fuel economy numbers – a 220 horsepower, MerCruiser, 4.3L, MPI.
Positioning this boat, however, as a minicruiser with an MSRP of under $40k is a little misleading, since you would certainly need to add a large number of options and equipment, before you leave the dock. These items and options include a Bimini top, camper canvas, the helm seat comfort upgrade, a cockpit table, a portable stove or propane BBQ, a freshwater sink, an anchor rode roller, carpet runners, depth sounder, transom shower, a fire suppression system, stainless steel hardware and what boat would go cruising without a compass. If you plan to tow your boat to the starting point of your cruise route, you will also need to order a trailer.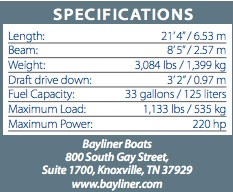 Here are some of the numbers on record, from reviewing the 462 performance stats. The best cruising speed was pegged at 26.1 mph, (42 kph), at 3,000 rpm, which burns 6.9 gallons/hour, (26.1 liters/hr). Top speed is 42.9 mph, (69 kpm), at 5,000 rpm and burns 16.1 gallons/hour, (60.9 liters/hr). These numbers will have strong appeal to economy minded cruisers. Handling the 462 is easy and the ride is comfortable. In turns, the hull configuration increases drag somewhat, which in turn slows your speed, but this is easily corrected by adding a little throttle.
Let's give Bayliner full marks for creating this entry level 462 cuddy, designed to accommodate the occasional overnight trip and longer inshore cruising. They have certainly succeeded in building a boat for practical get-a-ways, but to participate in what most boaters think of as 'cruising', buyers must recognize that they will require a considerable number of additional options. It's a great place to start your cruising journey, get to like it and you can always move up. By Bill Jennings

best boat, best boat models, best boat trailer, best center console, best centre console, best performance boats, best pontoon, best runabout, Best Used boat, boat accessories, boat parts, boat reviews, boat tests, boat touring, BOATING Buyer's Guide, boating guide, BOATING in-water Tests, boating lifestyle, Boating Lifestyle Magazine, BOATING rentals, BOATING rentals near me, BOATING traveller, boating vacation, go boating, go boating Canada, how to choose a boat, marine accessories, New Boating Products, new boats for 2023, performance boats, Power Boating Canada, Tender boat, top boat models, top boats, top cottage boat, top cruiser, top power boat best boat, best boat models, best boat trailer, best center console, best centre console, best performance boats, best pontoon, best runabout, Best Used boat, boat accessories, boat parts, boat reviews, boat tests, boat touring, BOATING Buyer's Guide, boating guide, BOATING in-water Tests, boating lifestyle, Boating Lifestyle Magazine, BOATING rentals, BOATING rentals near me, BOATING traveller, boating vacation, go boating, go boating Canada, how to choose a boat, marine accessories, New Boating Products, new boats for 2023, performance boats, Power Boating Canada, Tender boat, top boat models, top boats, top cottage boat, top cruiser, top power boat