By Rhys Weed
The Catalina Entertainer model from Avalon is meant for those who want their own little resort on the water. The basic layout comes decked out from fore to aft with everything you need to have fun with your friends and family.
The swim platform on the stern is spacious and open, with ladders on each side, meaning no traffic jams for those getting in and out of the water. Seating in the stern is large and luxurious with wrap-around benches on each quarter, including a bench that can be stretched out into a full lounger. Heading forward, you'll find a good sized bar with four seats to the port side and the helm station with captain's chair to the starboard. Going far forward, there are two more benches with enough length to recline, wrap around ends, and a table on the centreline for your drinks and food. Obviously, this layout is designed for those who want to entertain guests onboard, but the boat still has the power and performance to keep up with other makes and models that are specifically designed for high-performance.
The LS Entertainer has an enlarged centre pontoon. Instead of the usual three pontoons at 23" in diameter, you get a larger centre pontoon at 25". This creates a V-shape to the hulls, instead of the normal flat-bottom that people have come to expect from a pontoon boat. The V shape allows for a much higher level of handling and maneuverability. This model will take corners like a race car, it can ride over waves with no problem, and make a choppy day feel much smoother than any comparable flat-bottomed pontoon boat.
Avalon designs sturdy boats that can perform well in many conditions. They take a lot of pride in their work and they want to prove that to customers. On the Avalon website there is a section devoted to the various long-distance trips they have undertaken on their own vessels. These trips are often crewed by senior members of the Avalon team. I am a Great Lakes sailor myself, and I took particular notice of their account of taking a pontoon boat from Chicago to Mackinac, a distance of over 300 nautical miles, all over open water. This is not a journey most people would want to, or ever need to, make in a pontoon boat, but Avalon did it. It really illustrates the high level of performance and robust build that can be expected from Avalon boats. There are similar accounts detailing trips along the coast and other great examples of this brand's capabilities.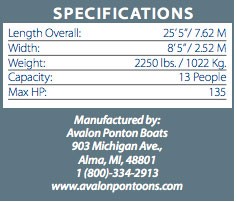 As with all the Avalon products, there is a wide range of options available to prospective owners to make sure that you can obtain the exact vessel you want. There are many shelter options, from a second bimini, right up to a full camper enclosure. A wakeboarding tower is a great choice if you plan on pursuing water sports. Options for the control console include a raised platform to allow you to see over your guests, colour fish finders and chartplotters, and there is even a king's chair, which has a raised back, large arm rests, a sliding base and a swivel.
With all the options, the high quality build, and the great layout, you'll be able to entertain groups of any size with this boat.

best boat, best boat models, best boat trailer, best center console, best centre console, best performance boats, best pontoon, best runabout, Best Used boat, boat accessories, boat parts, boat reviews, boat tests, boat touring, BOATING Buyer's Guide, boating guide, BOATING in-water Tests, boating lifestyle, Boating Lifestyle Magazine, BOATING rentals, BOATING rentals near me, BOATING traveller, boating vacation, go boating, go boating Canada, how to choose a boat, marine accessories, New Boating Products, new boats for 2023, performance boats, Power Boating Canada, Tender boat, top boat models, top boats, top cottage boat, top cruiser, top power boat best boat, best boat models, best boat trailer, best center console, best centre console, best performance boats, best pontoon, best runabout, Best Used boat, boat accessories, boat parts, boat reviews, boat tests, boat touring, BOATING Buyer's Guide, boating guide, BOATING in-water Tests, boating lifestyle, Boating Lifestyle Magazine, BOATING rentals, BOATING rentals near me, BOATING traveller, boating vacation, go boating, go boating Canada, how to choose a boat, marine accessories, New Boating Products, new boats for 2023, performance boats, Power Boating Canada, Tender boat, top boat models, top boats, top cottage boat, top cruiser, top power boat