By: Rhys Weed
Aquapatio offers a wide range of boats, suited for different types of on the water enjoyment, varying from lounging and relaxing, to speed and watersports. If you are in the market for the latter, you should be looking at the Aquapatio AP 250 Express. At 25' 5" long, it is one of the longest and largest boats available from Aquapatio, but don't let the size fool you, it is designed to move. Rated for up to 350 horsepower, this is one of the most powerful pontoon boats around.
A recent test showed the AP 250 Express making speeds of close to 40 miles per hour with a 300 horsepower engine, you can't complain about that kind of speed. Standard on the Express is a tower for wakeboards and waterskis. The tow bar also comes standard, and given the pedigree of the boat, this comes as no surprise, this is a platform made for watersports. With the AP 250 Express, you have the ability to mount up to 350 horses on the stern; clearly the design of this boat is all about power. Controlling a boat with that much power requires the hydraulic SeaStar system, which comes standard on the Express.
The helm station is exceedingly well appointed: a captains' seat with slide, swivel, arms, head rest and tilt adjustment. There is also a windshield, cup holder, echo sounder/ fish finder, GPS chartplotter and full engine instrumentation for the captain, giving you all the comfort and information you need right in front of you. The styling complements the performance.
The Express has smooth curves and nice lines. From the bow to the stern, the tower, the tow bar and even the swim ladder, it is a good looking, well thought-out boat. With plenty of stainless steel and colour options to choose from, you can be sure to have one of the best looking boats around, not just the most powerful.
For the passengers there are plenty of seating options. There are four wrap-around benches, one at each corner of the boat. In between, there are benches that would also function as recliners, and on the stern there are two aft-facing jump seats, which are great for just taking in the view astern. The Express can accommodate up to 16 people, good thing too, as all your friends will be inviting themselves over for trips on this awesome machine.
Accessories abound on the Express, from the removable cooler (a perfect beach accessory), to the Bluetooth enabled stereo with speakers all around. There is a copious amount of storage throughout the boat for life jackets and tow ropes, lighting boat interior and exterior, and two tables aft. Your additional options include a 12v blender, a necessity for entertaining, a whole range of floor coverings, branded stemware with a holder and a remote control spotlight which could be very useful if you plan on using the boat at night.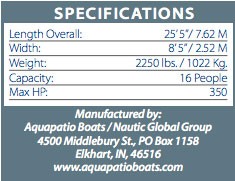 The Coastal Edition is also available, which is a good idea if you will be using your new 'toon in salt water. Aquapatio backs up their products with an excellent warranty program. Lifetime for the structure of the boat, and five years on all of the furniture, canopy, fabrics, electronics and factory installed components. The Aquapatio AP 250 Express is a large, powerful and good looking boat.
Whether you are you looking for a watersports platform, a family cruiser or a speedboat, this model deserves a close look.

best boat, best boat models, best boat trailer, best center console, best centre console, best performance boats, best pontoon, best runabout, Best Used boat, boat accessories, boat parts, boat reviews, boat tests, boat touring, BOATING Buyer's Guide, boating guide, BOATING in-water Tests, boating lifestyle, Boating Lifestyle Magazine, BOATING rentals, BOATING rentals near me, BOATING traveller, boating vacation, go boating, go boating Canada, how to choose a boat, marine accessories, New Boating Products, new boats for 2023, performance boats, Power Boating Canada, Tender boat, top boat models, top boats, top cottage boat, top cruiser, top power boat best boat, best boat models, best boat trailer, best center console, best centre console, best performance boats, best pontoon, best runabout, Best Used boat, boat accessories, boat parts, boat reviews, boat tests, boat touring, BOATING Buyer's Guide, boating guide, BOATING in-water Tests, boating lifestyle, Boating Lifestyle Magazine, BOATING rentals, BOATING rentals near me, BOATING traveller, boating vacation, go boating, go boating Canada, how to choose a boat, marine accessories, New Boating Products, new boats for 2023, performance boats, Power Boating Canada, Tender boat, top boat models, top boats, top cottage boat, top cruiser, top power boat