Boat owners can now take to the water with all the information they need in the palm of their hands. Volvo Penta's new Easy Connect app gives boat owners access to engine, boat and route data – directly on their smartphone or tablet. The free-to-download app is paired with an onboard Bluetooth® interface installed in the boat, which transfers data. This gives instant live access while onboard and information for referencing later when back on land. Route history is automatically stored within the app, which is a perfect tool to plan for future trips.
"Our new Easy Connect app is a great tool as it gives boaters a simple way to see all the engine and vessel data with just the swipe of their fingertips," says Anders Thorin, manager for product planning for electronics at Volvo Penta.
Meet your new crew member – The Easy Connect app has a simple and intuitive dashboard-style layout that can be personalized to each customer's requirements. There is a 'Captain' view for onboard operation, and a 'Home' view to see saved information when not connected to the boat.
Captain View: This view gives access to data such as route, engine speed, oil temperature,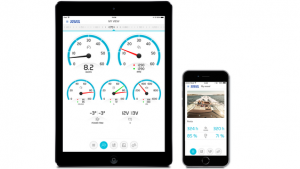 fuel tank levels, battery status, engine hours, pressure and alarm status.
Home View: Key information is always stored within the app, such as the amount of fuel left, engine hours and the latest journey. The app also keeps a list of all previous journeys, allowing boat owners to revisit their favorite trips. In the map function, owners will be able to see the position of the boat when they were last connected.
Share your experiences- Boaters can also use the app's map function to share their trips via social media, so that friends and family can see favorite locations and exciting journeys. "Just as people show friends and family memories of their favorite holidays and experiences on land, they can now share details of the best journeys they've had at sea," says Marcus Pettersson, project manager at Volvo Penta. "It adds another level of enjoyment and interaction to leisure boating.
Modern data upgrade for older boats – Easy Connect is compatible with all EVC-equipped diesel and gasoline engines in single and twin installations. It is also compatible with non-EVC gasoline single installations from the model year 2006 and onwards. "As well as offering a great interface for users of newer boats, we wanted to create something that would be an affordable way to modernize older boats and give users all the advantages that a digital platform can offer," adds Pettersson. "Easy Connect is available for many engines within Volvo Penta's range, dating from 2003, which gives a great benefit for many of our customers. They have the ability to turn their smart device into a portable dashboard, enabling friends and family to also monitor the trip onboard."
NMEA 2000 functionality – The Easy Connect interface includes NMEA 2000 functionality, enabling it to be connected to an existing NMEA communications network onboard. This allows additional data to be accessed, such as speed and depth sensors. Furthermore, the Easy Connect interface can be used to convert engine data into NMEA 2000-compatible chart plotters and multi-function displays onboard.
How to get connected – It is easy to get connected. The first step is to install the Easy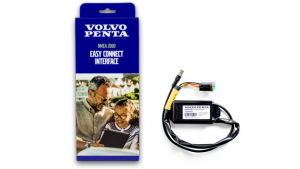 Connect interface in the boat. It can be purchased through a local Volvo Penta dealer. Customers can either install the interface themselves or get help from a Volvo Penta dealer. Then, the Easy Connect app can be downloaded for free. The Easy Connect app is now available for smartphones and tablets via iOS 10 or a later version, and will be launched for Android devices during 2018. Learn more at volvopenta.com/easyconnect.
best boat, Best boat buying website, best boat marina website, best boat travel website, best place to rent a boat, boat accessories, boat angler, boat boondocking, boat buyers guide, boat camper, boat camping, boat dealers, boat DIY, boat Fishing, boat Fixer, boat Home, boat information, boat insurance, Boat Maintenance, boat marinas, boat marinas in Alberta, boat marinas in BC, boat marinas in Canada, boat marinas in Manitoba, boat marinas in Saskatchewan, boat marinas in the USA, boat marinas near me, boat products, boat rentals, boat repair, boat road test, boat sharing, boat sites near me, boat supplies, boat Tech, boat tips, boat touring, boat trade, boat Travel, boat traveling, boat travelling, boat vacation, boat vacation cost, boat websites Canada, boating Canada, Boating Canada's Boat Lifestyle Magazine, Boating Lifestyle Magazine, boating website, Canadian marina websites, Easy Connect, expert boat information, find a boat dealer, how much does a boat cost, how much does marina cost, how to choose a boat, how to drive a boat, marina products, marina supplies, motor boat, Penta, power boating magazine, top boat website, used boat reviews, Volvo