In this series of articles, we show you how to update a typical family bowrider with modern day amenities and make everyone happy. Let's start with why we chose to do this project for our family – and how you can do the same.
As Canadians, we get to use our boats for about half the year. The beloved family boat – and its' engine – sits idle the other half!  Over a decade or two the boat might have 500 to 1,000 hours on it.
The result is an older but still hardly used family boat – with lots of life still left in it!  Now the next generation has come along – and they want all the latest flashiest coolest stuff.  But for many families, a new purpose-built wakeboard or ski boat worth $80,000 or more is simply out of the budget – even when you put it on a payment plan.
Why Update the Family Bowrider?
There are lots of great reasons to do this: family memories, budget challenges, building restrictions, and of course in today's world, all of the environmental issues.  Let's look at each in turn.
First, there are a lot of wonderful family memories in any boat. Perhaps you caught your first fish or learned to water ski behind it. Maybe, you first learned to drive sitting on your Dad's knee.  Over time you eventually earned the privilege of taking the "big boat" out alone – a huge rite of passage for many cottage kids.  As a teenager, you might have had your first summer romance on that boat – under the canvas or under the stars.  There's significant value in those memories – and even more value in passing them along to the next generation.
Second and third – building restrictions and budget challenges – sort of go together.  Often a new boat – if it could be afforded – also means a new trailer. That means a new hitch to tow it and perhaps a new vehicle to put the hitch on because the new boat weighs more than the old boat.  Often, that's a dead end and a deal breaker.  However, there are other considerations like a bigger boat might need a bigger boat lift or boathouse. Your local building codes and Ministry of the Environment restrictions may entirely prohibit this from even being an option.  Often, as is the case in Central Ontario where we live, you'll find that you are permitted to repair/maintain the existing dock and boathouse that is "grandfathered in"  (even though it was built back in the day too close to the water or the property line), but you cannot expand it. At least not without incurring some very significant costs like surveys, variances and lengthy approvals and delays.
Finally, there's the issue of our environment.  The old two-stroke outboard motor that you'll find hanging off the transom of the old family bowrider is less than environmentally friendly. It spits out blue smoke from the unburned hydrocarbons and leaves a shiny rainbow coloured gas & oil slick on the water around the dock. (It's also not very fuel efficient, hard to get parts for these days, not compatible with today's ethanol fuels, etc.)  But beyond the engine, even the boat isn't very recyclable.  The marine industry as a whole is way behind the auto industry in this regard.  What exactly do you do with a few thousand pounds of fiberglass, chromed steel, and epoxy covered marine plywood that's been soaking up water and oil for a couple of decades?  As a professional in the marine industry for over two decades, I'm ashamed to say that at present we don't have a good answer.  The best we can do it put it into a marine graveyard hoping someday someone needs a part off of it to restore or fix their boat, or we bury it in the local landfill (at what cost?). Neither are good options. While greater than ninety percent of our cars today are 100% recyclable, we cannot say the same about our boats.
So putting it all together – the cost to scrap and buy new, versus the cost to buy new and upgrade the lift or the boathouse, and the cost of disposing of the memories – all added up are often too much to bear.  So we suffer with the old family bowrider.  But do we have to?
What if?  What if we could upgrade the boat so it would do everything that everyone in the family wanted, keep the cost down and preserve the memories?  In many cases, you can!
Where to start?
Perhaps you have a boat.  We didn't because we'd sold our 30' express cruiser a few years back as the girls had physically outgrown it and had part-time jobs – but we all missed being on the water. So the search was on for a family bowrider. We found plenty of boats in the 17 to 24-foot range with outboards or inboards from $6,000 to $18,000.  I had no intentions of doing this project with it – but our teenage girls started adding requests to the wish list – well, the project sort of evolved.
We found a 1998 SeaSwirl 208 – a 19' bowrider with a deep V hull that had been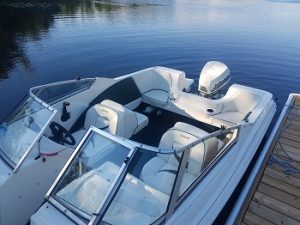 boathouse kept on a marine railway on the Trent Severn Waterway for its' entire life.  The original 115hp Evinrude two-stroke engine ran perfectly on our test ride – but smoked. The canvas was without a rip or a tear, the upholstery was in showroom condition and our survey came back without finding any issues.
Next Steps & Budget
Over the next few issues, we'll show you how to transform your perfectly good and solid boat with many more years of enjoyment to offer, into an entry-level wakeboard and or ski boat – as well as a fishing machine.
In the next issue, we'll walk you through repowering your family bowrider with a new clean and fuel efficient four-stroke outboard.  There are some important considerations here including not overpowering your boat – so as you shop pay attention to the maximum horsepower rating on the capacity sticker.
In future columns, we'll show you how to choose and add a wakeboard tower to your boat, and then add the necessary accessories and electronics: a Bluetooth stereo, amplifier and tower speakers, and a GPS chartplotter/fishfinder; and we'll end with upgrading the cover to protect your investment.
Budget considerations are always a factor for everyone.  Considering the price of a new 19-21 foot wakeboard/tow boat we'll show you how to do this project for less than half. Plus, you can do it in stages over a year or so. You might consider making the wakeboard tower a family Christmas present or giving the new stereo or fishfinder as a birthday present.  The gift itself, plus the gift of time spent as a family over a weekend or two to install the parts, will result in a fun family project you'll be proud of for years to come.


best boat, Best boat buying website, best boat marina website, best boat travel website, best place to rent a boat, boat accessories, boat angler, boat boondocking, boat buyers guide, boat camper, boat camping, boat dealers, boat DIY, boat Fishing, boat Fixer, boat Home, boat information, boat insurance, Boat Maintenance, boat marinas, boat marinas in Alberta, boat marinas in BC, boat marinas in Canada, boat marinas in Manitoba, boat marinas in Saskatchewan, boat marinas in the USA, boat marinas near me, boat products, boat rentals, boat repair, boat road test, boat sharing, boat sites near me, boat supplies, boat Tech, boat tips, boat touring, boat trade, boat Travel, boat traveling, boat travelling, boat vacation, boat vacation cost, boat websites Canada, boating Canada, Boating Canada's Boat Lifestyle Magazine, Boating Lifestyle Magazine, boating website, Bowrider, Canadian marina websites, expert boat information, find a boat dealer, how much does a boat cost, how much does marina cost, how to choose a boat, how to drive a boat, marina products, marina supplies, motor boat, power boating magazine, Repower, Seaswirl, Suzuki, top boat website, Upgrades, used boat reviews, Wakeboard, Waterskiing, Watersports best boat, Best boat buying website, best boat marina website, best boat travel website, best place to rent a boat, boat accessories, boat angler, boat boondocking, boat buyers guide, boat camper, boat camping, boat dealers, boat DIY, boat Fishing, boat Fixer, boat Home, boat information, boat insurance, Boat Maintenance, boat marinas, boat marinas in Alberta, boat marinas in BC, boat marinas in Canada, boat marinas in Manitoba, boat marinas in Saskatchewan, boat marinas in the USA, boat marinas near me, boat products, boat rentals, boat repair, boat road test, boat sharing, boat sites near me, boat supplies, boat Tech, boat tips, boat touring, boat trade, boat Travel, boat traveling, boat travelling, boat vacation, boat vacation cost, boat websites Canada, boating Canada, Boating Canada's Boat Lifestyle Magazine, Boating Lifestyle Magazine, boating website, Bowrider, Canadian marina websites, expert boat information, find a boat dealer, how much does a boat cost, how much does marina cost, how to choose a boat, how to drive a boat, marina products, marina supplies, motor boat, power boating magazine, Repower, Seaswirl, Suzuki, top boat website, Upgrades, used boat reviews, Wakeboard, Waterskiing, Watersports