Underwater light emitting diode (LED) lighting has been a recent addition and a very popular option on boats of all sizes in the past few short years.  Now, that same technology is available for your dock or  marina boat slip.

OceanLED, the global leader in marine LED lighting, has introduced a new Sport DockLight Series. 

The Sport DockLight Series utilizes the popular Sport S3116s and S3124s underwater LED lights which output up to 5,000 Fixture Lumens and create a stunning light display to illuminate your dock while also providing safety and security.

"The performance of the Sport DockLight offers significant benefits for lighting a dock, marina or pontoon over other products currently available," said Charles Stuart, Managing Director of OceanLED. "The advanced optics we use in Sport DockLight create a large footprint of light, giving excellent penetration in the water, from such a compact light."
With twice the amount of LEDs as any competitor light, the dual colour S3124d is the leader in its class.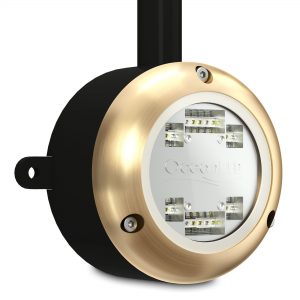 Simply toggle the power between white, blue and fade modes.  Add a stunning backdrop to your next dock party, and the light attracts fish to create your own live aquarium. Maintenance is easy due to the Tritonium™ coating – any accumulated marine growth just wipes or is easily brushed away in either fresh or salt water environments.

The new Sport DockLight is available in midnight blue, ultra white or dual blue/white and is easy to install and maintain with a choice of fixed or floating brackets. 
For more information visit OceanLED's website.

best boat, Best boat buying website, best boat marina website, best boat travel website, best place to rent a boat, boat accessories, boat angler, boat boondocking, boat buyers guide, boat camper, boat camping, boat dealers, boat DIY, boat Fishing, boat Fixer, boat Home, boat information, boat insurance, Boat Maintenance, boat marinas, boat marinas in Alberta, boat marinas in BC, boat marinas in Canada, boat marinas in Manitoba, boat marinas in Saskatchewan, boat marinas in the USA, boat marinas near me, boat products, boat rentals, boat repair, boat road test, boat sharing, boat sites near me, boat supplies, boat Tech, boat tips, boat touring, boat trade, boat Travel, boat traveling, boat travelling, boat vacation, boat vacation cost, boat websites Canada, boating Canada, Boating Canada's Boat Lifestyle Magazine, Boating Lifestyle Magazine, boating website, Canadian marina websites, Dock Lighting, Dock Lights, expert boat information, find a boat dealer, how much does a boat cost, how much does marina cost, how to choose a boat, how to drive a boat, marina products, marina supplies, motor boat, power boating magazine, top boat website, used boat reviews best boat, Best boat buying website, best boat marina website, best boat travel website, best place to rent a boat, boat accessories, boat angler, boat boondocking, boat buyers guide, boat camper, boat camping, boat dealers, boat DIY, boat Fishing, boat Fixer, boat Home, boat information, boat insurance, Boat Maintenance, boat marinas, boat marinas in Alberta, boat marinas in BC, boat marinas in Canada, boat marinas in Manitoba, boat marinas in Saskatchewan, boat marinas in the USA, boat marinas near me, boat products, boat rentals, boat repair, boat road test, boat sharing, boat sites near me, boat supplies, boat Tech, boat tips, boat touring, boat trade, boat Travel, boat traveling, boat travelling, boat vacation, boat vacation cost, boat websites Canada, boating Canada, Boating Canada's Boat Lifestyle Magazine, Boating Lifestyle Magazine, boating website, Canadian marina websites, Dock Lighting, Dock Lights, expert boat information, find a boat dealer, how much does a boat cost, how much does marina cost, how to choose a boat, how to drive a boat, marina products, marina supplies, motor boat, power boating magazine, top boat website, used boat reviews