By Eric Vienneau
During the pandemic in 2020, boating took off. New boaters flocked to the waters like it was invented yesterday, lured by the escapism and the freedom.
However, boating is expensive, and not everyone has the experience on the water to be sure they want to dedicate the time and money to the hobby. Docks N Locks, a boating excursion company located in Barrie, ON, is aiming to give people a truly unique boating experience to assist them in making up their mind.
Matthew Gordash, the owner of the company, says that he felt Canada did not have boating excursions quite like the ones him and his wife experienced in the Caribbean.
"We had an excursion in St. Marten on a 36-foot boat and that experience of going to boat access only places, restaurants, and private beaches, felt truly personalized," said Gordash. After an early retirement, the couple bought a boat and started the company.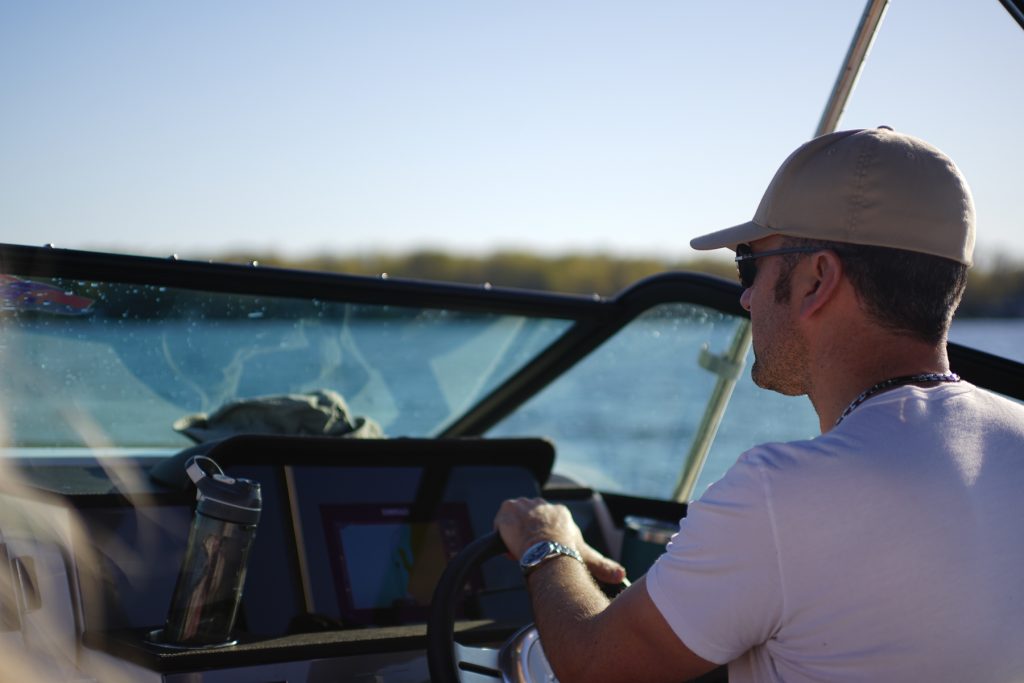 With Docks N Locks, the company boat is your boat for the day. Gordash says you explain your ideal day on the water to them, and they create a custom itinerary for you. You can even change your itinerary halfway through the excursion if you change your mind.
"That is something you cannot get at the 1000 Islands tours, or the bigger boats out of midland," said Gordash. "Those are cookie cutter experiences."
Docks N Locks currently has one boat, a 2018 SDX 250 SeaRay Deck Boat with an inflatable dock. They partnered with Rawley Resort, Spa & Marina, and Crates Lake Country Boats does all their maintenance and cleaning, but they can also use Docks N Locks as a way for their customers to test out the boating life.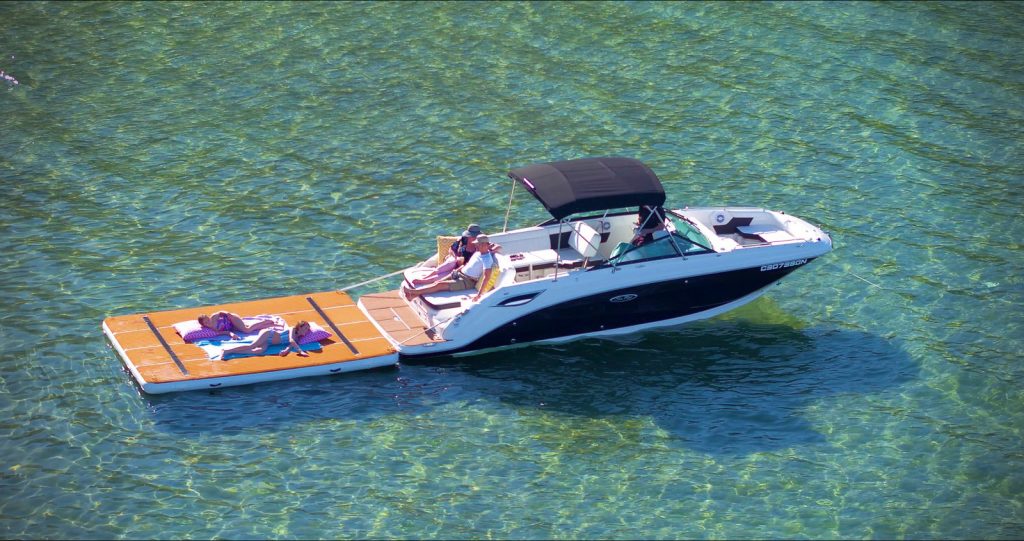 "[Crates] gets a lot of clients who are not sure they want to sign the dotted line to get a boat because they have not been on a boat yet, or have limited experience, so they want to try it before they buy it," explained Gordash. "If they don't know if they want to spend $150,000 on a boat, [Crates] can tell them to come to us… because we have a $150,000 boat."
Rawley created a customer experience collection for their clients which involves Docks N Locks.
"We approached Rawley with the partnership, and it was something they were already thinking about, but they just couldn't find anyone that would offer our level of service."
Guests are shuttled to the Port of Orillia for the boating excursion. The day involves a picnic lunch designed by Rawley executive chef, an experience which can take you anywhere from a 3-hour sunset tour, to seeing White Falls', up to full day excursions where you are picked up at the resort and brought back at the end of the day.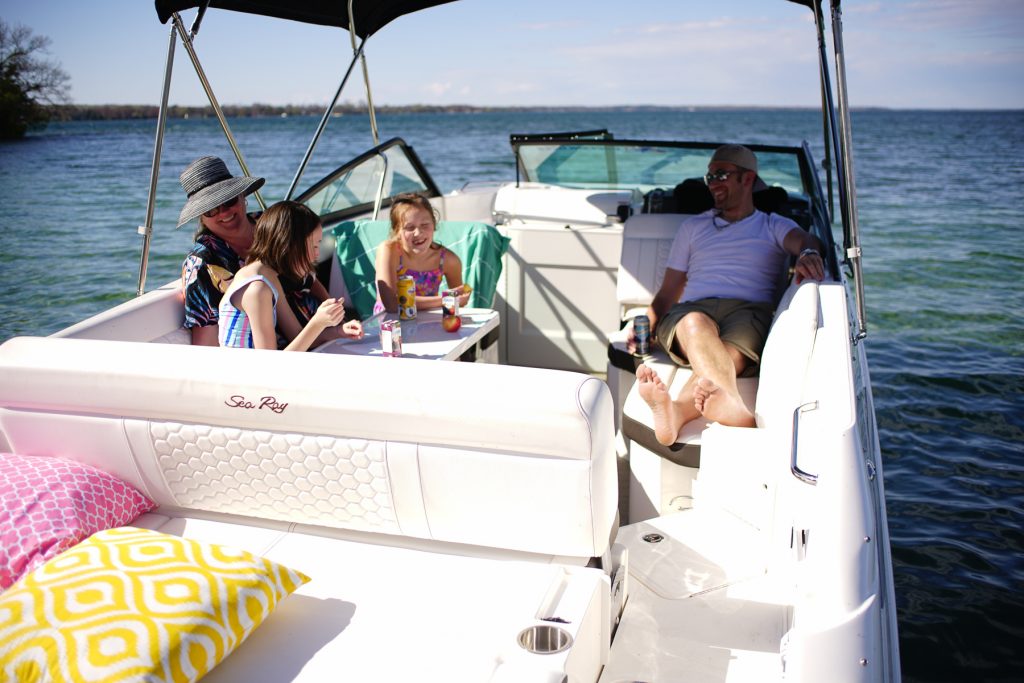 "We partnered with Docks N Locks because they are passionate and excited and willing to customize," said Karen Tilley-Kelly, General Manager of Rawley. "We felt Docks N Locks would be the best fit for us so our guests could have the best experience."

Matthew was born and raised in Orillia. His best friend's father operated a hydro dam at Swift Rapids where he spent a lot of summers. His family owned a 14-foot runabout that he fixed up and started using when he was 15 years old.

"Boating has always been a passion of mine, and I passed it onto my wife as well," he said.

He is looking to expand his fleet in the future. He says he wants to have more captains and must always have up-to-date boats, considering the high-quality level of service he wants to provide.

"I want [Docks N Locks] to act as a bridge so people can discover boating," Gordash explained. "I am not alone in the fact that, sometimes people step on a boat and instantly fall in love with the whole experience immediately."

For more information: https://docksnlocks.com/

Adventure, boat, boat excursion, boat gear, boat rentals, boat test, boat test drive, boat tour, Boating, boating life, boating lifestyle, boatingadventure, boatinglife, buying a boat, Carribean, Carribean boat tour, Crates Lake Country Boats, Crates Marina, custom boat excursion, custom boat tour, Deck Boat, deck boat excursion, deck boat tour, Docks N Locks, Docks N Locks boat excursion, Docks N Locks Boat tour, Georgian Bay, Georgian Bay Boat rental, Orilla boat tour, Orillia, personalized boat tour, power boat, power boating, powerboating, Rawley's, Rawley's Resort and Spa, rent a boat, SeaRay, SeaRay boat, Trent-Severn Adventure, boat, boat excursion, boat gear, boat rentals, boat test, boat test drive, boat tour, Boating, boating life, boating lifestyle, boatingadventure, boatinglife, buying a boat, Carribean, Carribean boat tour, Crates Lake Country Boats, Crates Marina, custom boat excursion, custom boat tour, Deck Boat, deck boat excursion, deck boat tour, Docks N Locks, Docks N Locks boat excursion, Docks N Locks Boat tour, Georgian Bay, Georgian Bay Boat rental, Orilla boat tour, Orillia, personalized boat tour, power boat, power boating, powerboating, Rawley's, Rawley's Resort and Spa, rent a boat, SeaRay, SeaRay boat, Trent-Severn