Celebrating a Canadian first at the world's oldest powerboat race
By Tammy Wolf
From Power Boating Canada Volume 27 Number 4 (2012)
Ed Note:  The 24 hours of Rouen is the world's oldest and most famous powerboat race.  It is also the most grueling – on both equipment and drivers.  Organized by the Rouen Yacht Club since 1964, boats race around l'île Lacroix in Rouen France on the Seine River. The winner is determined by the boat that completes the greatest number of laps and goes the farthest distance in 24 hours.  It took 48 years for a Canadian to be among the race participants.  Ms. Tammy Wolf from Ontario and her all female international team didn't just enter this past year's race, they placed fourth in their class and 9th overall!  Here's the story of a young girl's dream and her road to Rouen.
I started racing power boats at the age of 18.  When I was a child I was very, very fortunate to be raised in a boating atmosphere, my father, Fred Wolf, worked at Mercury Canada and we spent some of our weekends at boat races.  When our family wasn't at the races, we were at our family cottage on Go Home Lake in the Muskokas.  The cottage was a definite sanctuary for our family, we spent time swimming, boating and doing typical cottage stuff.  On any given non-racing weekend, we would have the legendary powerboat racers, such as Oley Berkis, Mark Rotharmel, and Ted Gryguc at the cottage with us.  Dad spent numerous hours dedicated to the sport and the industry.  Boat racers became a branch of the Wolf Family Tree, and although they were not blood relatives, some of them were as close to us as any other family member.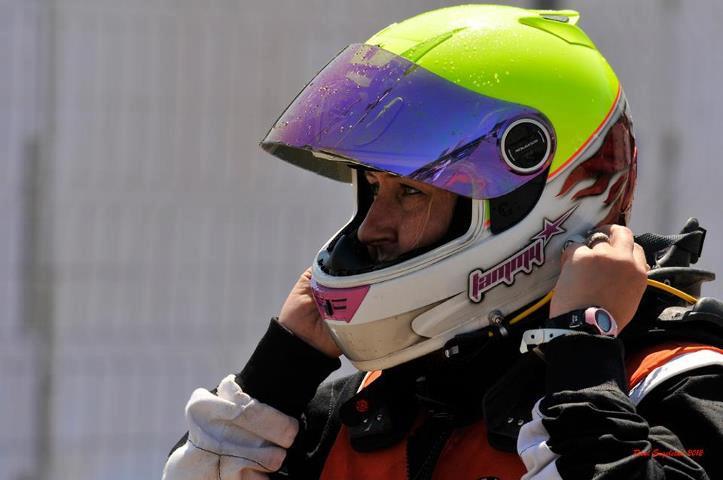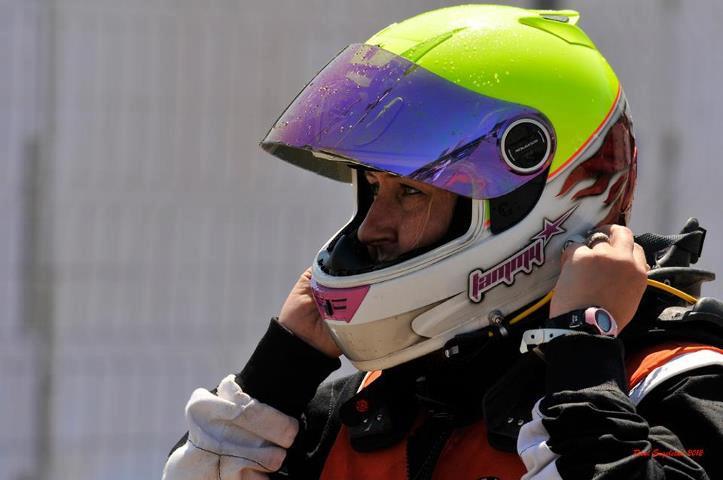 My older brother, Troy started racing at the age of 14 in the Sport "C" tunnel hull class, he was an exceptional athlete and excelled in his racing career.  He still holds the Canadian Boating Federation (CBF) speed record in Sport C.  When I saw the amount of fun my brother and his friends were having, I definitely wanted to join in.  My father was extremely overprotective of me and would not allow me to race.  He encouraged me to become an official and support racing by helping with the "behind-the-scenes" work.  After a season of working as an assistant scorer in the Outboard Performance Craft (OPC) division of the CBF, it was apparent that I was more interested in racing boats than officiating.  However, my father wasn't going to help me race so I decided I needed to raise the money myself.
I was in high school and worked two part-time jobs, at Tim Horton's serving coffee and as a ski lift operator at Glen Eden in the winter.  By the time I turned 17, I had enough money to purchase my first boat.  It wouldn't be easy – my parents were against me racing – so I waited until the fall when my father left on a hunting trip to buy the boat. When my father came home from his hunting trip, he found the boat in our driveway and was not pleased.   I purchased an old worn-out 14-foot Delta V-bottom boat.  It was a boat in a racing class that was faster than the one my brother competed in.  My competitive side was starting to show already!
With the help of the racing family and friends, the next season I was ready to race. Or so I thought.  My worn-out boat was not at all competitive, but I enjoyed learning to race and being involved in the sport.  Looking back, it was one of the most enjoyable times of my life.
As the years progressed, so did my racing career.  I worked as much as I could to save money to race, I never had the best equipment, but I enjoyed racing.  I was always grateful for the help I had and worked as hard as I could to compete.  The popularity of tunnel boat, or OPC racing, decreased in Canada.  However, I had a friend that had traveled to the USA to compete in a major series.  In 2005, I purchased a used Formula 3 powerboat and started to compete in the Powerboat Superleague circuit.  It was an incredible experience racing with a larger number of competitors.  Racing in the USA allowed me to meet my crew chief, Sam Haraway.  Sam won numerous championships throughout his career as a crew chief and team owner.  He is a powerboat racing guru and offered to help my racing career.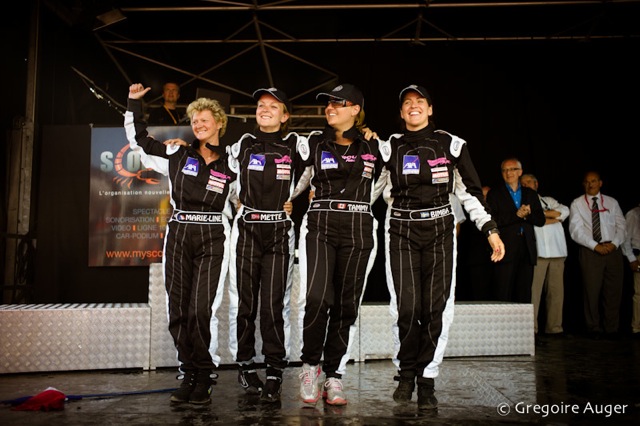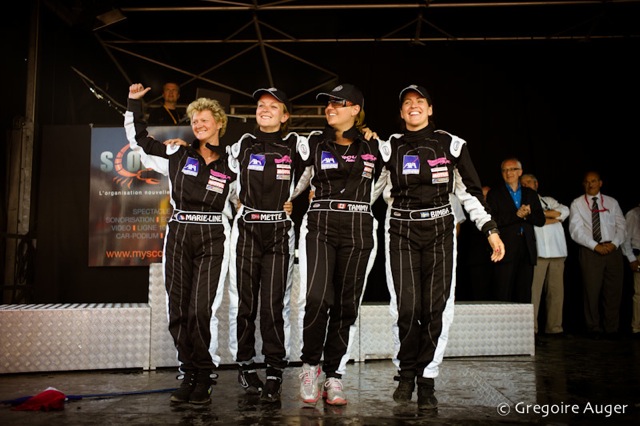 In 2007, we placed an order for a brand-new tunnel boat from Pugh Boat Works in Knoxville, Tennessee.  Through the years that Sam worked with our Formula 3 program, with his help and the assistance from numerous others, we were able to win a Regional Championship in 2010, we ranked 2nd in the USA in 2010, and earned a 2nd place finish at the 2010 National Championships.  In 2011, we won a Divisional Title in Formula 3.
In August 2011, I received an invitation to join the first International all-female team competing at the 48th annual 24 Hours of Rouen ( www.24heuresrouen.com ).  This is a legendary event for tunnel boat racers.  Rouen is known as the roughest and most treacherous course in the world, where drivers, boats and motors withstand an incredible beating.  To finish in Rouen is a testament to the driver, crew and equipment.  To compete in Rouen is an honor for any powerboat race driver.  The top powerboat athletes in the world have battled the River Sienne and have lost.  There was no way that I could turn down this opportunity, the team overseas wanted the top female pilot in the USA and they chose me as that driver.
If I went to Rouen, I would be the first Canadian ever to compete in this world-famous event.  The offer instantly became better when the team decided to race a low-emission Mercury Opti-Max engine.  This was an opportunity to race in the roughest and toughest boat race in the world in the faster Formula 2 class. I had never raced Formula 2, but I was definitely up for the challenge.  There were two major hurdles for France: me training for the event and sponsorship support.
In North America, I am a sprint driver, used to racing in 20-minute heat races.  Rouen is an endurance event where we would race in 1.5 to 2-hour segments, switching between four drivers. To help prepare for the event I turned to Formula 1 pilot and two-time Rouen Champion, Chris Fairchild. Chris was fundamental in helping prepare for this event.  We spoke on a weekly basis, he discussed race conditions, rules and regulations in Rouen and necessary documentation needed to compete.  Chris also got me into a training regimen.  I would go to the gym 4 times a week and complete an hour of cardio, then 30 minutes of weight training.
I had NO on-the-water training prior to the event except for my own boat racing history.  My North American boat was not ready during that time and we were not able to test the Formula 2 European boat until race day!
When our tight-knit powerboat racing community found out I had an opportunity to race in Rouen the support was incredible, companies such as APBA Historical Society and Peters and May, the world's largest marine transportation specialist, signed on to support my efforts.
A few months prior to the event I contacted Mercury Canada.  The Mercury family was already following my racing career and they were excited to support my efforts overseas.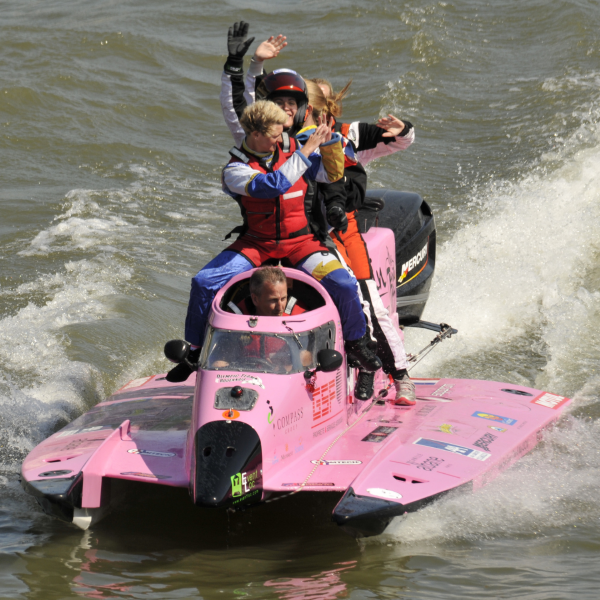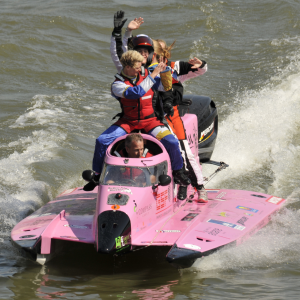 Mercury jumped at the opportunity to make history again this time by supporting the first international all female team, as well as, the first Canadian pilot to enter the race.  Georges Jalbert and Adrian Rushforth, Mercury Canada's elite, provided the essentials for our success.
The opportunity to represent Mercury Canada is extremely special for me both on a personal and on a professional level. I was able to represent a company my father proudly worked with for over 25 years and it's over 6000 employees and 7000 dealers worldwide.  The little girl who used to run the halls at Mercury while my father was working weekends or play at the race sites as a young child, had now grown into a powerboat race driver and was able to give back to the company and employees that gave me passion.  How cool!
Both Mercury Canada and Peters and May were phenomenal.  The support I received from these companies and employees was overwhelming.  Past and present employees throughout the world sent personal messages of encouragement and assistance.
I traveled to France in May of 2012.  The time I spent racing in France was unbelievable.  The 400,000 people in the crowd on race day was overwhelming at times, and spectators lined the banks sometimes five people deep watching the boats compete.  The bridges over our racecourse were packed with fans making them almost un-walkable.  The course was very challenging and definitely unlike anything I had ever experienced before.  The course is set-up for drivers to turn right hand turns (instead of left like here in North America). There are two turns one at each end of the course, we drive under three bridges which changes the air flow on the boat making it want to kite up in the air and blow over.  The bridges have lights attached to them to indicate if there was a caution on the course (yellow), accident where we needed to follow the pace boat (red), or the course was open to race (green).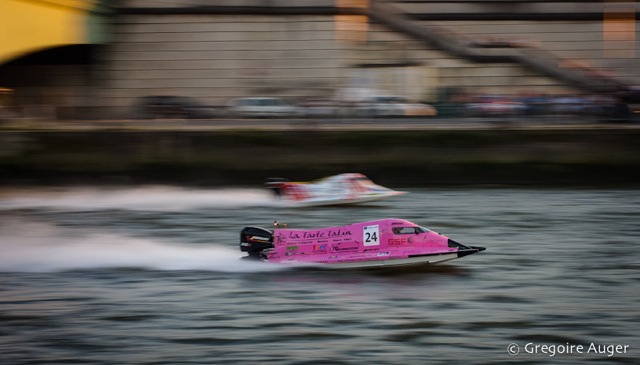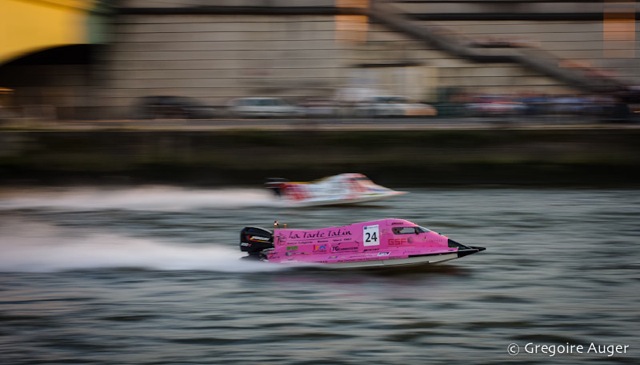 Another unique feature is that the Siene River flows into the ocean and when the ocean tides change, so does the current in the river!  We raced six hours one day, twelve hours the next and 6 hours the third day, making a total of 24 hours.  The race used to be run 24 hours consecutive but racing at night was eliminated a few years ago due to deaths on the course.
First time pilots to Rouen need to complete a "rookies' test" prior to racing, the test consisted of 3 laps during testing. Saturday morning before the start of the race each of the girls made 3 laps around the course.  This was the first time I drove a Formula 2 boat and the first time I turned right on a course.  Talk about jumping in!
Rough isn't an accurate term for the water – at times it was brutal.  The team – Swedish driver, Bimba Sjoholm, Mette Bjerkness of Norway and Marie-Line Hericher of France, along with myself – piloted our boat around the course and the other competitors, as well as, commercial barge traffic making its way down the Sienne River to the ocean.  At one time, as I was watching one of my teammates race, the 18 foot Moore tunnel boat completely disappeared between the waves and then, thankfully, reappeared.  Survival was the key to being successful at this event.  We came away with both bruises and incredible memories.
Our team competed against both Formula 2 and the faster Formula 1 teams.  In the end, and thanks to the support of Mercury Canada, Peters and May, Motul and numerous other supporters we were able to pull off a 4th place finish in Class II (Formula 2) and a 9th overall finish beating out some faster Formula 1 teams.
Competing at Rouen was a dream come true.  Finishing where we did was incredible.  But my racing career is far from over.  This year, July 2012, we fought our way to a 2nd place finish at the North American Championships in Pittsburgh, Pennsylvania with over 500,000 spectators watching.  Stay tuned – there's more to come from me.
For more information: https://www.tammywolfmotorsports.com/gallery

boat, boat accessories, Boating, boating life, Canada, Canadian, Canadian Boating Society, cottage, European, first, Formula, France, History, International Women's Day, Knoxville Tennessee, lake, legendary, Mercury, Mercury Canada, motorboats, Muskoka, North America, Norway, Pennsylvania, Pink, Pittsburgh, power boat, power boating, Power Boating Canada, powerboating, Rouen, ski, ski lift, Sweden, Tim Horton's, water, Women, Yacht boat, boat accessories, Boating, boating life, Canada, Canadian, Canadian Boating Society, cottage, European, first, Formula, France, History, International Women's Day, Knoxville Tennessee, lake, legendary, Mercury, Mercury Canada, motorboats, Muskoka, North America, Norway, Pennsylvania, Pink, Pittsburgh, power boat, power boating, Power Boating Canada, powerboating, Rouen, ski, ski lift, Sweden, Tim Horton's, water, Women, Yacht