More transoms are equipped with massive outboard power than ever before.
By Bill Taylor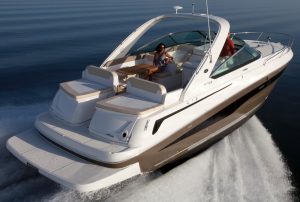 Back in the day when all outboards were stinky two-strokes, it made perfect sense as to why cleaner-burning four-stoke sterndrive engines became all the rage.  As new four-stroke outboards became the norm, we began to see a return to outboard powered boats – even in the large boat category, for example Sea Ray's 370 Venture from a few years back, and Regal's 33 XO express cruiser.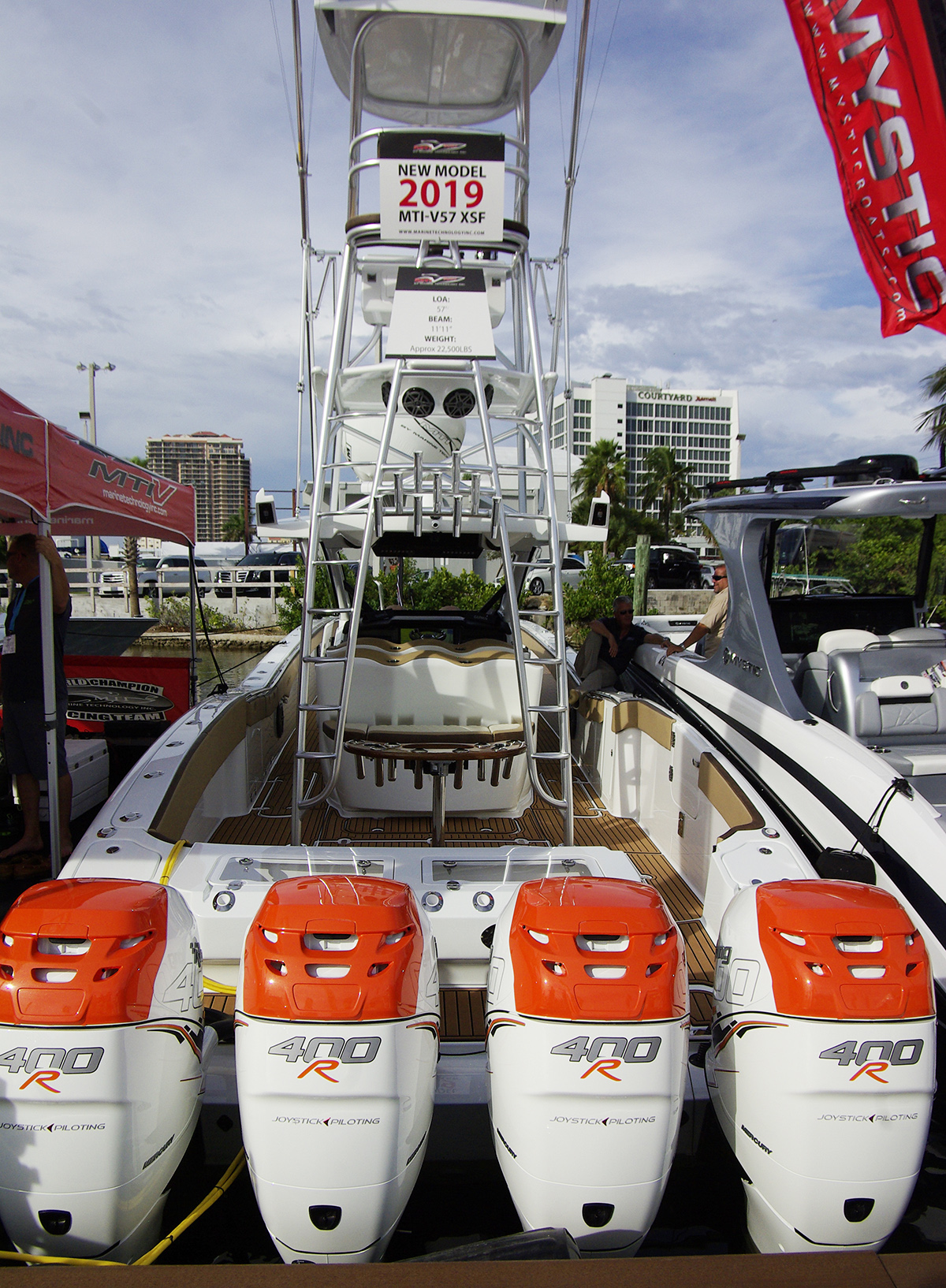 Now, with today's high powered four-stroke outboards – up to 8 cylinders and upwards of 350 to 400hp with the new Mercury Racing Verado – with gasoline or diesel fuel options – the outboard is back!  And it's creating an outboard explosion!
As Power Boating Canada's publisher, I was in attendance at this past November's Fort Lauderdale International Boat show and the number of outboard engines hanging off of the transoms was incredible!  Everywhere I turned there was another outboard – from every engine manufacturer – Yamaha, Suzuki, Tohatsu, Evinrude – and on every boat manufacturers' transom – Formula, Scout, Everglades, Regal, Sea Ray, the list goes on and on.  Outboard power, it appear's is on the rise!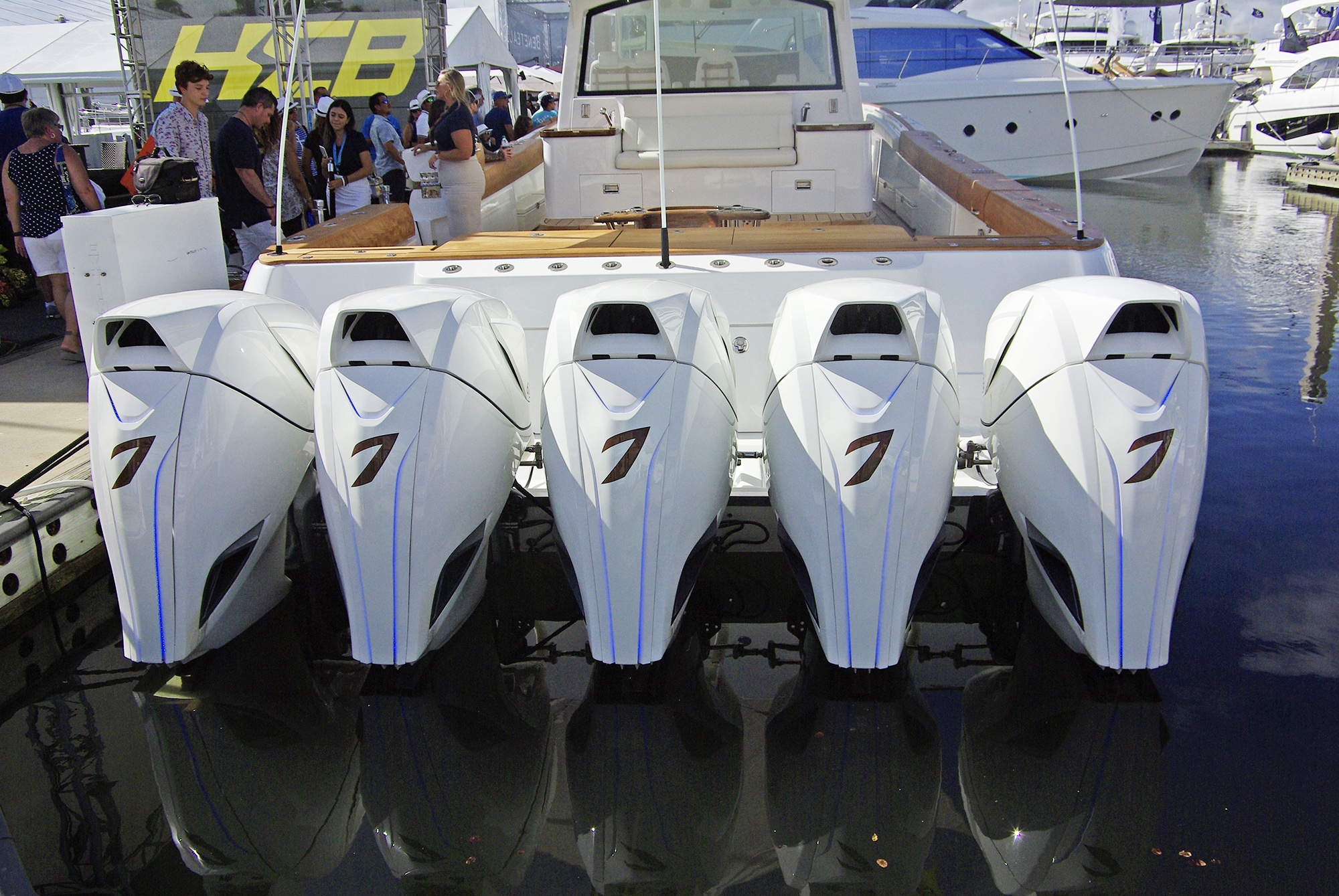 With Volvo buying a majority interest last year in Seven Marine, every long-time marine engine manufacturer has their hands in the outboard industry now.  There are new players in the outboard market with the U.K.'s Cox Marine planning to begin work in early 2019 on a massive plant in Florida to build their diesel outboard in order to supply the demands of the North American market.
It's not just in appearances that the outboard are exploding.  The statistics tell the same story.  According to the NMMA's Monthly Shipment Report, U.S. outboard engine wholesale shipments were up 6.5% year-to-date.  Growth was led by engines in the 300 HP & greater category (up 29% for the same period), followed next by engines between 30 HP & 49.9 HP (up 23.5%). Four-stroke engines also led gains (up 13.1% for the same period).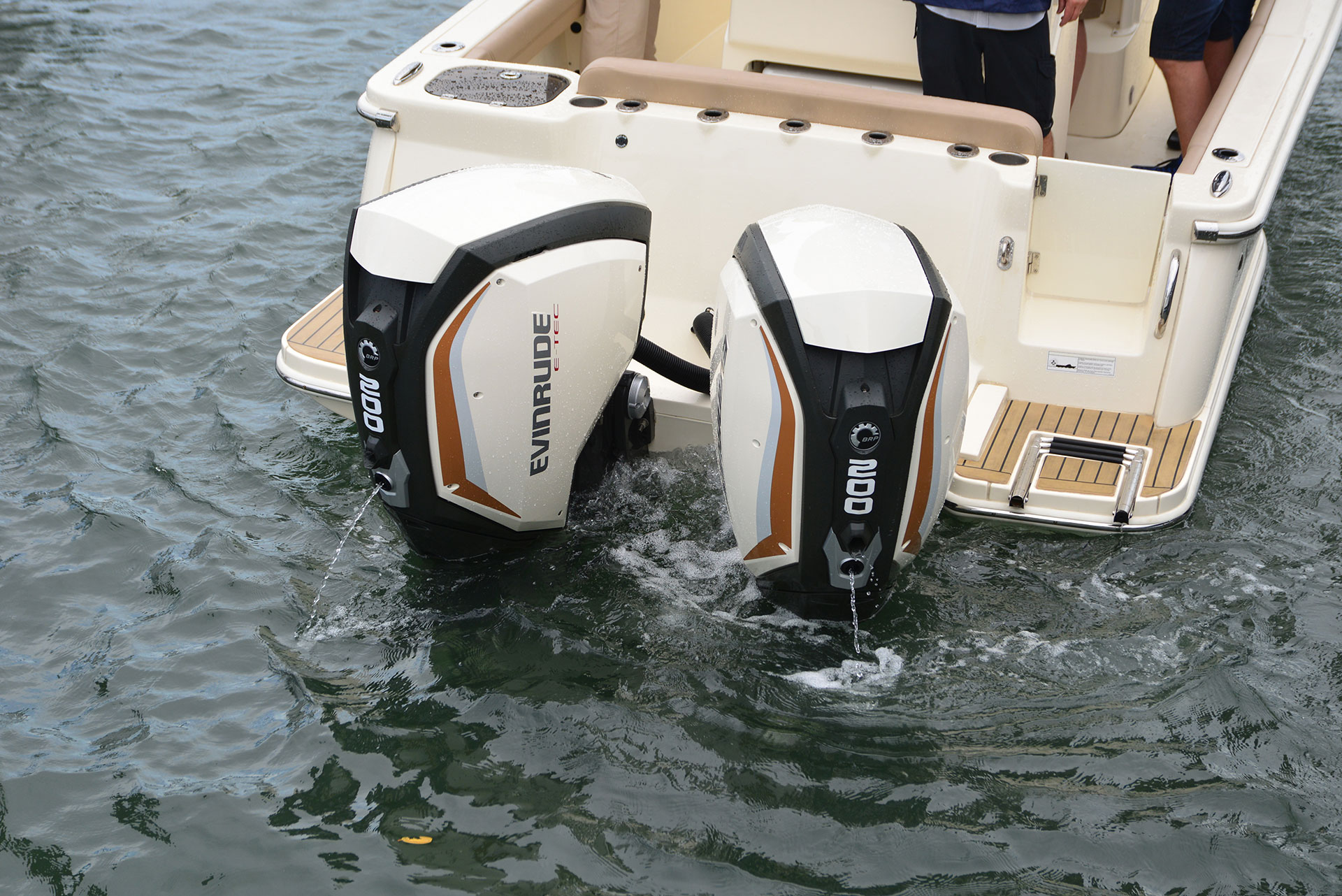 For what's available on the market right now in outboard power – and the selection and power is beyond impressive – see our Marine Power Review feature story in our 2019 annual Test Issue (see PBC 33-6).

As we head into the winter boat show season in Canada, I expect to see the same outboard power domination in every show booth.

Where will outboard market go next?  What exciting new engines are on the horizon?  The sky is the limit I guess, all I know is that the outboard engine is here to stay.  Ole Evinrude would be proud!  

best boat, Best boat buying website, best boat marina website, best boat travel website, best place to rent a boat, boat accessories, boat angler, boat boondocking, boat buyers guide, boat camper, boat camping, boat dealers, boat DIY, boat Fishing, boat Fixer, boat Home, boat information, boat insurance, Boat Maintenance, boat marinas, boat marinas in Alberta, boat marinas in BC, boat marinas in Canada, boat marinas in Manitoba, boat marinas in Saskatchewan, boat marinas in the USA, boat marinas near me, boat products, boat rentals, boat repair, boat road test, boat sharing, boat sites near me, boat supplies, boat Tech, boat tips, boat touring, boat trade, boat Travel, boat traveling, boat travelling, boat vacation, boat vacation cost, boat websites Canada, boating Canada, Boating Canada's Boat Lifestyle Magazine, Boating Lifestyle Magazine, boating website, BRP, Canadian marina websites, Engines, evinrude, expert boat information, find a boat dealer, Formula, Honda, how much does a boat cost, how much does marina cost, how to choose a boat, how to drive a boat, marina products, marina supplies, Mercury, motor boat, outboards, power boating magazine, Regal, Sea Ray, Seven Marine, Suzuki, Tohatsu, top boat website, used boat reviews, Yamaha best boat, Best boat buying website, best boat marina website, best boat travel website, best place to rent a boat, boat accessories, boat angler, boat boondocking, boat buyers guide, boat camper, boat camping, boat dealers, boat DIY, boat Fishing, boat Fixer, boat Home, boat information, boat insurance, Boat Maintenance, boat marinas, boat marinas in Alberta, boat marinas in BC, boat marinas in Canada, boat marinas in Manitoba, boat marinas in Saskatchewan, boat marinas in the USA, boat marinas near me, boat products, boat rentals, boat repair, boat road test, boat sharing, boat sites near me, boat supplies, boat Tech, boat tips, boat touring, boat trade, boat Travel, boat traveling, boat travelling, boat vacation, boat vacation cost, boat websites Canada, boating Canada, Boating Canada's Boat Lifestyle Magazine, Boating Lifestyle Magazine, boating website, BRP, Canadian marina websites, Engines, evinrude, expert boat information, find a boat dealer, Formula, Honda, how much does a boat cost, how much does marina cost, how to choose a boat, how to drive a boat, marina products, marina supplies, Mercury, motor boat, outboards, power boating magazine, Regal, Sea Ray, Seven Marine, Suzuki, Tohatsu, top boat website, used boat reviews, Yamaha