Joystick piloting systems bring fingertip control to boats of any size, making docking a breeze in any conditions. But their high cost has kept joystick systems out of the reach of most boaters – until now, enter the Evinrude iDock.
Joystick piloting controls have been the rage in twin-engine boats for the past couple of years, as they make it super-easy for even inexperienced boaters to dock the boat, even in gusty winds or strong currents. The catch is that these sophisticated systems can run $20,000 or more. But that's all about to change thanks to the all new Evinrude iDock system – a proprietary joystick piloting system for its E-TEC G2 engines with a suggested retail price of US$5,999.
"Our goal with the Evinrude E-TEC G2 engines was to design a platform with unlimited potential for continued technological enhancement and innovation," said Olivier Pierini, Evinrude director of global marketing and strategic planning. "The intuitive nature of the technology will give even a novice boater immediate confidence in their ability to dock any boat equipped with Evinrude E-TEC engines easily. And by using technology that is already built into the engine, it is significantly more affordable than any other joystick system on the market. This all adds up to a level of on-the-water confidence you can't live without."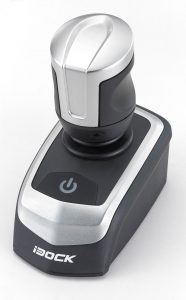 The iDock allows users to easily maneuver their boat using a joystick for simple docking in even the toughest conditions. The two-stage system uses advanced aircraft gyroscope sensor technology which makes iDock more intuitive to pilot by automatically compensating for wind and current. If extra power is needed to overcome wind or current, boaters can simply push the stick further into boost position to double the thrust. The harder you push the joystick, the more power that's coming your way.
"Evinrude iDock connects with the existing internal hydraulic steering system in the E-TEC G2 engines, which is a big reason we can offer it at such an attractive price," says Evinrude global product manager, Jason Eckman. "It leverages existing architecture, so everything needed to control the engines is already on them. All we needed to do was create the joystick and develop the interface with the engines. We don't have to put hydraulic pumps in the boat, or deal with all sorts of extra rigging."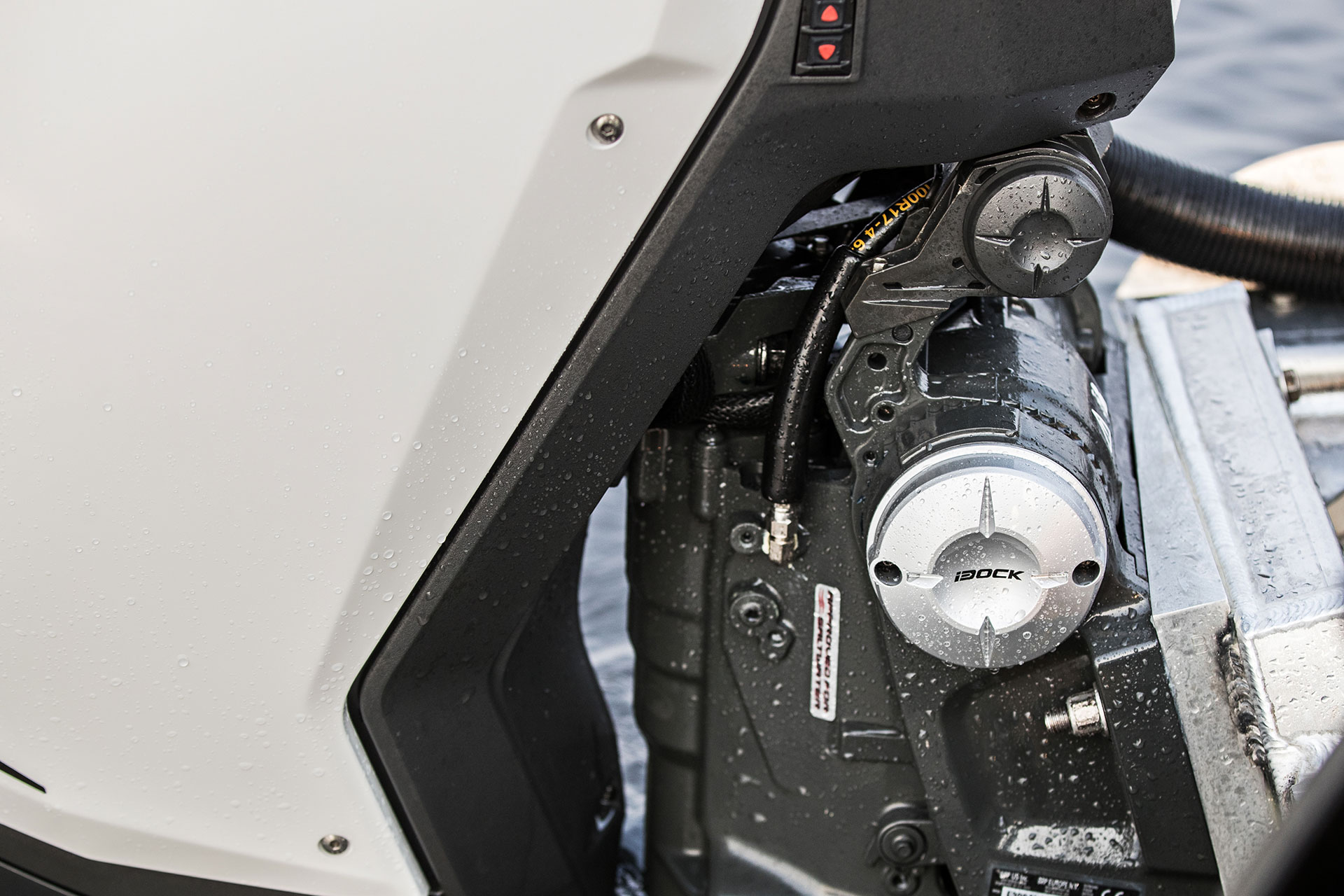 Power Boating Canada had the chance to try iDock out first-hand at a special media preview held in Florida in early June. Evinrude had two boats rigged with the iDock system for marine journalists to try – a Scout 255LXF centre console with twin E-TEC G2 200s, and a Bennington 27QSR rigged with twin G2 300s.
It almost didn't happen – non-stop, torrential rains almost ended our test rides before they began, and Evinrude was within minutes of cancelling the on-water portion of the event when miraculously, a brief window of sunshine appeared and right on time. With little more than an hour before the rain was due to resume and lightning all around us on the weather radar, we took advantage of our brief opportunity and jumped in the boats. With the weather situation as precarious as it was, we stayed in the marina, which was perfect since the Evinrude iDock is all about pinpoint control in confined areas. I joined a few other journalists in the Scout and we dashed out of the slip.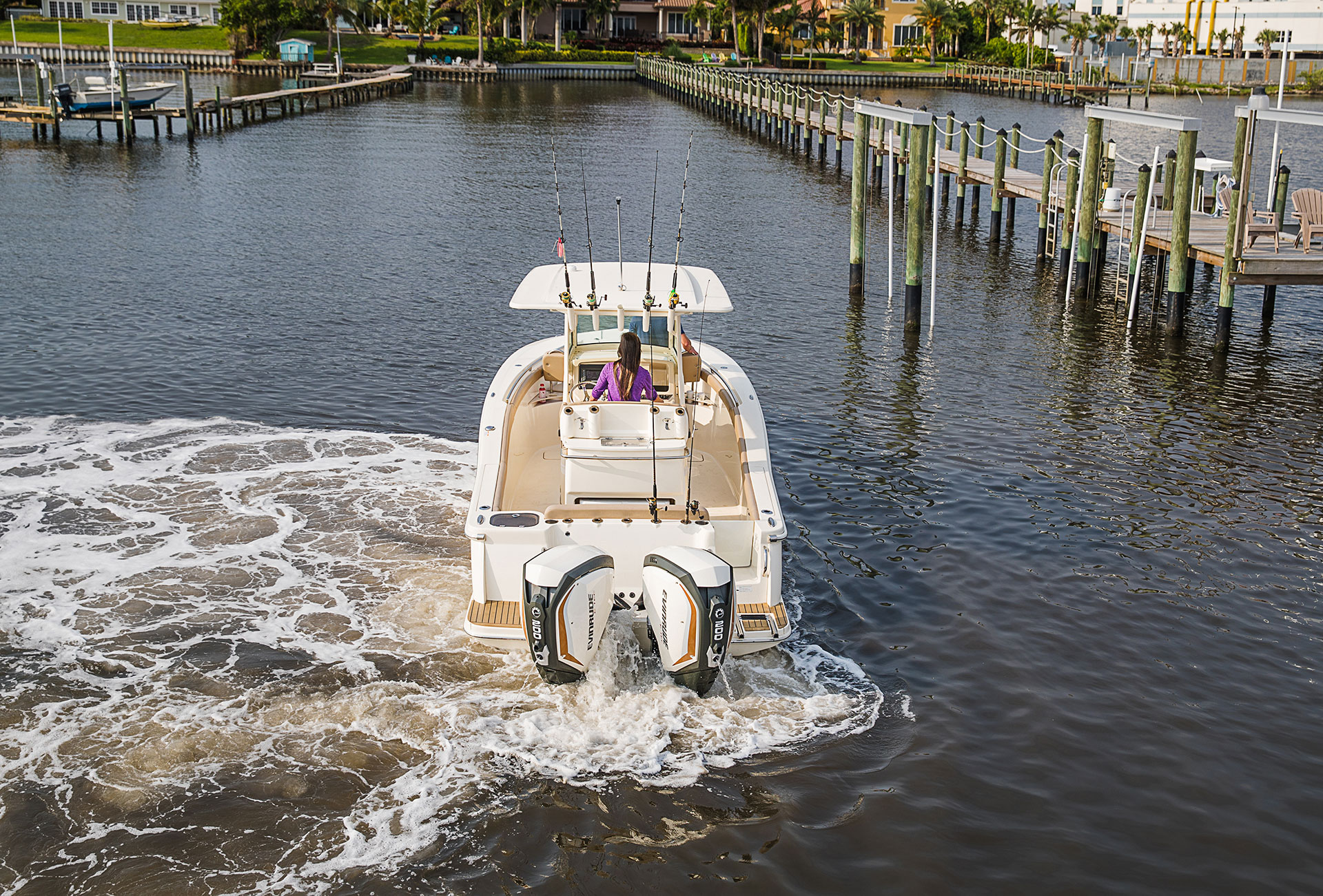 After a moment or two of orientation and instruction, we each had our chance to try out Evinrude's new system. I've used joysticks before and feel comfortable operating them. So in some ways, the iDock was pleasantly familiar. But in other, unexpected ways, it revealed some wonderful surprises. When an unexpected gust of wind hit the Scout broadside, the iDock's gyroscope sensor reacted before I could, and made the appropriate correction just like that. Wow!
The ability to push a little harder on the two-stage joystick to kick in extra power was also really appreciated – both by me, and by owners of the tied-up boats we were maneuvering around in the gusty breeze. The iDock joystick is quite sensitive to the touch, and it takes very little effort to activate that second stage and power out of potential trouble. It only takes a few minutes to get used to it and, once you do, you won't want anything else.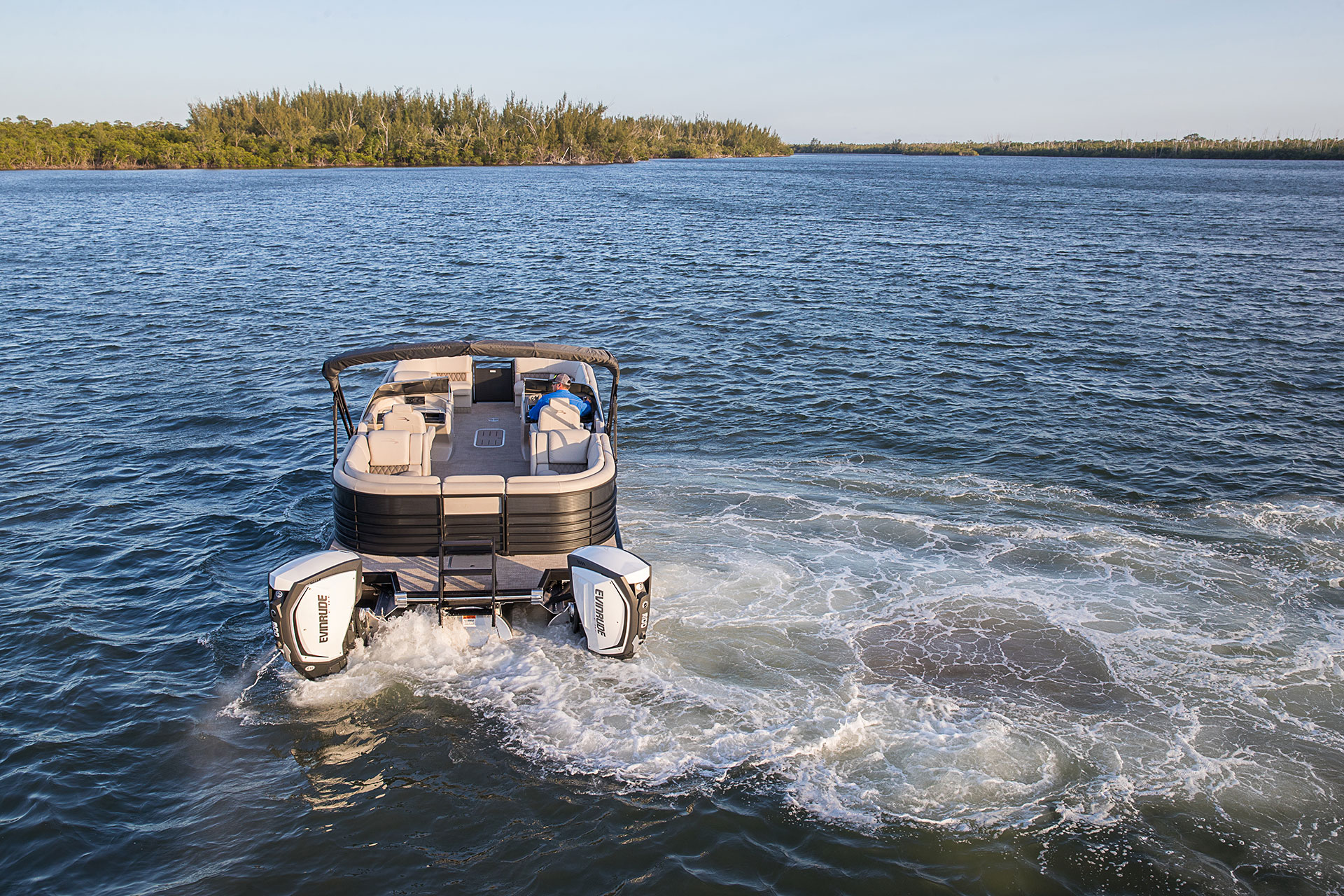 The iDock's ability to handle unexpected trouble was even more apparent on the big Bennington. The 27QSR is a 27-foot pontoon with a 10-foot beam and the engines mounted far apart on the outside pontoons, giving the props even more torque relative to one another and magnifying the sensitivity of the iDock system even more. While people passing by may have been shocked to see a big pontoon boat driving sideways along the piers – in a heavy, gusty wind no less – Evinrude's pressure-sensitive joystick made controlling the boat a piece of cake. Need a little more oomph this way? Just nudge the joystick and you're all set.
Rotating the boat was just as easy and again, the two-stage function of Evinrude's iDock joystick made those gusty winds a total non-event.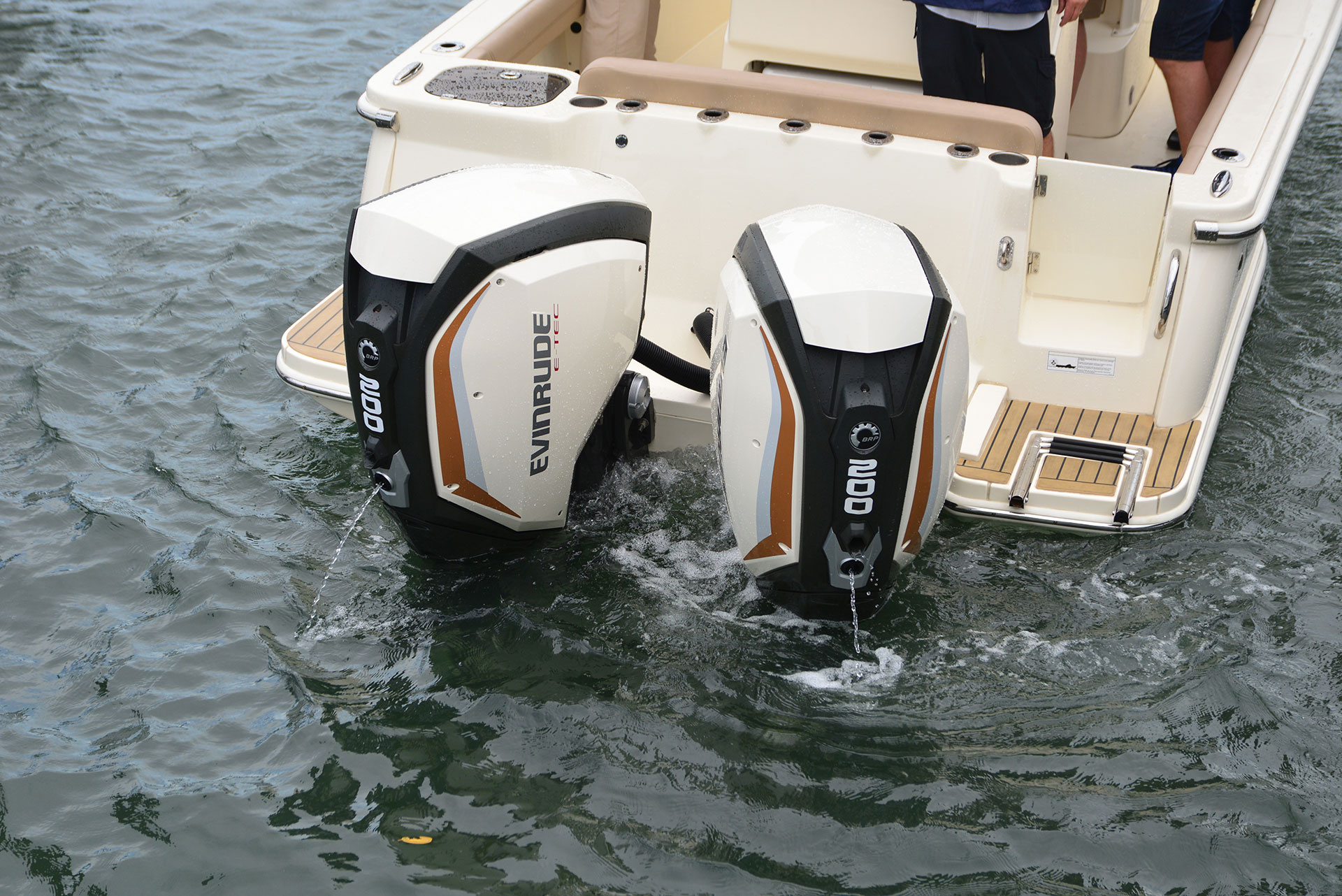 Evinrude iDock system is compatible with new Evinrude G2 150 HO, 200, 200 HO, 250 and 300 models. Unfortunately, it requires specific componentry in the engine midsection, and therefore will not retrofit to existing G2 engines.

With its low retail price representing a significant competitive advantage, Evinrude anticipates there will be strong demand for its iDock system not only on new-build boats, but in the repower market as well. "A joystick system adds huge value to any repowered boat," notes Jason Eckman. "If you're already buying two new engines, the small incremental cost of this system adds such huge value it's a no-brainer."

Evinrude E-TEC G2 iDock model engines are sold in pairs, for more information visit the Evinrude website.

Bennington, best boat, Best boat buying website, best boat marina website, best boat travel website, best place to rent a boat, boat accessories, boat angler, boat boondocking, boat buyers guide, boat camper, boat camping, boat dealers, boat DIY, boat Fishing, boat Fixer, boat Home, boat information, boat insurance, Boat Maintenance, boat marinas, boat marinas in Alberta, boat marinas in BC, boat marinas in Canada, boat marinas in Manitoba, boat marinas in Saskatchewan, boat marinas in the USA, boat marinas near me, boat products, boat rentals, boat repair, boat road test, boat sharing, boat sites near me, boat supplies, boat Tech, boat tips, boat touring, boat trade, boat Travel, boat traveling, boat travelling, boat vacation, boat vacation cost, boat websites Canada, boating Canada, Boating Canada's Boat Lifestyle Magazine, Boating Lifestyle Magazine, boating website, Canadian marina websites, evinrude, expert boat information, find a boat dealer, how much does a boat cost, how much does marina cost, how to choose a boat, how to drive a boat, iDock, marina products, marina supplies, motor boat, power boating magazine, Scout, top boat website, used boat reviews Bennington, best boat, Best boat buying website, best boat marina website, best boat travel website, best place to rent a boat, boat accessories, boat angler, boat boondocking, boat buyers guide, boat camper, boat camping, boat dealers, boat DIY, boat Fishing, boat Fixer, boat Home, boat information, boat insurance, Boat Maintenance, boat marinas, boat marinas in Alberta, boat marinas in BC, boat marinas in Canada, boat marinas in Manitoba, boat marinas in Saskatchewan, boat marinas in the USA, boat marinas near me, boat products, boat rentals, boat repair, boat road test, boat sharing, boat sites near me, boat supplies, boat Tech, boat tips, boat touring, boat trade, boat Travel, boat traveling, boat travelling, boat vacation, boat vacation cost, boat websites Canada, boating Canada, Boating Canada's Boat Lifestyle Magazine, Boating Lifestyle Magazine, boating website, Canadian marina websites, evinrude, expert boat information, find a boat dealer, how much does a boat cost, how much does marina cost, how to choose a boat, how to drive a boat, iDock, marina products, marina supplies, motor boat, power boating magazine, Scout, top boat website, used boat reviews