Pursuit Boats' Sport family of outboard center console boats has expanded to include the all-new S 428. Pursuit introduced its S 428 to marine media professionals and VIP attendees earlier this month in Fort Pierce, Florida. The model will make its public debut at the 2020 Fort Lauderdale International Boat Show.
Pursuit Boats explains that, when creating their center console Sport Series flagship, the company strove for the iconic. They write how "the size, power and amenities built into the brand new S 428, deem it the epitome of a legend—combining the versatility of the sport in unrivaled style and comfort."
With an L.O.A. of 43'9" and a 13' beam, the S 428 is the largest Pursuit ever built. It's also the most powerful and most spacious., offering a fuel capacity of 547 U.S. Gallons and Quad Yamaha 425 XTO engines. Consumers even have an industry-first second row of powered, converting seats, Pursuit says, located under the oversized hardtop.
"For fishing," Pursuit Boats says, "the S 428 is equipped with plenty of rod holders and storage, three fishboxes, extra-large fridge/freezer boxes, tackle storage, bait prep areas, hull side doors, both port and starboard, and a large aft cockpit." One also finds multi-function forward lounge seating, a plush aft-facing seat, and a cabin with yacht-quality components.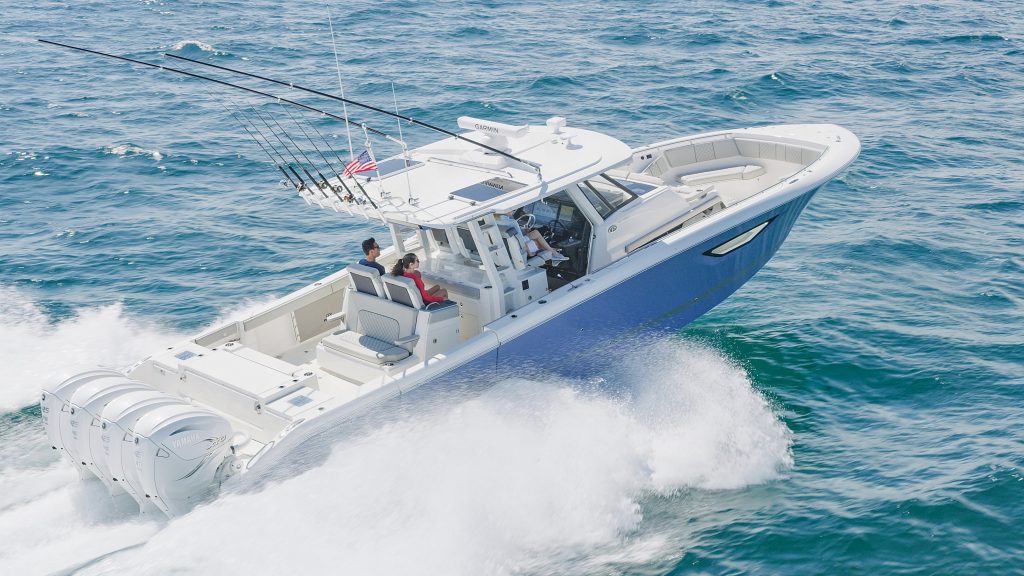 "The S 428 is brimming with amenities so you and your family can really do it all. Whether that's swimming up to the electro-hydraulic hull-side beach platform, fishing from the ample aft cockpit or getting ready to grill in the entertainment center, every detail was designed to go beyond your expectations," said Bruce Thompson, President of Pursuit Boats.
"Thank you to everyone who had a hand in making this boat an icon. We are very proud of this model. The S 428 is the perfect flagship representation of what Pursuit delivers to the center console market – the ability to cruise, entertain, and fish in style and comfort."
Pursuit Boats says that consumers can expect the S 428 to cruise at 31 MPH while turning 3,500 RPM rigged with standard power, quad Yamaha 425 XTOs.
Read more FLIBS news here!
best boat, Best boat buying website, best boat marina website, best boat travel website, best place to rent a boat, boat accessories, boat angler, boat boondocking, boat buyers guide, boat camper, boat camping, boat dealers, boat DIY, boat Fishing, boat Fixer, boat Home, boat information, boat insurance, Boat Maintenance, boat marinas, boat marinas in Alberta, boat marinas in BC, boat marinas in Canada, boat marinas in Manitoba, boat marinas in Saskatchewan, boat marinas in the USA, boat marinas near me, boat products, boat rentals, boat repair, boat road test, boat sharing, boat sites near me, boat supplies, boat Tech, boat tips, boat touring, boat trade, boat Travel, boat traveling, boat travelling, boat vacation, boat vacation cost, boat websites Canada, boating Canada, Boating Canada's Boat Lifestyle Magazine, Boating Lifestyle Magazine, boating website, Canadian marina websites, expert boat information, find a boat dealer, FLIBS, Fort Lauderdale International Boat Show, how much does a boat cost, how much does marina cost, how to choose a boat, how to drive a boat, marina products, marina supplies, motor boat, power boating magazine, Pursuit Boats, S 428, top boat website, used boat reviews best boat, Best boat buying website, best boat marina website, best boat travel website, best place to rent a boat, boat accessories, boat angler, boat boondocking, boat buyers guide, boat camper, boat camping, boat dealers, boat DIY, boat Fishing, boat Fixer, boat Home, boat information, boat insurance, Boat Maintenance, boat marinas, boat marinas in Alberta, boat marinas in BC, boat marinas in Canada, boat marinas in Manitoba, boat marinas in Saskatchewan, boat marinas in the USA, boat marinas near me, boat products, boat rentals, boat repair, boat road test, boat sharing, boat sites near me, boat supplies, boat Tech, boat tips, boat touring, boat trade, boat Travel, boat traveling, boat travelling, boat vacation, boat vacation cost, boat websites Canada, boating Canada, Boating Canada's Boat Lifestyle Magazine, Boating Lifestyle Magazine, boating website, Canadian marina websites, expert boat information, find a boat dealer, FLIBS, Fort Lauderdale International Boat Show, how much does a boat cost, how much does marina cost, how to choose a boat, how to drive a boat, marina products, marina supplies, motor boat, power boating magazine, Pursuit Boats, S 428, top boat website, used boat reviews