Nautique Boat's 100 percent electric GS22E.
Written by: Gordon Cruise
I grew up waterskiing every summer on a pristine lake in Canada. That lake is no longer pristine, because year after year of heavy traditional motorboat traffic has taken its toll…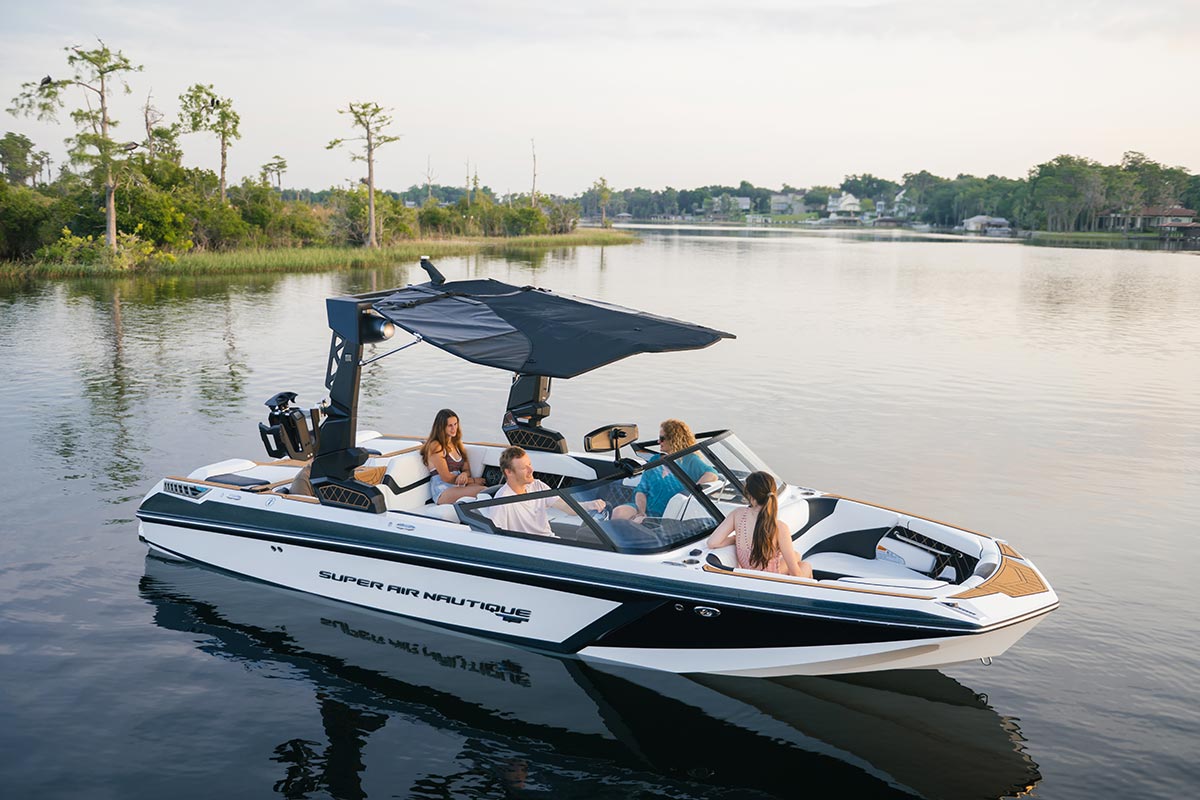 Things have changed for the better these days. The Super Air Nautique GS22E is an electric boat designed for wakeboarding and wakesurfing, and it has made waves in the boating industry. This boat is a remarkable achievement of engineering that represents a significant step forward in the direction of environmentally friendly watercrafts. It is the first electric boat of its kind that delivers excellent performance without harming the environment.
One of the key features of the Super Air Nautique GS22E is its electric powertrain. The boat uses a 96 kWh Ingenity battery system, which provides an impressive 2.5 hours of ride time, depending on water conditions, speed, and load. Ingenity's battery boasts the highest energy density of any recreational electric-drive boat available on the market today. The electric motor produces 295 HP, which is equivalent to a traditional gasoline engine. The boat can reach a top speed of 43 mph, making it perfect for thrill-seekers and watersports enthusiasts, particularly in sensitive marine environments where pollution can have devastating effects on ecosystems.
Another significant advantage of the Super Air Nautique GS22E is its wake control system. The boat comes with the Nautique Surf System (NSS), which allows riders to adjust the size, shape, and length of the wake to their liking. This system makes it easier to customize the wake for different riders and riding styles, ensuring a more enjoyable experience for everyone on board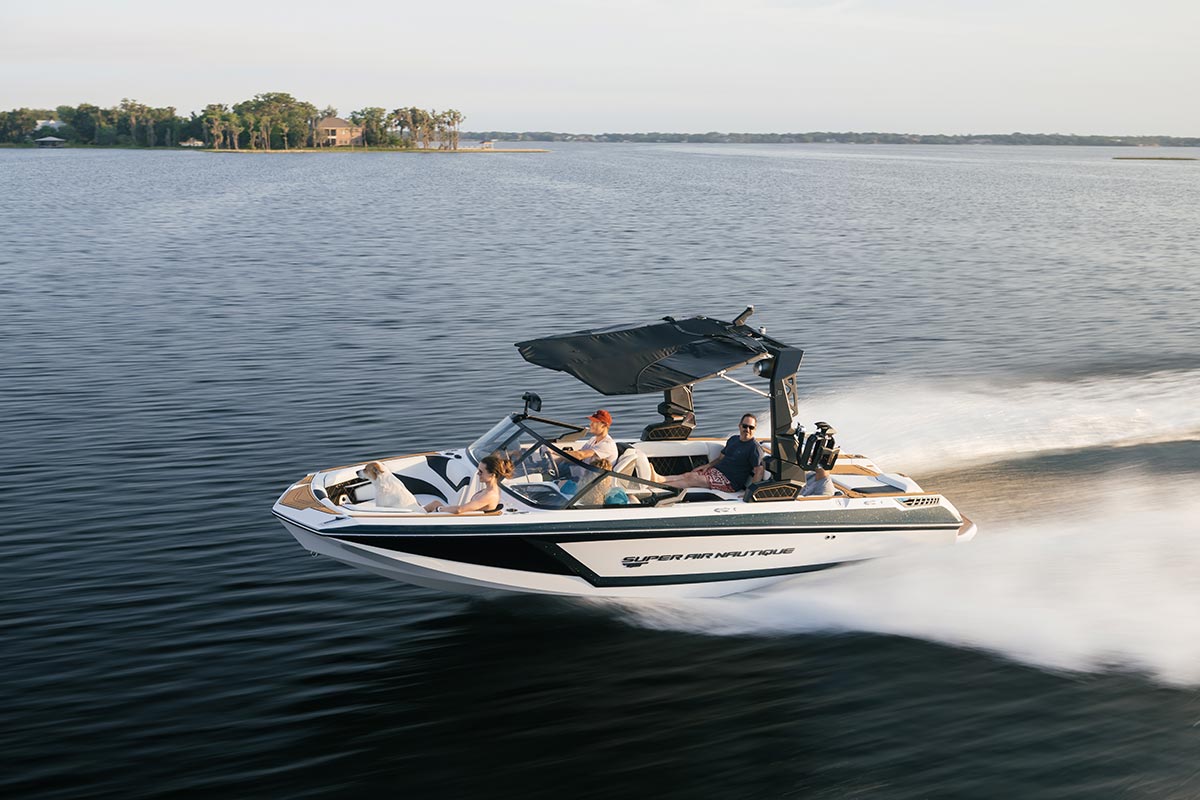 The boat's interior is designed with comfort and functionality in mind. It can accommodate up to 12 people, and the seating is adjustable and can be configured in different ways to suit the needs of the riders. The boat comes with a built-in cooler, and tunes are supplied by a Bluetooth JL Audio M3 Series stereo system that delivers powerful sound to the four M3 cockpit speakers. Bump up to the M3 Studio Premier package that includes six M3 speakers, a 10″ subwoofer and a six-channel amplifier. A LINC Panoray touchscreen display provides access to all of the boat's features and controls.

One of the few downsides of the Super Air Nautique GS22E is its price tag. The boat is not cheap, and it may not be within everyone's budget. However, it is important to note that the boat's electric powertrain will save money in the long run, as there is no need to purchase gasoline or oil for the engine. The boat's durability and reliability also mean that it will last for many years, making it a sound investment for watersports enthusiasts.

Ultimately, the Super Air Nautique GS22E is a game-changer in the boating industry. Although the price tag may be a bit steep for some, the boat's long-term cost savings and durability make it a worthwhile investment for anyone who loves to hit the water in style and comfort.

For more information on this model, please visit Nautique-Boats.com.

SPECS:

LENGTH OVERALL: 22′ / 6.70 m

LENGTH WITH PLATFORM: 24'1.5″ / 7.35 m

BEAM: 100″ / 2.54 m

DRAFT: 27″ / .69 m

APPROX DRY WEIGHT: 5900 lbs / 2976 kg

WATERSPORTS USE TIME: 2-3 hours

CHARGE TIME:

AC: 10 HOURS at 240V / 50A
DC: 4 HOURS at 25kW

SUPERCHARGER: 1.5 HOURS at 80kW WATERSPORTS USE TIME: 2-3 hours

MAXIMUM CAPACITY: 11 people / 1500 lbs / 680 kg

MAX FACTORY BALLAST: 1,850 lbs / 839 kg

MSRP: $418,528 CAD

2023, all electric, Bowrider, deckboat, electric, Family, gs22e, Nautique, new boats, new electric, Wakesurf, Watersports 2023, all electric, Bowrider, deckboat, electric, Family, gs22e, Nautique, new boats, new electric, Wakesurf, Watersports