A deep dive into Beneteau's new Grand Trawler 62.
Written by Gordon Cruise. 
I just got back from the Miami International Boat Show. The Miami show is touted as the largest boat show in the world, and it never disappoints.
The array and diversity of exhibitors and vendors is mind-blowing, and boats on display range from small personal watercraft (think Sea-Doo and inflatables) to mega-yachts that only Russian oligarchs and Tiger Woods can afford…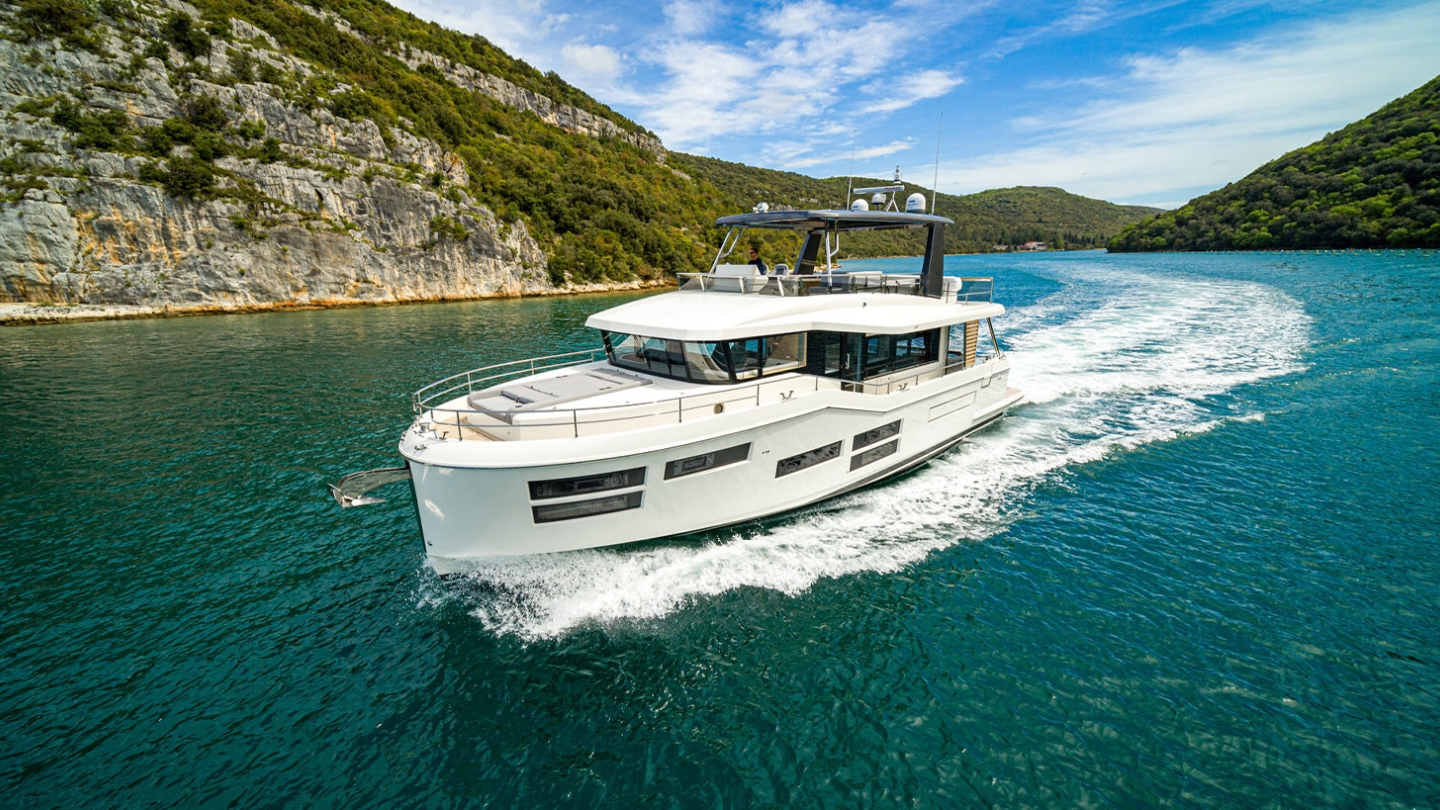 One event at the Miami show seems to be the annual sudden deluge of rain that sends boat show spectators scurrying to find a dry spot to shelter until the raincloud passes over, which usually takes no more than 30 minutes, giving families and friends just enough time to regroup and decide what to visit next. After discussing with Aurore Bordage, Marketing Manager at Groupe Beneteau, my decision was an easy one, as I had been curious about Beneteau's new addition to the trawler market, their Grand Trawler 62.
As soon as the rain subsided, I headed off down the dock to view this yacht, and, expecting a traditional trawler, I was greeted by a gleaming work of art disguised as a yacht. As the deck crew busied themselves wiping the shimmering droplets off the hull, I stepped aboard and realized that the GT62 rivals most any luxury condo in Miami, except it has the added advantage of being directly on the water.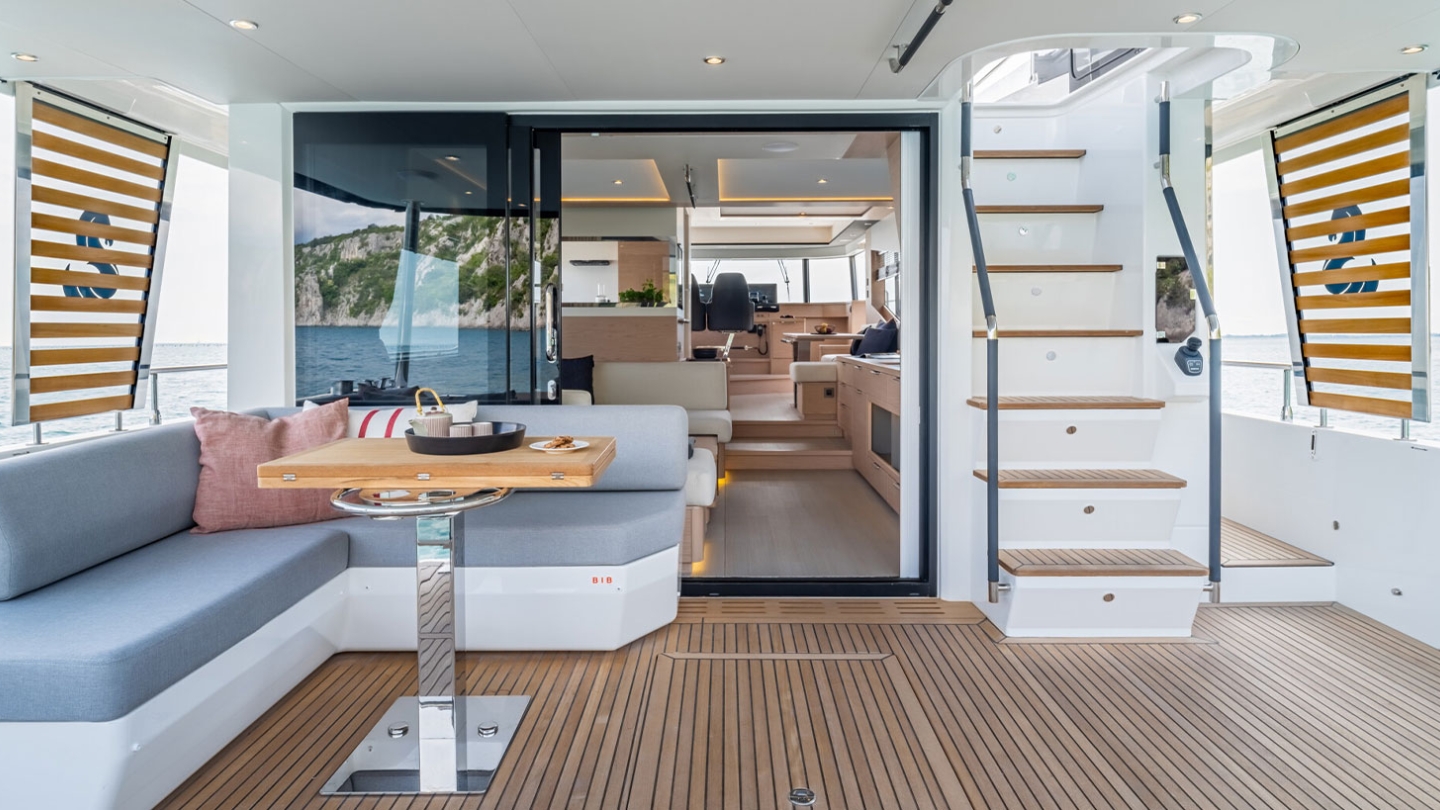 The famous Italian naval design office MICAD partnered with NAUTA DESIGN for the interior and deck design. The Grand Trawler 62 is spacious and luxurious, with a stunningly appointed interior that is both comfortable and inviting. The main saloon features an open-plan layout with large windows that allow plenty of natural light to flood the space, creating a warm and welcoming atmosphere. The yacht's designers have carefully considered every aspect of the saloon, from the comfortable seating to the ambient lighting and Fusion Apollo entertainment system, to create a space that is both relaxing and functional.
The yacht's three en-suite cabins are beautifully appointed. The master cabin is located amidships and features a king-size bed, plenty of storage space, and a luxurious en-suite bathroom. The two guest cabins are located forward and aft and feature comfortable double beds and their own en-suite bathrooms. All have high-quality furnishings and plenty of storage space, making them the perfect place to unwind after a long day at sea.
Another standout feature of the Grand Trawler 62 is its impressive array of amenities. The yacht features a fully-equipped galley where five-star meals are at home. The galley features a full-size refrigerator and freezer, a dishwasher, and a range of other high-end appliances, making it ideal for extended voyages. There is a large flybridge with ample seating and dining space, and an expansive swim platform that is perfect for enjoying water sports or simply relaxing in the sun. There is also a spacious cockpit area that is ideal for entertaining guests or enjoying a quiet meal under the stars.
The yacht's hull is constructed from high-quality fibreglass, which provides both strength and durability. The hull design is optimized for stability and performance, with a deep-V forward section that transitions to a flatter aft section for improved efficiency and maneuverability.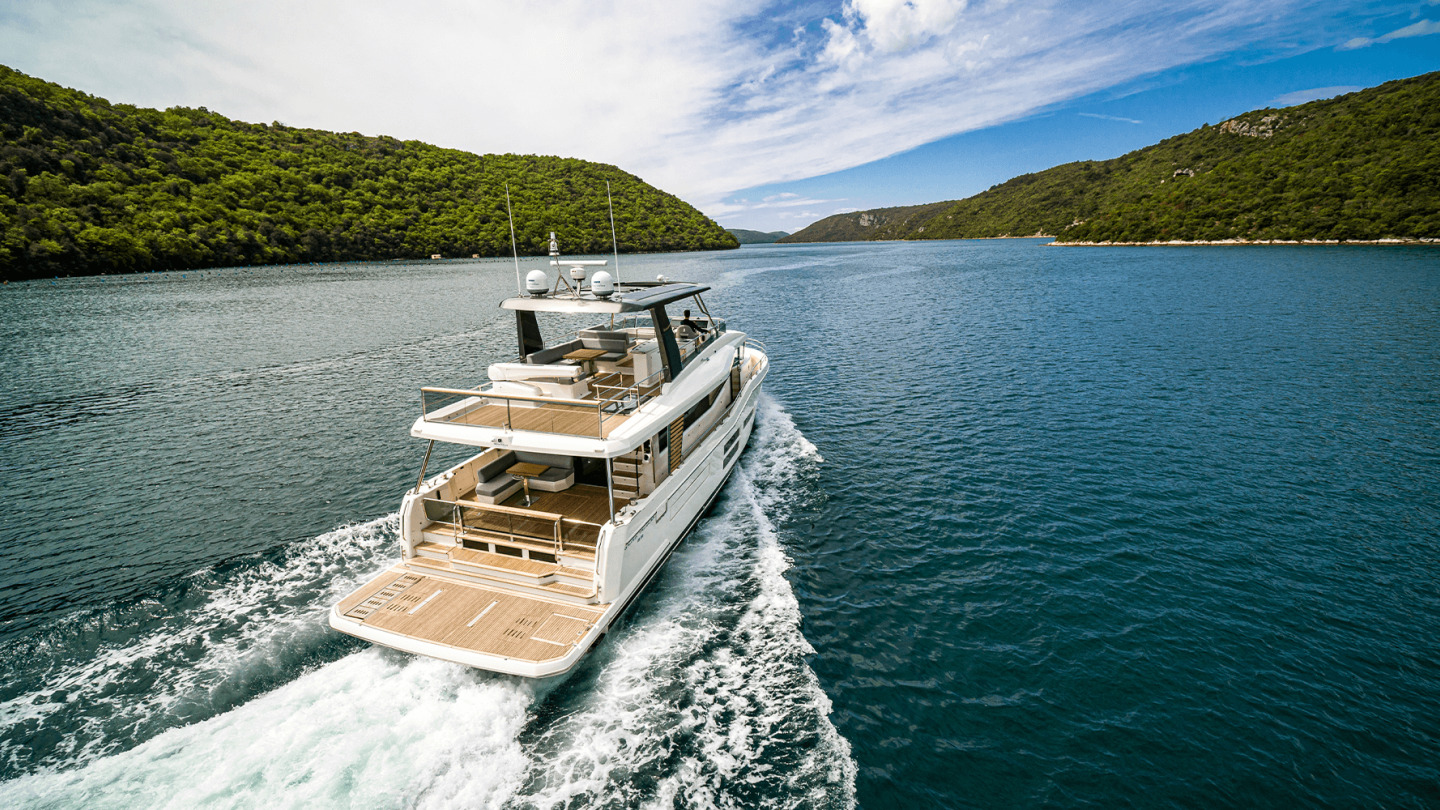 Navigation equipment on the Grand Trawler 62 is state-of-the-art, with a comprehensive suite of Raymarine electronics that includes radar, GPS, and autopilot systems. The flybridge is equipped with a large multifunction display that provides real-time information on the yacht's position, speed, and heading, as well as weather and sea conditions. The yacht's helm station is designed for maximum comfort and convenience, with easy access to all of the vessel's controls and systems.
Below deck, the Grand Trawler 62 is equipped with a range of advanced systems and amenities. The yacht features a high-capacity watermaker that can produce up to 1,200 litres of fresh water per day, making it ideal for extended voyages. The yacht's electrical system is also highly advanced, with a bank of lithium-ion batteries that provides ample power for all of the vessel's systems. At the heart of the yacht's design is its efficient and powerful twin diesel engine configuration, in this case the MAN i6-730 2 x 730 HP power plants that provide ample power and torque for extended voyages.
One of the standout features of the Grand Trawler 62 is its impressive fuel efficiency, enabling this yacht to travel for over 1000 nautical miles at a cruising speed of ten knots, making it the ideal choice for extended voyages. The yacht is also equipped with state-of-the-art navigation equipment and a SEAKEEPER SK18 stabiliser system, making it easy to navigate even the most challenging waters.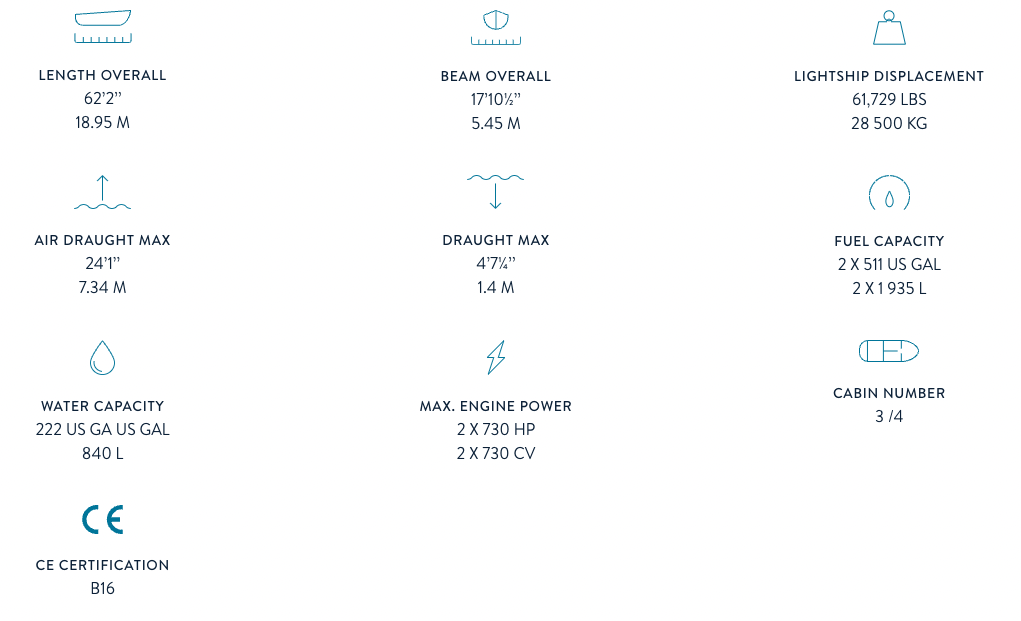 Other notable accessories on the Grand Trawler 62 include a bow thruster, which provides additional maneuverability in tight spaces, and a powerful generator that ensures that the yacht always has ample power for all of its systems. The yacht also has advanced reversible 72 K BTU Mediterranean and reversible 96 K BTU Tropical air conditioning systems, which keep the yacht's interior cool and comfortable.

The workmanship of the Beneteau Grand Trawler 62 is second to none. Every aspect of the yacht's construction, from the hull and deck to the interior finishes, is of the highest quality. The yacht's designers have paid close attention to every detail, ensuring that every nook and cranny of the vessel is finished to the highest standards.

Overall, the Beneteau Grand Trawler 62 is a highly advanced and capable vessel that offers the perfect combination of luxury, style, and a range of impressive technical features sure to impress even the most discerning of boating enthusiasts. Whether you're planning a long-distance voyage or simply looking for a luxurious and comfortable yacht for weekend getaways, the Grand Trawler 62 is an excellent choice.

For more information on this model, please visit Beneteau.com.

2023 BOATS, Beneteau, best yachts, Engines, Grand Trawler, luxury, new boats, new yacht, review, stylish boats, Yachts 2023 BOATS, Beneteau, best yachts, Engines, Grand Trawler, luxury, new boats, new yacht, review, stylish boats, Yachts