By: Del Williams
Surviving a storm at sea is just the start – taking emergency and preventive measures including use of a military-grade anti-corrosion lubricant and cleaner can get mariners cost-effectively sailing again sooner than ever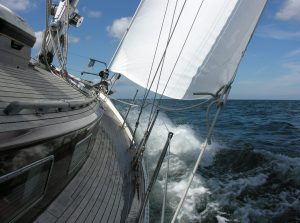 Robert Adams was single-handedly piloting his 48-foot Sailing Vessel Guapa out of Cleveland, Ohio via the Erie Canal, heading home to Cape Coral, Florida on the night of September 5, 2021, when he sailed into a storm. The vessel began taking on water from an unknown cause in the middle of "The Graveyard of the Atlantic."
"Off of Cape Hatteras at sea, I was doing night watch with a 30-knot wind and 15-foot-high waves. At about 5:00 AM I woke up and heard a really loud, squealing sound. It was my motor halfway underwater. I couldn't find where the water was coming from," says Adams. Although he did not know it at the time, a transducer had broken and had left a one-inch hole in the bottom of the SV Guapa, a 32-ton vessel now in danger of sinking.
Cape Hatteras in North Carolina is in an area known for centuries as "the Graveyard of the Atlantic." More than 6,000 ships have met their doom in the waters along the North Carolina coast, according to the recent book, Shipwrecks of the Outer Banks: Dramatic Rescues and Fantastic Wrecks in the Graveyard of the Atlantic by James D. Charlet. In this perilous region, the combination of mixing currents, treacherous coastline, and shifting underwater sandbars can spell disaster for even the most seasoned sailor.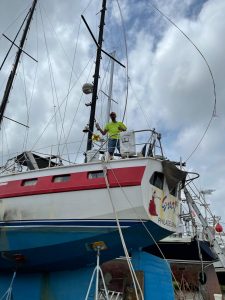 Accidents and mishaps on the water are unpredictable for recreational boaters including yachtsmen and women from the Chesapeake Bay to the Caribbean and around the Gulf. When the risk factors add up the combination can be life-threatening: at sea in a treacherous area, in stormy weather, and alone in the dark, etc. How mariners survive, repair their vessels, and live to sail another day becomes a legendary sea tale.
Even then any soaking or submersion of vital equipment and electronics in seawater can be extraordinarily expensive without taking some preventative as well as emergency measures.
When Adams radioed out an SOS, his distress call reached the U.S. Coast Guard Station at Fort Macon, North Carolina.
"It shook me up when the Coast Guard radioed me back and started asking questions like 'what color is your PFD' [personal flotation device] and 'what color is your dingy or raft?' It was like they were preparing to find me floating at sea off my vessel," he says.
By the time the Coast Guard reached Adams, the water was about four feet deep inside the SV Guapa.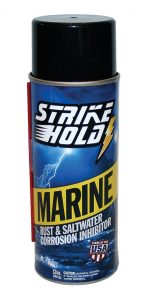 When TowBoatUS reached his vessel, operators were able to pump the water out and then tow it to a marina for an emergency overhaul. At the marina, power washing with freshwater was implemented to try to minimize the serious problems associated with saltwater spoilage and corrosion.
"The interior of my vessel was essentially a complete loss. I lost all of my electronics, my battery, etc. I was able to save my diesel engine motor by treating many of its components with an anti-corrosion lubricant called StrikeHold Marine, which prevented corrosion," says Adams.
StrikeHold® Marine, a high-performance anti-corrosion lubricant/penetrant developed for U.S. military use in the most extreme conditions, is now available to stop and prevent saltwater rust and corrosion on all metal, recreational boat parts.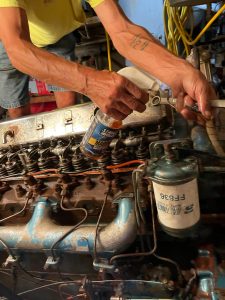 "I also treated the motor's interior with it and was able to keep its bearings from seizing up while I went home for a week. When I got back to my vessel, I was able to start and run the motor, which I believe was due to treating it," says Adams.
To prevent failure and ensure reliable power and operation when boaters need it most, StrikeHold Marine's 40K watt dielectric/non-conductive strength will also improve electrical performance by cleaning/protecting contacts, connections, and internal parts from corrosion. It is best applied as a preventive measure before exposure to seawater. After disconnecting terminals, it can be applied to batteries and all electrical connections, such as lights, circuit panels, and marine electronics. Due to its strong dielectric properties, it can restore optimum electrical connection as well.
"If the Guapa's gear and electrical equipment had been treated with the anti-corrosion lubricant before this event, much more would have been saved. A lot was damaged when the vessel filled with water," says Adams.
After SV Guapa's overhaul, Adams completed his trip to Florida in mid-November 2021.  He knows how lucky he is to have survived his brush with disaster, with his vessel nearly foundering and sinking in "The Graveyard of the Atlantic."
Today Adams takes every precaution possible to prevent problems and ensure that the SV Guapa is in good working order before sailing off into the unknown.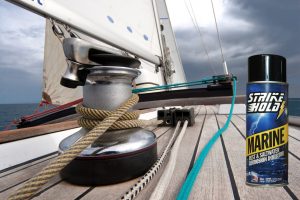 This includes using the anti-corrosion lubricant preventively to maintain good working order. The anti-corrosion lubricant and cleaner's long-lasting, clear protective coating is non-greasy and contains no wax, silicon, Teflon or graphite to gum up mechanisms. The lubricant and cleaner can also be used to "work loose" stuck, corroded fasteners on equipment that needs servicing, as well as remove rust, dirt, and grime from metal parts. In addition to ongoing maintenance, the product can also be sprayed on engine components and marine equipment prior to long-term storage, to prevent corrosion.

While the lure of the sea has beckoned sailors for hundreds of years, today's recreational boaters are more prepared to prevent disasters and serious, costly corrosion with more advanced options, along with preparation and forethought.

For more information, visit www.strikehold.com/pages/marine.

You can also call 678-883-3578, email info@strikeholdmarine, or write to StrikeHold Marine at 3434 Howell St. NW, Suite B, Duluth, GA  30096.

StrikeHold is available at MSC Industrial Supply and Fastenal.

Adventure, anti corrosion, anti corrosion spray, best boat, boat, boat life, boater, Boating, boating adventures, boating daily, boating fun, boating life, boating season, boating with family, boating with friends, Boats, discover boating, experience, graveyard of the atlantic, lets go boating, luxury, luxury boat, luxury boating, luxury boats, marine, marine life, maritime, nautical, ocean, on the water, Power Boating Canada Magazine, power boating for dummies, Power boats brands, powerboat, powerboating, powerboats, safe boating, safety, sea, SOS, speedboating, speedboats, storm, strikehold, strikehold marine, surviving a storm, travel, us power boating, Watercraft, watercrafts, what is power boating, what power boats Adventure, anti corrosion, anti corrosion spray, best boat, boat, boat life, boater, Boating, boating adventures, boating daily, boating fun, boating life, boating season, boating with family, boating with friends, Boats, discover boating, experience, graveyard of the atlantic, lets go boating, luxury, luxury boat, luxury boating, luxury boats, marine, marine life, maritime, nautical, ocean, on the water, Power Boating Canada Magazine, power boating for dummies, Power boats brands, powerboat, powerboating, powerboats, safe boating, safety, sea, SOS, speedboating, speedboats, storm, strikehold, strikehold marine, surviving a storm, travel, us power boating, Watercraft, watercrafts, what is power boating, what power boats