Startup propeller manufacturer Sharrow Marine has signed a manufacturing and distribution agreement with Yamaha Marine. 


The deal will involve Sharrow's Propeller being manufactured at Yamaha Marine Precision Propellers facility and foundry in Greenfield, Ind. Yamaha will offer the Sharrow Propellers as an option to more than 100 boatbuilders and its network of 2,000 dealers.  
"Yamaha has world-wide respect for the quality and dependability of its products. We're proud to have the opportunity to have YPPI cast our high-tech propellers in YPPI's new, state-of-the-art casting facility in Indiana," said Greg Sharrow, CEO of Sharrow Marine, in a press release. "We're also excited to have access to the Yamaha distribution network, which will dramatically accelerate our efforts to deliver the Sharrow Propellers to boat motors across the world." 
For Sharrow Engineering, which is based in Detroit, the partnership with Yamaha gets its propellers into a wider audience. 
"Sharrow Marine's choice of YPPI as a manufacturing and distribution partner underscores Yamaha's leadership position in the casting industry," said Jonathon Burns, general manager, Yamaha US Marine Planning and Development, in a press release.
"Through YPPI and our new relationship with Sharrow Marine, Yamaha can offer boat builders, dealers and customers an even greater number of options when it comes to maximizing boat performance through propeller selection." 
Sharrow worked with independent foundries to meet demand for its propellers since it was founded in 2019. The following year, Sharrow Marine won a National Marine Manufacturer Association Innovation Award for its original design and its improvements in fuel efficiency and boat performance.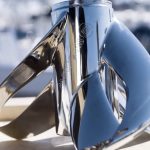 Sharrow Propellers currently offers four propellers:

Sharrow MX-3 for Yamaha engines 200-300 horsepower; Sharrow MX for outboards and sterndrives 150-450 horsepower; Sharrow NX for inboards; and the Sharrow CX-1 duo propellers through its boatbuilder program. 

Yamaha Marine Precision Propellers manufacturers more than 300 different propellers that are distributed globally. 

best boat, Best boat buying website, best boat marina website, best boat travel website, best place to rent a boat, boat accessories, boat angler, boat boondocking, boat buyers guide, boat camper, boat camping, boat dealers, boat DIY, boat Fishing, boat Fixer, boat Home, boat information, boat insurance, Boat Maintenance, boat marinas, boat marinas in Alberta, boat marinas in BC, boat marinas in Canada, boat marinas in Manitoba, boat marinas in Saskatchewan, boat marinas in the USA, boat marinas near me, boat products, boat rentals, boat repair, boat road test, boat sharing, boat sites near me, boat supplies, boat Tech, boat tips, boat touring, boat trade, boat Travel, boat traveling, boat travelling, boat vacation, boat vacation cost, boat websites Canada, boating Canada, Boating Canada's Boat Lifestyle Magazine, Boating Lifestyle Magazine, boating website, Canadian marina websites, CEO of Sharrow Marine, expert boat information, find a boat dealer, Greg Sharrow, how much does a boat cost, how much does marina cost, how to choose a boat, how to drive a boat, marina products, marina supplies, motor boat, power boating magazine, Sharrow Engineering, Sharrow MX for outboards and sterndrives 150-450 horsepower; Sharrow NX for inboards; and the Sharrow CX-1 duo propeller, Sharrow MX-3 for Yamaha engines 200-300 horsepower;, Sharrow Propeller, top boat website, used boat reviews, Yamaha, Yamaha Marine Precision Propellers manufacturers best boat, Best boat buying website, best boat marina website, best boat travel website, best place to rent a boat, boat accessories, boat angler, boat boondocking, boat buyers guide, boat camper, boat camping, boat dealers, boat DIY, boat Fishing, boat Fixer, boat Home, boat information, boat insurance, Boat Maintenance, boat marinas, boat marinas in Alberta, boat marinas in BC, boat marinas in Canada, boat marinas in Manitoba, boat marinas in Saskatchewan, boat marinas in the USA, boat marinas near me, boat products, boat rentals, boat repair, boat road test, boat sharing, boat sites near me, boat supplies, boat Tech, boat tips, boat touring, boat trade, boat Travel, boat traveling, boat travelling, boat vacation, boat vacation cost, boat websites Canada, boating Canada, Boating Canada's Boat Lifestyle Magazine, Boating Lifestyle Magazine, boating website, Canadian marina websites, CEO of Sharrow Marine, expert boat information, find a boat dealer, Greg Sharrow, how much does a boat cost, how much does marina cost, how to choose a boat, how to drive a boat, marina products, marina supplies, motor boat, power boating magazine, Sharrow Engineering, Sharrow MX for outboards and sterndrives 150-450 horsepower; Sharrow NX for inboards; and the Sharrow CX-1 duo propeller, Sharrow MX-3 for Yamaha engines 200-300 horsepower;, Sharrow Propeller, top boat website, used boat reviews, Yamaha, Yamaha Marine Precision Propellers manufacturers